---

The Canadian real estate market continues to grapple with the impact of higher interest rates as September's numbers reveal further declines, both on a monthly and annual basis.
The latest data from the Canadian Real Estate Association reports a total of 34,989 homes sold over the course of last month, marking a -32.2% drop compared to last year's activity, and down -3.9% from August. That's the seventh consecutive monthly drop in transactions, and reflects a deviation from the fall bustle typically seen this time of year.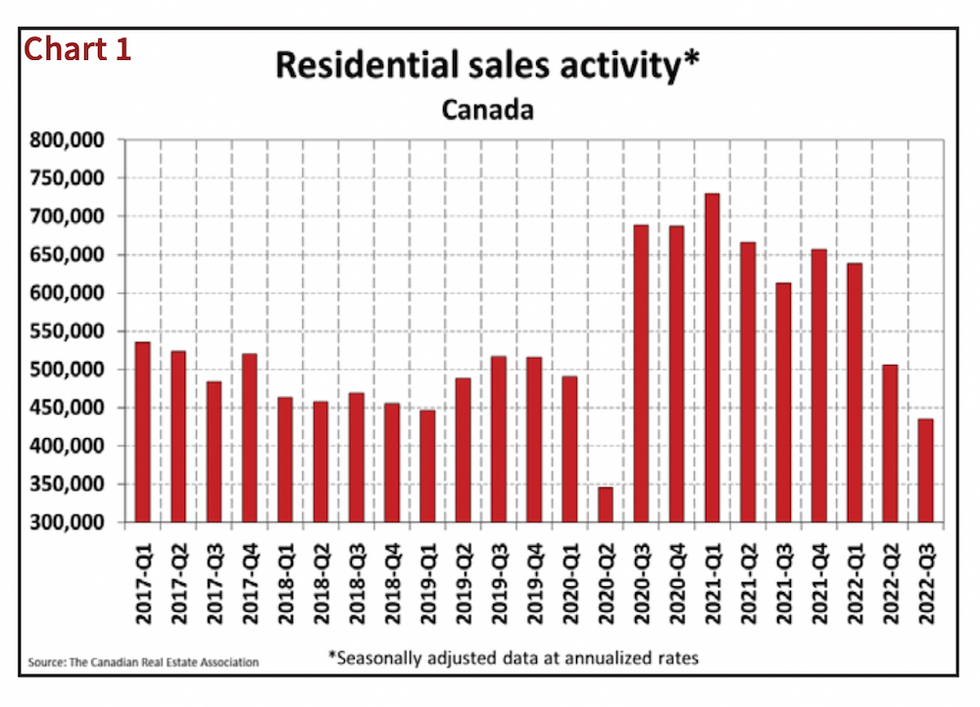 Slower sales were seen in 60% of all local markets, with the largest drops in Greater Vancouver, Calgary, Greater Toronto, and Montreal. Activity remains 12% below the pre-pandemic average for the month.
That's being reflected in prices, which, at an average of $640,479, fell again on a yearly basis by -6.6%, and down -1.2% from August. However, points out the national association, these dips in value are actually lessening when looking instead at the Home Price Index; while down -1.4% MoM, that's to a lesser degree than the -1.6% decline recorded in August. Year over year, the Index rose 3.3%.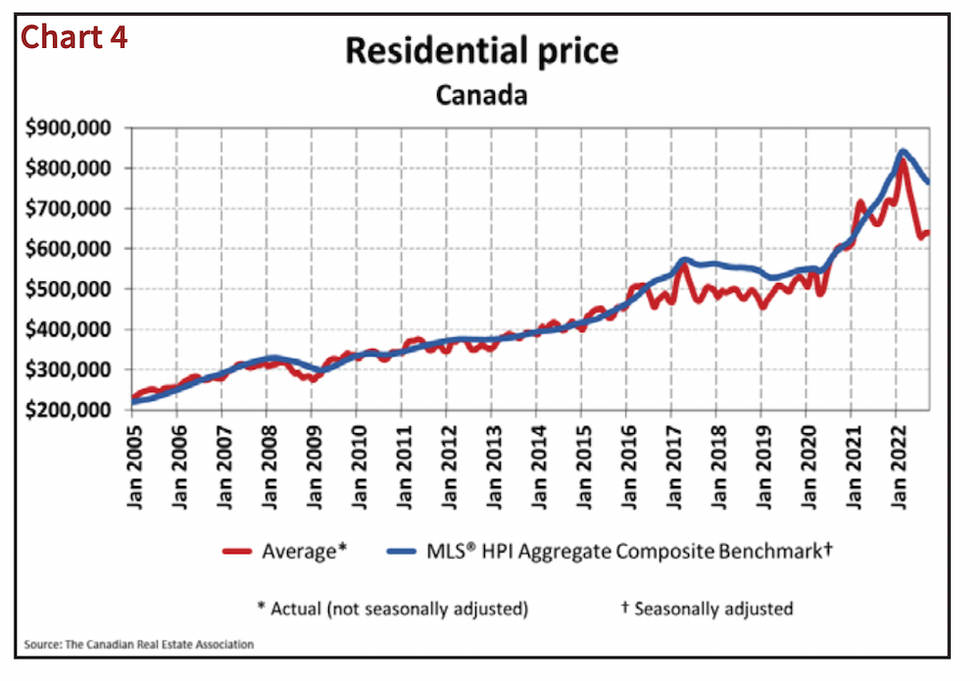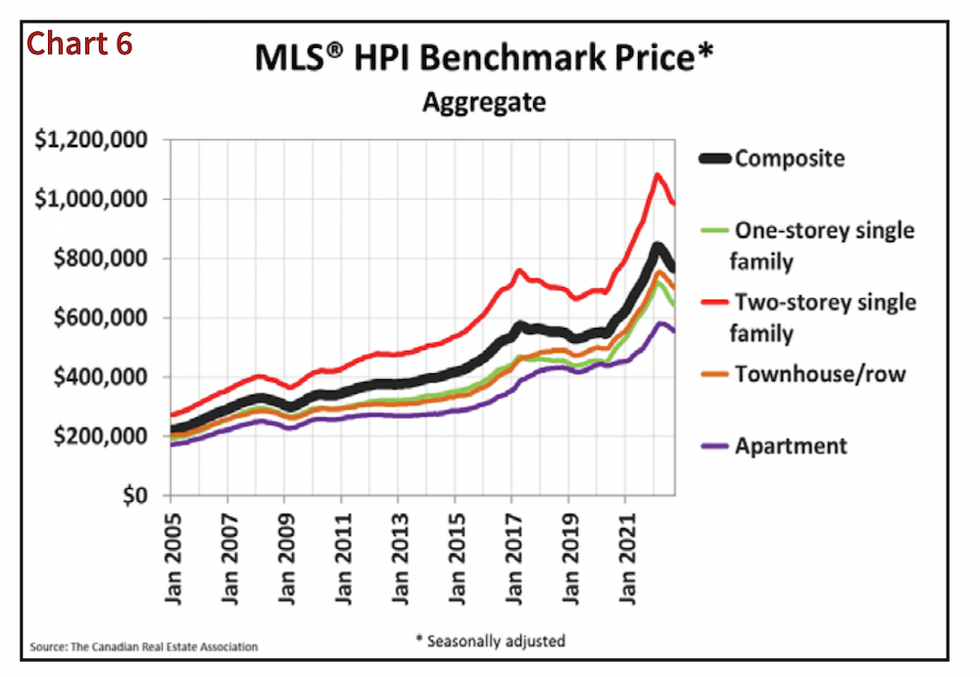 READ: GTA Home Prices Fall Annually in September, for First Time Since 2018
Compared to the market's peak in February, the average price has fallen $176,241 (-21.5%) with sales down 39.8%.
Sellers also appear hesitant to participate in today's sluggish market environment, as the number of new listings declined 0.8% from last month, with 67,296 homes placed for sale. This is playing out in an odd dichotomy, notes CREA Chair Jill Oudill, as buying conditions remain tight and slanted in favour of sellers -- the opposite of what typically happens when sales slow.
"September was another month of lower sales activity, although, with many sellers also opting to play the waiting game, the market remains on the tighter side of balanced market territory," she stated. "It makes for an interesting dynamic, one that doesn't really have many historical precedents. The market has changed so much in the last year, and the adjustment to higher borrowing costs is still underway."
The sales-to-new-listings ratio -- a metric that measures the level of buyer competition in the market -- eased to 52% from 53.6% in August, indicating a relatively balanced market from a national perspective. CREA notes the ratio is on par with June and July, and is just below the long-term average of 55.1%.
With sales down and new listings seeing minor change in September, the sales-to-new listings ratio eased to 52% compared to 53.6% in August. The September 2022 reading for the national sales-to-new listings ratio was back on par with those in June and July, and only a little below its long-term average of 55.1%.
Overall inventory -- measured in the amount of time it would take to completely sell off all available homes for sale -- sits at 3.7 months. While that's up from 3.5 months in August, it sits well below the long-term average of five months, reflecting just how tight market supply remains.
September's softer finish is a direct result of the last month's Bank of Canada rate hike -- which increased borrowing costs by 75 basis points to 3.25% -- says CREA's Senior Economist.
"Up until recently, higher borrowing costs had disproportionally affected the fixed-rate space, with buyers able to qualify more easily if they went with a variable rate mortgage," said Shaun Cathcart.

"The Bank of Canada's most recent rate hike in early September finally closed that door, so it was not a big surprise to see additional softness on the sales side. The important thing to remember is we're still in the middle of a period of rapid adjustment, with buyers and sellers trying to feel each other out while a lot of people have had to take their home search plans back to the drawing board. As such, resale markets may remain on the quiet side for some time yet, with the flipside of that coin being even more pressure on rental markets."
READ: Renewing Mortgage Borrowers Could See Payments Jump by 21% Due to Rate Hikes
The Bank of Canada will release its next interest rate announcement on October 26, and is widely anticipated to hike its trend-setting Overnight Lending Rate again by at least three-quarters of a percent -- a move that's sure to make its mark  in October's housing activity.
Homes