---
Today, government officials are taking a pause to remember and honour the victims and survivors of Canada's residential schools -- a tragedy in Canada's not-so-distant past -- and encouraging all Canadians to do the same.
The National Day for Truth and Reconciliation is held annually on September 30. The holiday was officially established on June 3, 2021, following grim discoveries at several former residential school sites.
"Between 1831 and 1998, at least 150,000 First Nations, Inuit, and Métis children were forcibly removed from their families and communities to attend residential schools, where they had to abandon their languages, cultures, spiritualities, traditions, and identities," Prime Minister Justin Trudeau said in a statement. "Many experienced physical, emotional, and sexual abuse, and thousands never came home. The experiences and intergenerational trauma of these so-called schools continue to live on for Indigenous Peoples across the country every single day.
"It is our shared responsibility to confront the legacy of residential schools and the ongoing impacts on Indigenous Peoples, so we can truly move forward together. That is why, last year, Parliament voted unanimously to establish the National Day for Truth and Reconciliation as an opportunity for all Canadians to learn more, honour the Survivors of residential schools, their families, and their communities, and remember the many children who never returned home. Reconciliation is not the responsibility of Indigenous Peoples -- it is the responsibility of all Canadians. It is our responsibility to continue to listen and to learn."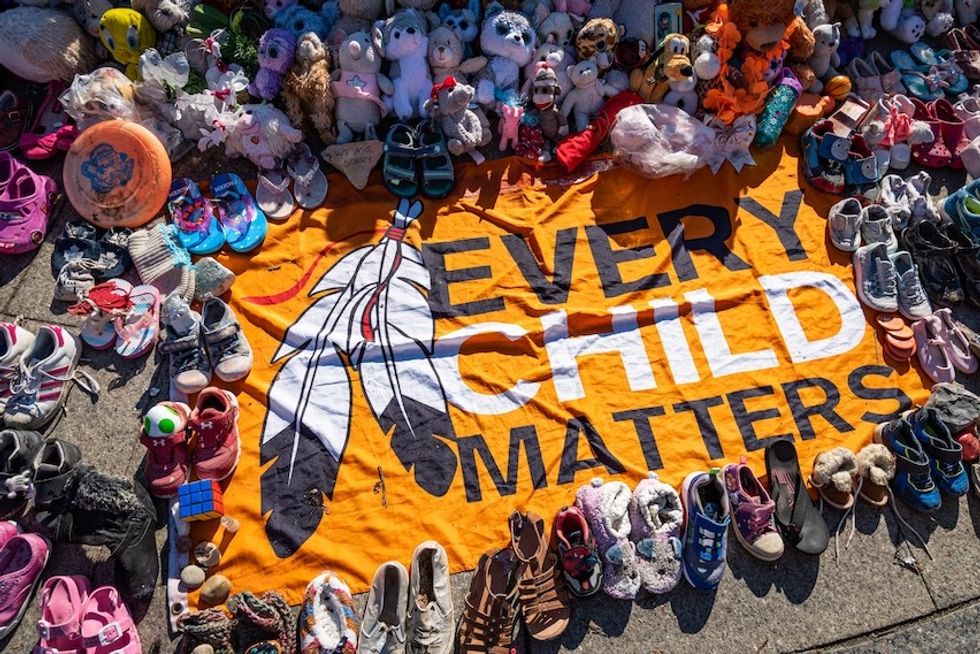 Today is also Orange Shirt Day, which represents the story of Phyllis Jack Webstad, a survivor from the Stswecem'c Xgat'tem First Nation who attended St. Joseph Mission Residential School in British Columbia wearing an orange shirt on her first day of school. When that shirt was taken away from her, it foreshadowed what would be a traumatic and disillusive experience of being indefinitely separated from her family, community, culture, language, and everything she once knew.
"People in Ontario and across Canada wear orange shirts to remember and honour Indigenous children who were taken from their communities and families and forced to attend Residential Schools," Premier Doug Ford and Minister of Indigenous Affairs Greg Rickford said in a statement. "The National Day for Truth and Reconciliation and Orange Shirt Day are an important part of Ontario's journey of healing and reconciliation with Indigenous peoples. The province will be lighting several government buildings orange to honour survivors, their families and the children who did not return home.
"Ontarians are encouraged to learn about and reflect on the intergenerational harm that Indian Residential Schools have caused Indigenous families and communities, and to honour and commemorate those who have been affected. There are many learning sources available to deepen the understanding of the legacy of the Indian Residential School system and the impacts it continues to have today."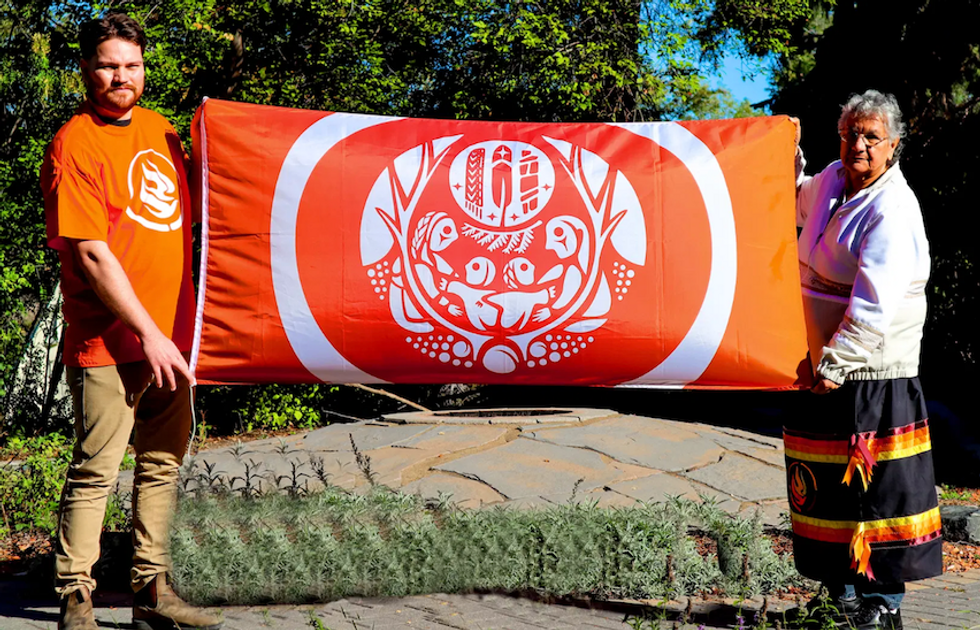 National Centre for Truth and Reconciliation
In recognition of the National Day for Truth and Reconciliation and Orange Shirt Day, the Survivors' Flag will be raised to half-mast at City Hall for the first time. The flag was created National Centre for Truth and Reconciliation in consultation with survivors from across Canada. Flags at City Hall, civic centres, and other City facilities will fly at half-mast for the day. The Toronto Sign -- which was outfitted with a new wrap, created by Canadian-Indigenous artist Joseph Sagaj, just a few days ago -- will glow orange for the day.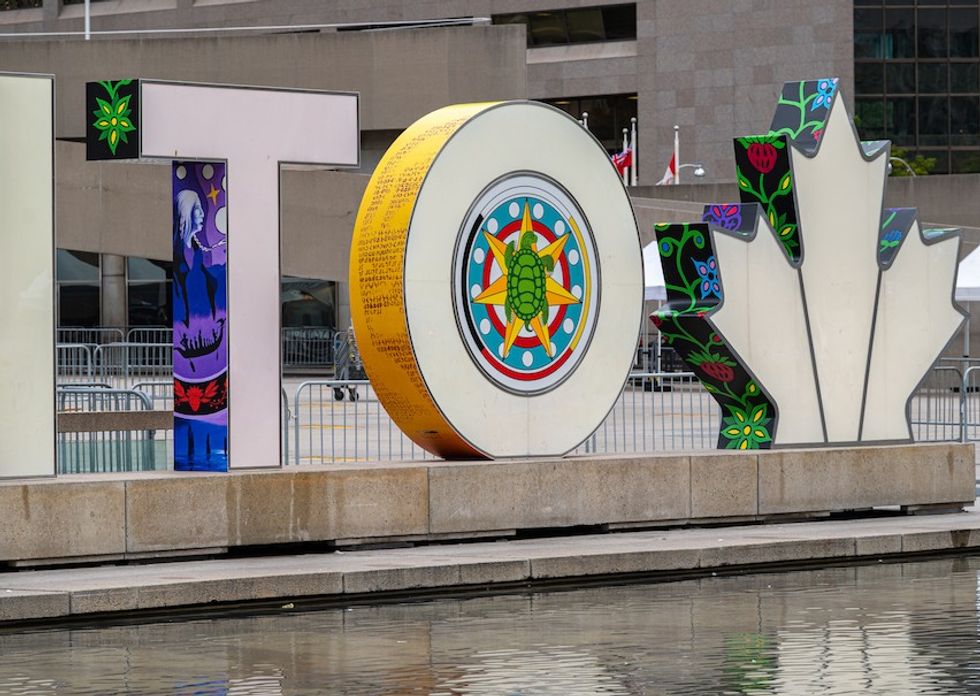 City of Toronto
For those wanting to pay tribute in person, the Toronto Council Fire Native Cultural Centre's Indigenous Legacy Gathering will take place at Nathan Phillips Square today, after kicking off yesterday. Additionally, a public installation, THE TRUTH, will be displayed as part of this weekend's Nuit Blanche. THE TRUTH -- a mobile installation created by KWEST, Young Elder Philip Cote, Tyrone Edwards, Que Rock and Noah "40" Shebib for the Awakenings series -- will be displayed at Garrison Common, Fort York National Historic Site tonight, Friday, September 30, at 7:00 p.m.
The City is also encouraging donations to the Indian Residential School Survivors (IRSS) Restoration of Identity Project, led by the Toronto Council Fire Native Cultural Centre and in honour of residential school victims and survivors, as well as their families and communities. Construction is currently underway for the Spirit Garden in Nathan Phillips Square, and the project is slated for completion in 2024.
Community