---
New data from Statistics Canada (StatCan) surrounding multiple-property owners reveals the extent of inequalities in the Canadian housing market.

According to figures from the Canadian Housing Statistics Program, which includes both residential and recreational holdings, multiple-property owners possess nearly one-third of all residential properties and the top 10% wealthiest owners account for one-quarter of Canada's housing value. 
As StatCan highlights, in addition to their primary residences, multiple-property owners hold properties to receive rental income or for other investment purposes, or as a recreational property like a cottage or ski chalet, which may also provide rental income.
Individual multiple-property owners hold a significant share of the residential property stock, despite accounting for a relatively small number of owners. Multiple-property ownership accounted for a staggering 41% of Nova Scotia's housing stock, 39% of New Brunswick's, 31% of Ontario's, and 29% of British Columbia's (BC). Multiple-property owners comprised 22% of all owners in Nova Scotia, 20% in New Brunswick, 16% in Ontario and 15% in BC.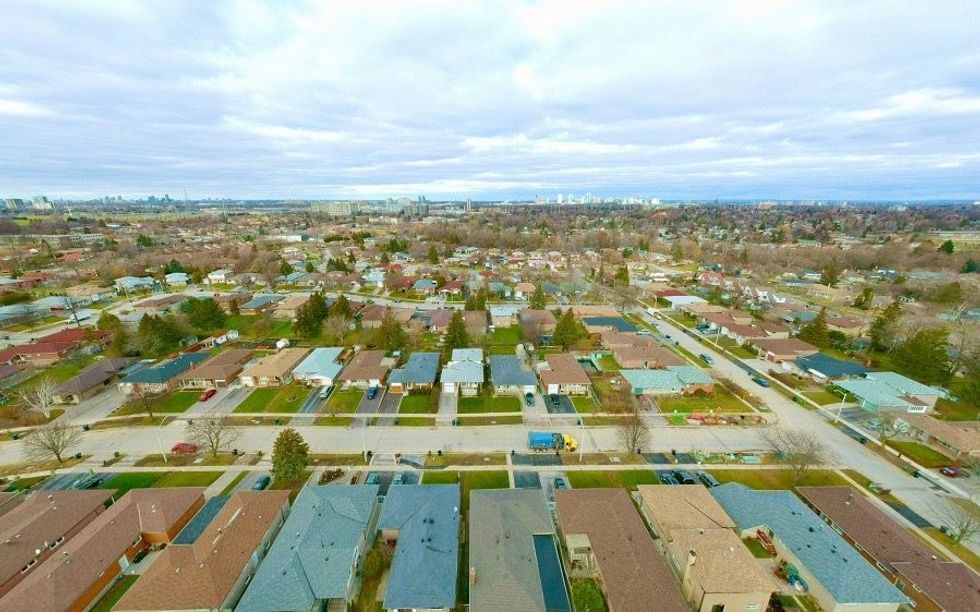 Aerial view of the city. Hundreds of houses bird eye view suburb urban housing development. Quite neighbourhood in Toronto, Canada.
StatCan points to a previous release that examined multiple-property owners in-depth. Of its more notable findings, it revealed that the majority of Canadians in this group owned two properties, with the most common combination being two single-detached houses. In 2020, the majority of multiple-property owners held all their properties within the same census metropolitan area (CMA) or census agglomeration (CA), and around 40% held all their properties in the same census subdivision in Ontario and British Columbia. This reveals that owners would want to remain close to their rental properties.
"Owners seeking additional properties contribute to increased competition in already tight real estate markets, making it more difficult for prospective homeowners to purchase a home," reads the report. 
The data reveal that the top 10% of owners in Ontario, BC, Nova Scotia and New Brunswick earn more than the bottom 50% combined, with the top 10% of owners in Ontario and BC each earning yearly incomes above $125,000.
Despite these glaringly apparent inequalities, however, new data shows an increase in the number of first-time buyers from 2018 to 2019 (granted, this was before the country's housing market prices soared to record-breaking and increasingly unattainable heights). Most of these first-time homebuyers were in Nova Scotia, New Brunswick, and BC. 
Real Estate News