Toronto
Future Developments
A New Neighbourhood Motto: Chic Condo Set to Rise in Bloorcourt
The Bloor-Dovercourt neighbourhood has been redefined and refined over the last decade, transforming into the diverse and creative hub it is today.
Motto, coming up at 990 Bloor Street West, chicly represents Bloorcourt's personality, from its modern exterior through to its colourful interior and well-appointed suites.
Rising via Sierra – a leading Toronto developer for 35 years – in collaboration with RAW and The Patton Design Studio, the condominium encourages a lifestyle of vibrancy and energy.
Motto aims to support its residents by making everyday life that little bit smoother through elevated extras, such as access to remote work spaces, impressive amenities, fine fixtures and finishes, and a top-tier location to call home.
READ: New Development Brings Luxury Condo Living to Downtown Guelph
Where amenities are concerned, the suite of offerings Motto serves is extensive. The building includes plenty of outdoor areas, including ground-level spaces, with the rooftop patio including a children's play area being the star of the fresh-air show. Complete with a living area, a dedicated dining space, a grill, and a designated pooch plot, this will undoubtedly be the space residents choose to wind down in at the end of the work day.
Heading inside, the condo's gym features top-of-the-line equipment, including weights, treadmills, elliptical machines, and full-length mirrors. For those with hybrid or totally remote work routines, access to office spaces throughout the building will be a major benefit. The third-floor collaboration room, meanwhile — with its expansive marble-topped table, flat-screen TVs, and lounge area — is ideal for meetings, presentations, and the like.
The fourth floor's study room provides a peaceful place for residents to plug in and hammer out an essay, fully absorb an assigned reading, or even get lost in a good book, sans disruptions. Although, the reading room on the fifth floor – finished with a lush living (plant) wall, custom tiled floors, and contemporary furniture – is probably even better suited to those deep novel dives.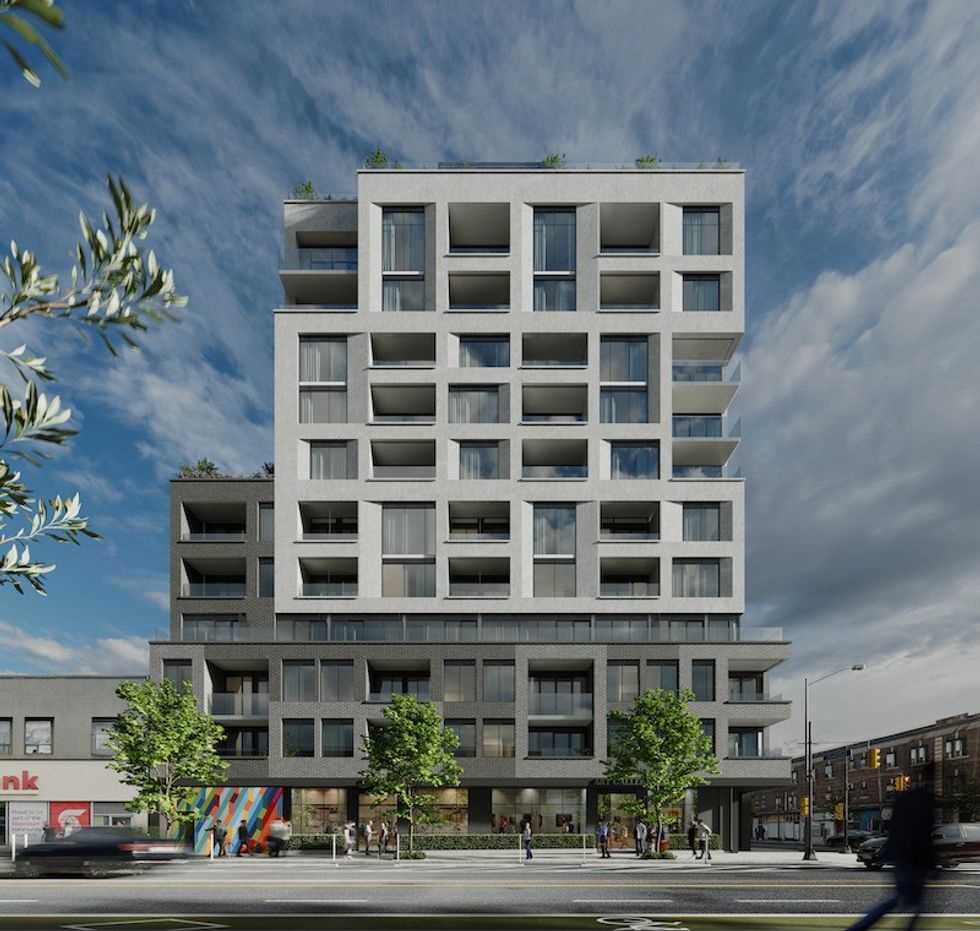 Down at Motto's entrance, mid-century modern furniture and retro fixtures give the lobby a 60s vibe. The colour palette enriches the foyer with a sense of comforting calm, with warm neutrals and pops of green maintaining a welcoming essence. Plush sofas and natural light complete the space, making it well-suited for coffee with friends or connecting with neighbours.
Suites at Motto serve a minimalistic vibe, with many windows and floor-to-ceiling glass doors inviting the daylight in. This natural light is further enhanced by an open floor plan, which makes the already-spacious suites feel even larger.
The benefits of Motto are sure to keep a resident's boxes checked, but the surrounding neighbourhood boasts plenty to offer as well. From shopping (Siberia Vintage and Gladrags) to dining (Seoul Shakers and Maker Pizza) to drinks (The Three Speed, Burdock Brewery, and Civil Liberties), all the basics are covered. This hot location also offers easy access to further urban pastures, being right on the Bloor-Danforth subway line. Craving some time in the east end, a waterfront weekend, or a day of shopping at Yorkdale? It's all just a PRESTO tap away.
Add the fact that Motto is walking distance from several schools, grocers, grassy parks, and playgrounds, and there's no denying the condo boasts major draws — for urbanites of all ages. With suites starting in the high 500's, availability surely won't last long. Register today to learn more.
---
This article was produced in partnership with STOREYS Custom Studio.