The sound of construction was replaced by that of celebration at 55 Charles Street on October 10th, at the topping-off ceremony for one of the city's most anticipated condo developments, 55C Bloor Yorkville Residences.
And there was reason to celebrate: Not only is MOD Developments' 55C — a stunning 52-storey luxury condo development on Charles east of Yonge — turning out as sleek and sophisticated as promised, but its upcoming completion date is on schedule. At a time when countless city projects are delayed thanks to pandemic-related issues, 55C has managed to materialize as per plan, offering a welcome addition to Yorkville's sophisticated skyline.
---
Its design-forward residents are expected to move in this spring.
"This was a real milestone today, and, on behalf of MOD and our partners at OPTrust, I want to thank everyone in this room," Gary Switzer, CEO of MOD Developments, told the crowd. "This has been an amazing project. When you think about the fact that this was built during the pandemic — in fact, we got our building permits right before things shut down — and to think that we created this during probably Toronto's most difficult time to build a building, I want to thank every trade that's in this room — and even those who finished a long time ago. You have done an amazing job."
In fact, amazing is an understatement; this is something that's glaringly obvious as the building — with its stunning geometric silhouette — nears completion. But it's also not surprising. MOD Developments is behind some of Toronto's most design-forward and buzz-worthy condo developments in recent years, including The Massey Tower and Waterworks. Switzer, however, is quick to share the credit.
"There [are] many people involved when you're building a 52-storey building, and it was great to see everyone together — all the workers, the trades, construction management, the consultants, and our team from MOD — and to celebrate at the topping-off ceremony," Switzer tells STOREYS. "There was a lot to celebrate: we're on time, on schedule, we're going to be delivering the building this spring, and it looks great. Everyone deserves credit. It's a good-news story."
Switzer credits solid development and construction management in the materialization of the project in such a challenging climate. Switzer adds that finishing the zoning entitlements for the site in record time, and working cooperatively with the City in pulling permits, also added to the efficiency of the schedule.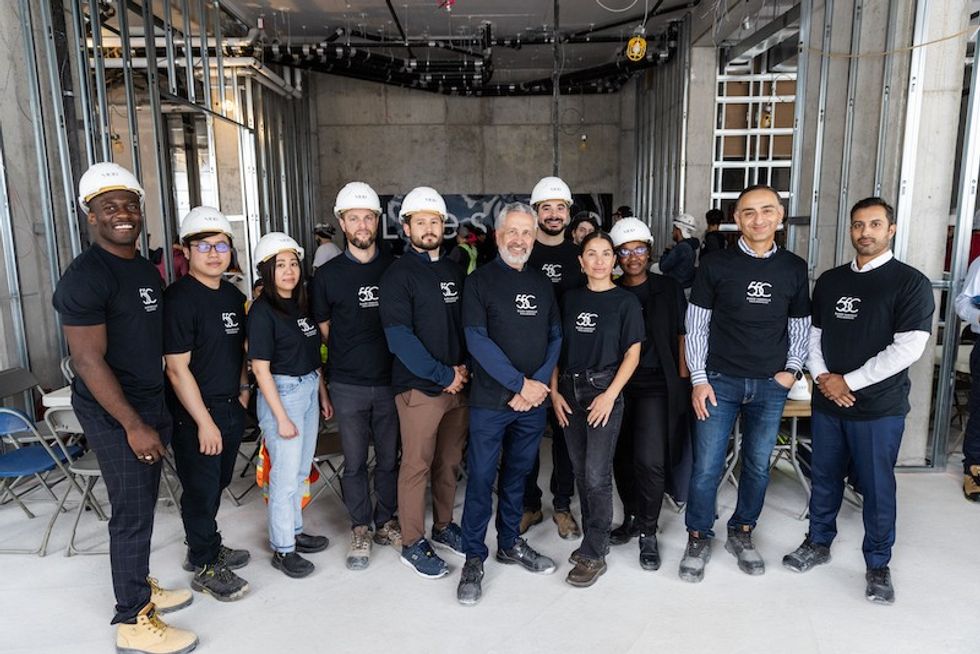 Image via MOD Developments
MOD turned to the renowned architectsAlliance and Cecconi Simone for the building's architecture and interior design. "With 55C, we focused on understated elegance in both the architecture and the interior design. Architecturally, the massing, the use of materials, which include black porcelain panels and stainless steel as well as custom-designed black fritted-glass balconies, all add to a classic design."
In addition to relishing in the design details of their sophisticated spaces — whether from their custom-designed kitchen or peaceful soaker tub — residents will appreciate the building's wellness-focused and jam-packed amenity program, which spans over 20,000 sq. ft.
The eighth floor features multiple well-appointed areas for lounging, dining, and studying. But the star of the show — at least, for the fitness enthusiasts — is a massive state-of-the-art fitness facility that houses everything from virtual cycling studios, boxing bags, and a movement/yoga studio, to top-of-the-line equipment and steam rooms. Meanwhile, up on the breezy rooftop, there's a party room with an impeccably landscaped outdoor terrace and barbecue area with stunning and soul-soothing city views, a Zen room, and a guest suite.
"In the past, you may have had a gym or a party room that was locked most of the time," says Switzer. "We wanted to treat the amenities like they'd be in a hotel or a cruise ship — they're open all day. We decided to think very seriously about the program and the type of spaces people want — we've moved away from single-use spaces like movie rooms. There are areas where you can have friends over and have dinner for eight or twelve. There are also quiet lounges, if you want to sit with your laptop and get out of your suite, you can."
Switzer says the design focuses on the communal and facilitates a sense of togetherness. This begins from the moment residents and guests walk into the wood-panelled lobby and see a welcoming fireplace. "It's a beautiful room that residents will want to linger in," says Switzer.
When it comes to its future residents, they'll undoubtedly share the same taste for style and understated elegance, but also a love for the sights, sounds, and — inevitably — shopping of the Yorkville neighbourhood. Switzer says, however, that 55C has attracted a range of demographics, thanks to their unit sizes.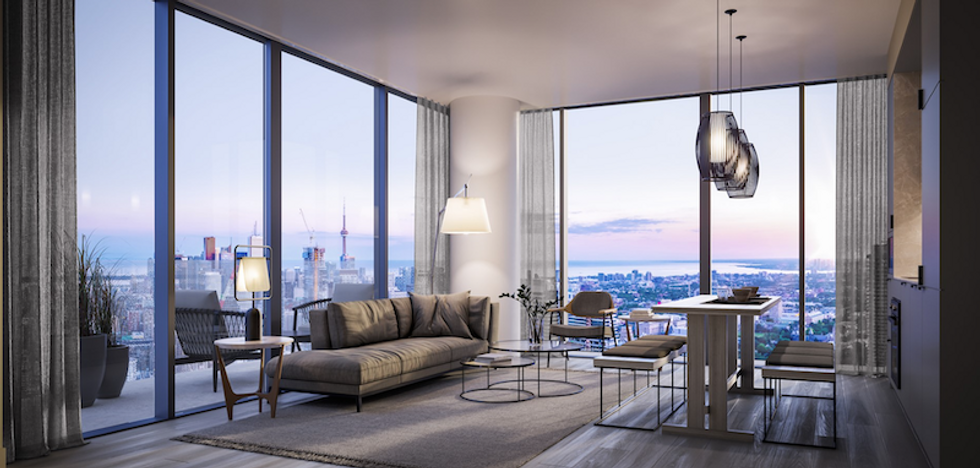 Image via MOD Developments
"We have a wide variety of suite sizes here in here; we've got two-bedroom units that are 1,000 sq. ft, which is large by today's standards," he says. "Our objective is livability. It's not, 'How many rooms can we squeeze into the smallest square feet?'. Whether you're living in it or renting it out, you need the suite to be both livable and functional in terms of proportions."
For example, Switzer points to a custom bathroom in many suites that has a sliding door between the toilet and a sink and the rest of the bathroom (which features another sink), to make it a powder room when guests are over. He also highlights a built-in banquette opposite the kitchen counter that includes a table and storage on both sides.
"That was well-received, because it feels homey and not like a generic condominium suite," Switzer says. "We truly are committed to design excellence," he continues. "The focus is on the purchaser and creating a home for them."
For those looking to call 55C home, there are still a limited number of suites available. Click here to learn more.
________________________________________________________________________________________________________________________________
This article was produced in partnership with STOREYS Custom Studio.
Future Developments