---
Many of Toronto's main commercial drags are experiencing rapid intensification, and Islington City Centre is no exception, with a number of residential towers to rise along Dundas West.
One such addition will be an eight-storey mixed use building at 5140 - 5146 Dundas St. W, just steps from the intersection of Kipling and Bloor. An Official Plan Amendment and Zoning By-law Amendment have been submitted to the City by Walker, Nott, Dragicevic Associates Limited on behalf of an entity known as 5140 Dundas West Limited for the mid-rise tower, which will bring 59 residential units to the neighbourhood. Unit types will be largely one- and two-bed floorplans, at 29 and 26, respectively, with an additional four three-bedroom units.
Designed by Moffet & Duncan Architects Inc., the build will reach 25.5 m high (not including the mechanical penthouse), and will take up a total GFA of 6,762 sq. m, 5,785 sq. m of which will be residential, and 977 sq. m allotted for retail use. All existing properties on the site's four-parcel assembly -- including local watering hole St. James Gate Irish Alehouse and Restaurant, as well as a two-storey retail and office building -- are set to be demolished.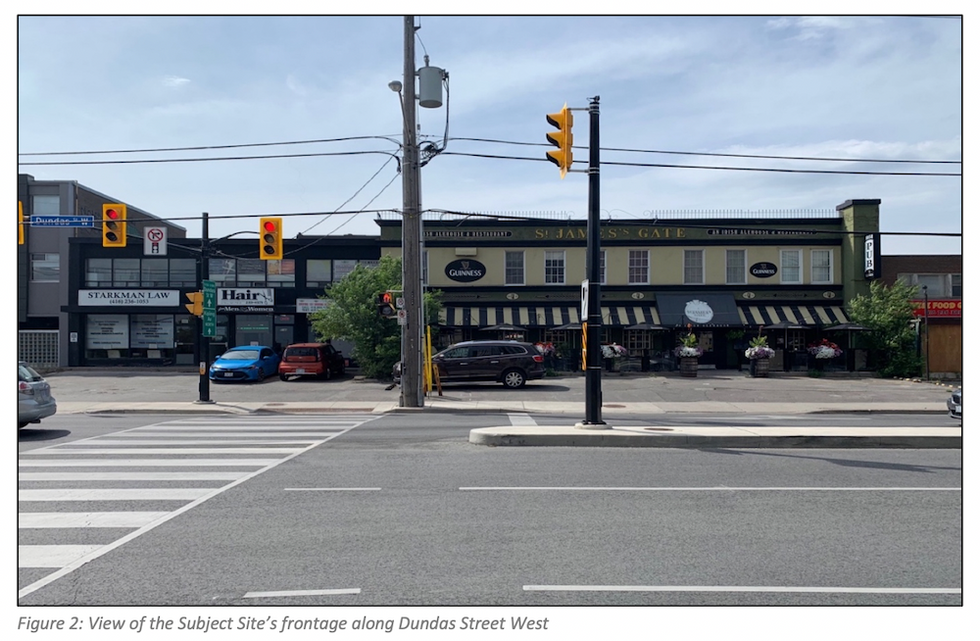 Existing project site | Bousfields Inc.
The building will run along the north side of Dundas, and will include retail at grade, along with a separate residential lobby, with living units to be located between the second and eight storeys. The property will be setback approximately 4.16 m from the street, and will include an enlarged public realm, with new landscaping and planters.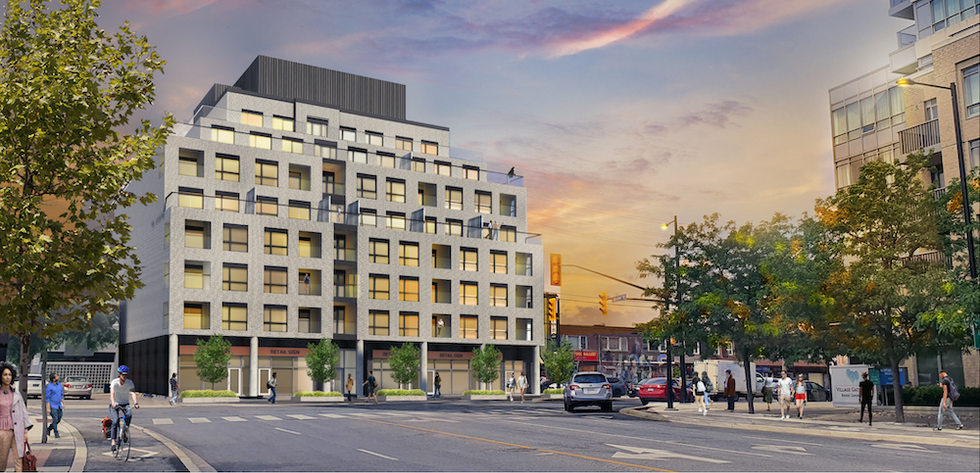 Rendering: Moffet & Duncan Architects Inc.
The plans include a total of 239.09 sq. m of indoor amenity space and 54.62 sq. m of outdoor amenity space, to be provided on the second level. It will also add 41 vehicle parking spaces to the property within a two-level underground garage, along with 52 bicycle spots.
Residents will have plenty of opportunity to take those bikes for a spin, given the site's close proximity to some of the City's cycle tracks, located nearby on Dundas Street West, Bloor Street West, and Kipling Avenue. Green space can be found at the nearby Tom Riley Park and the Islington Golf Club, both a five-minute drive away. The quickly-densifying area -- there are another six proposals in its direct vicinity, including three towers above 30 storeys -- is also within walking distance from both Kipling and Islington TTC stations.
Future Developments