---
Toronto is often recognized as Canada's leader in developing innovative, creative, and mixed-use communities. However, Mississauga will soon give Toronto a run for its money, as it's poised to be home to a new, state-of-the-art Innovation District that's aiming to become the largest hub for technology, innovation, and research in the country.
An impressive feat for the lakefront city to tackle, but the Innovation District is just one of the many ambitious components set to define Mississauga's forthcoming Lakeview Village -- a 177-acre mixed-use waterfront community built entirely on former industrial lands.
The new community will feature a range of housing options, space for education and offices, the aforementioned Innovation District, multicultural and year-round recreational programming, an extensive parks system including access to the nearby 64-acre Jim Tovey Conservation Area, and a network of trails, pathways, and direct access to local transit.
READ: What Does the Future of GTA Living Look Like? To Start, 20,000 Neighbours…
The district -- centrally located within the region's Innovation Corridor and integrated seamlessly into the broader smart city development -- will be the future location of thousands of long-term jobs while also being the catalyst that spurs Mississauga's post-pandemic economic recovery. The project is also intended to position the city as a competitive, global hub for business -- with Lake Ontario as an attractive backdrop.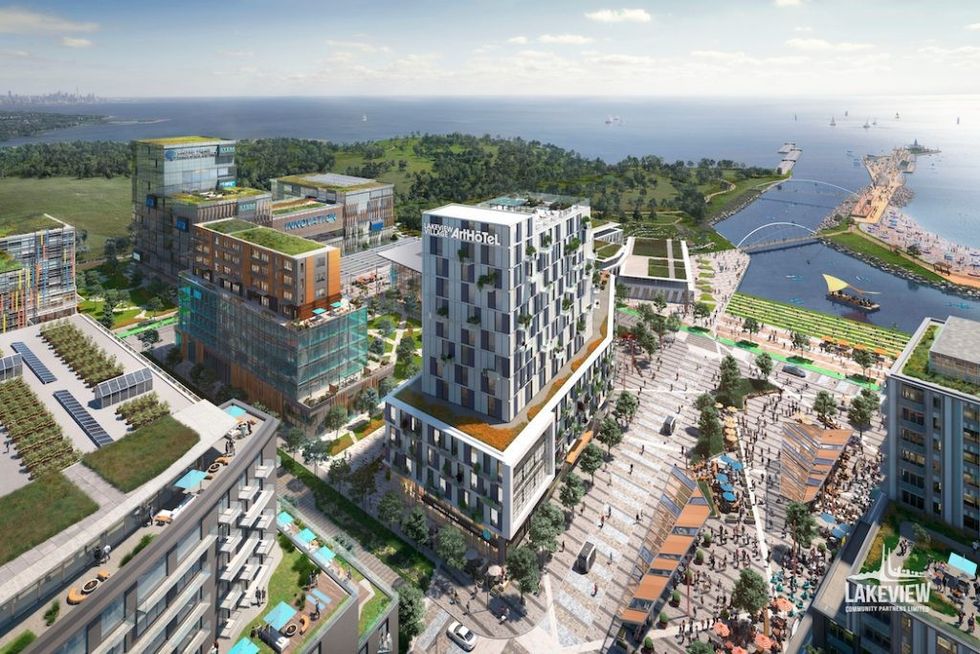 Square and Hotel Innovation at Lakeview Village/Renderings by Cicada Design Inc.
Amid the pandemic, there has been an exodus from metropolitan centres to suburban dwellings with homeowners craving more access to green space. This has, in turn, created (sub)urban spaces that prioritize multi-use communal areas and accessibility while facilitating job growth and talent retention. In other words, communities that are emerging as important contributors to Canada's economic recovery.  
To put it simply, now, more than ever, people want to live where their work, favourite shops, child care, and adequate green space is all within easy reach.
But even more the pandemic, Lakeview Community Partners Limited (LCPL), the developers behind Lakeview Village, understood the importance of building a future-ready community and creating an environment that facilitates collaboration, sustainability, and use of green space that could serve as a blueprint for mixed-use communities around the world.  
The state-of-the-art Innovation District builds upon Lakeview Village's sustainable foundation and will have the potential to compete alongside the top technology hubs in the world, propelling Mississauga's journey toward sustained economic prosperity. 
READ: The New Mississauga Embraces its Big City Urbanization
Rob Spanier, president of advisory firm Spanier Group and LCPL development advisor, told STOREYS the success of the innovation district will stem from the strength of the broader development and its position within Mississauga.
"The Greater Toronto Area is positioned for these types of place-based developments that have the right mix of uses that are interconnected. We always envisioned having the Innovation District on this site since day one, and as a team, we've been looking at how it's poised to have a major impact on the GTA. When you look at opportunities for these mixed-use and innovative communities, Mississauga has the opportunity to shine. It's a growing city, and from an incoming hub perspective, Lakeview will bring it all together," said Spanier.
The GTA isn't a stranger to innovative districts, in fact, you'll find them peppered throughout the region. In Toronto, you have MaRS, The DMZ, and the adjoining medical hub along University Avenue. There's Communitech in Kitchener-Waterloo, the McMaster Innovation Park in Hamilton, and YSpace and VentureLAB in Markham. Meanwhile, Mississauga is located in the middle of it all.
"We're really the hole in the donut of the innovation world. Mississauga is located at the epicentre of the region, which is why we're designing a district that's focused on the way people want to work, interact, and live. This is the future of city building, and I think Lakeview's Innovation District will be the centre of the future," said Spanier.
Lakeview and the district are strategically located and highly accessible due to their proximity to Canada's largest airport, Pearson International, while Billy Bishop Toronto City Airport is only 19 kilometres away. There are also multiple commuting options -- including nearby GO Transit stations and major highways and roadways -- all close by.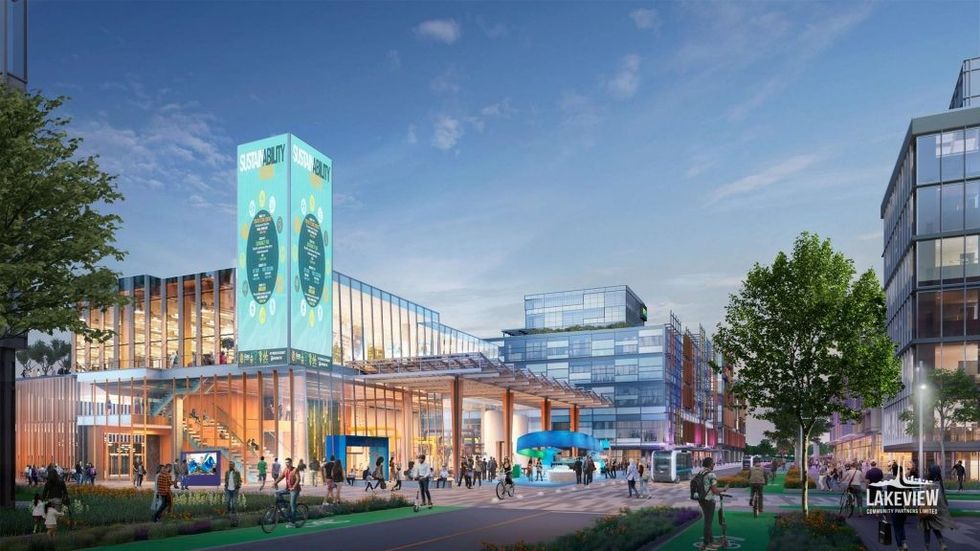 Sustainability Centre at Lakeview Village/Renderings by Cicada Design Inc.
Serving as a central hub for research, the Innovation District will stimulate a thriving business community that will attract and retain a diverse pool of talent and create 9,000 long-term jobs.
The district will feature 1.9 million square feet of office space, tech and research facilities, employment spaces, 20- acres for campus, culture, innovation, and more than 200,000 square feet for new retail and restaurant opportunities.
However, Spanier said the team wants to ensure Lakeview brings and attracts the right businesses that will do more than just fill space.
"There's a huge opportunity here. The companies will get to be part of an incredible economic engine and choose where they want to have their head office and offices as opposed to thinking 'we just need a space'," said Spanier.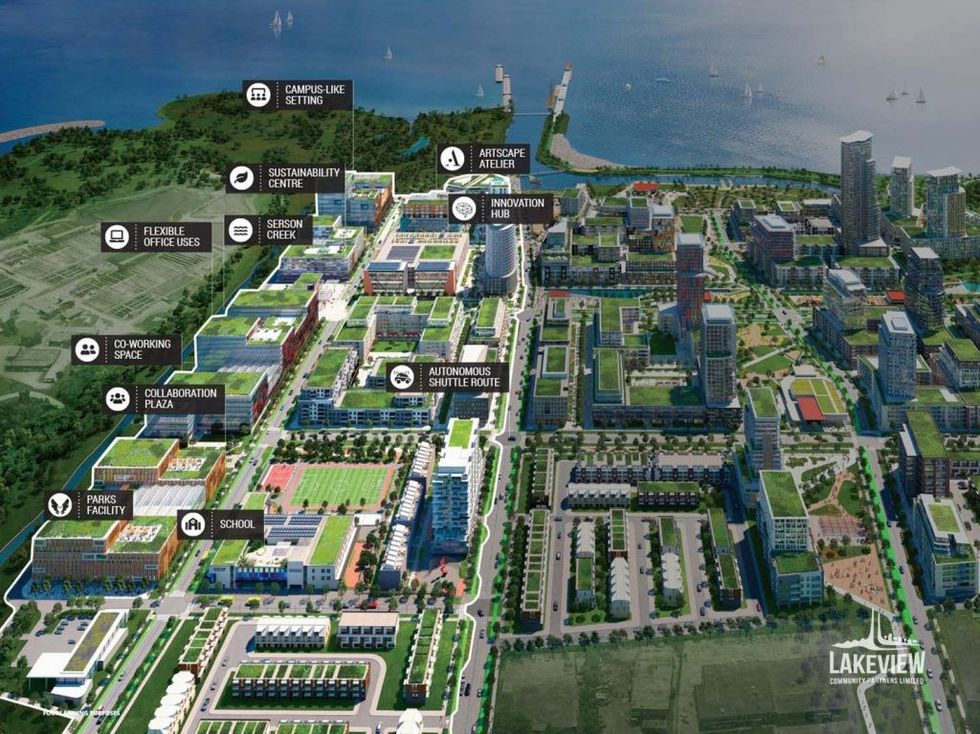 Lakeview Innovation District, Site Map/Renderings by Cicada Design Inc.
With a striking and timeless architectural design and an open space working environment, plus proximity to integrated transit routes, not to mention a thriving retail community and the waterfront, the Innovation District will act as a magnet for high-tech firms, technology incubators, and entrepreneurs in the post-pandemic era and beyond.
Collaboration has been central to the strategy behind the Innovation District's design, with open concept co-working spaces, flexible office use, and event spaces available to innovators to work together and connect with investors, experts, and potential partners from around the world.
"I think as we emerge out of COVID, there will certainly be a balance and hybrid approach to how people want to work and I think an innovation district that balances the opportunity to have people work within a vibrant community in an environment that's safely done is important," said Spanier.
He explained that within Lakeview, people could have meetings outside in the various open-air spaces and atriums. "I think this will help set the tone for the future of what the workplace can be like within mixed-use community, public, and private spaces."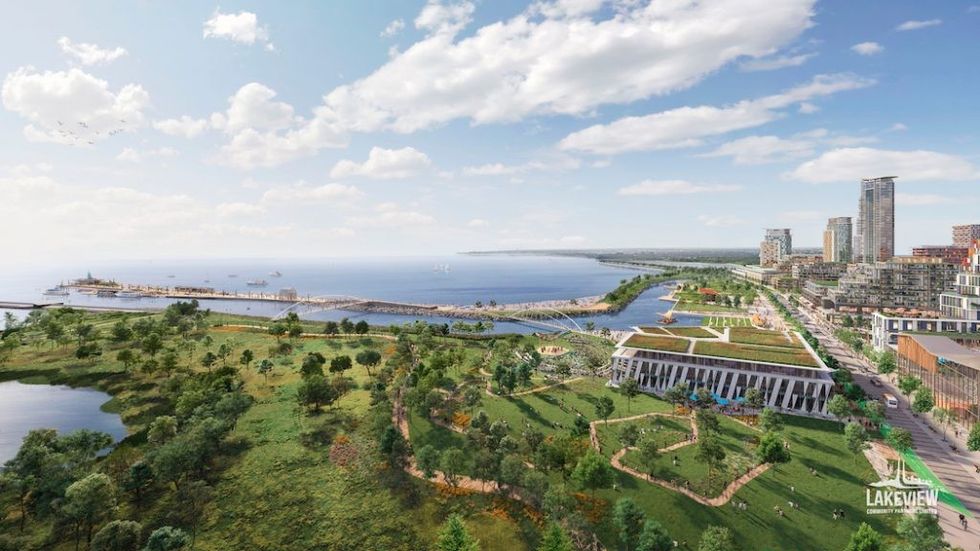 Pier to Steps at Lakeview Village/Renderings by Cicada Design Inc.
Historically, many Mississauga residents looked to Toronto for employment opportunities. However, Brian Sutherland, Vice-President of Development at Argo and Lead on Lakeview Village, explained to STOREYS that more recently, thanks to the tireless efforts of the City council, office of the Mayor, and other passionate residents, Mississauga is getting the recognition that it deserves as a great place to invest and do business.
Plus, Mississauga recently received a very impressive globally recognized accolade, after being named one of the world's most 'Intelligent Communities' by the Intelligent Community Forum (ICF), further adding to the city's appeal.
"At Lakeview Village, we are developing an entire community, not just housing, and we understand the need to continue this momentum through the creation of career opportunities in future-looking, innovative, and technology-based industries," said Sutherland.
Beyond the village, Sutherland said, as part of the district they're investing in the talent of Mississauga and providing the necessary infrastructure that reflects the city's growth while driving sustained economic prosperity.
"With state-of-the-art facilities as well as flexible and open-concept office space, the Innovation District will not only attract business and talent but place Mississauga on the map as home to the innovative ideas that will shape our future."
Mississauga