---
It could soon get easier for Brampton's transit riders to access Vaughan Metropolitan Centre -- and, subsequently, the subway line to the downtown core. 

According to Metrolinx, the newly proposed Queen Street-Highway 7 bus rapid transit (Q7BRT) will allow riders to travel from the west end of Brampton all the way to the Vaughan Metropolitan Centre on one bus. 
While this may not seem like the biggest deal, it could be a game-changer for commuters when it comes time saved changing buses (especially in the dead of a Canadian winter). 
Metrolinx says that the Q7BRT would have one or two stops per kilometre, with some of those stops connecting to other regional networks, like GO Transit and the TTC subway line. Furthermore, the proposed Q7BRT would also "unlock regional mobility" by providing a very important Peel Region-to-York Region connection (as opposed to transit routes that run in and out of downtown Toronto.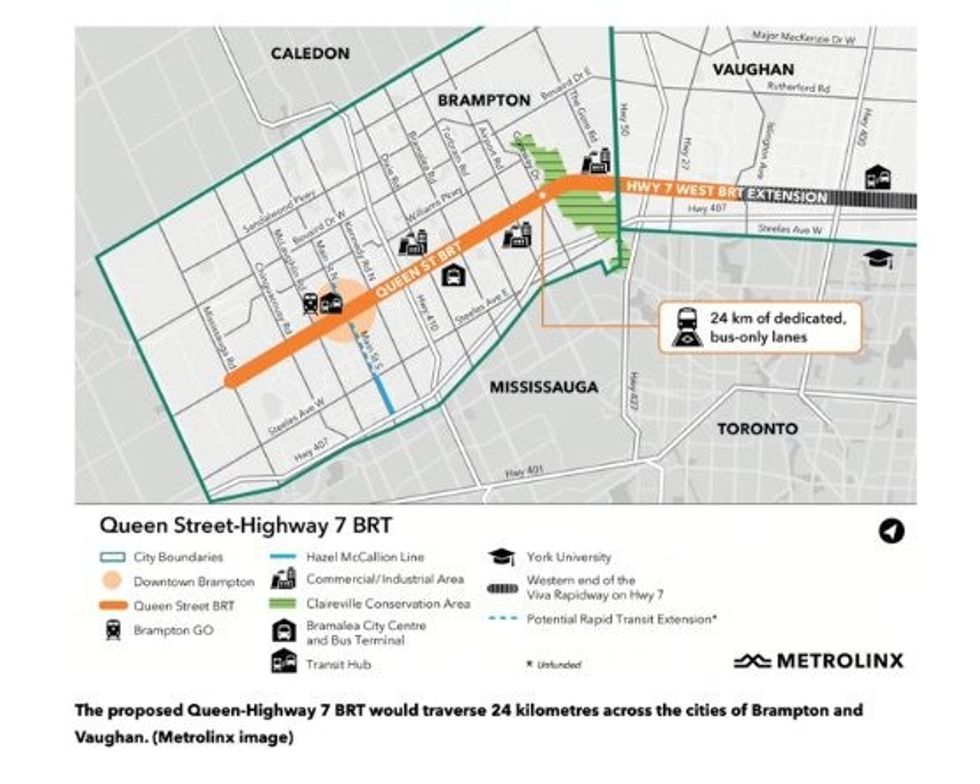 Metrolinx
Metrolinx says it will introduce the project through an online information session that will run virtually from January 23 to February 3, 2023. A live virtual meeting is also scheduled for the evening of January 26 that will enable the public to hear directly from the project team and get real-time answers to questions. 

"Learn the difference between curbside and median BRT and which is best to use when and where," reads a Metrolinx blog post. Residents can learn more about the project and participate in the virtual meeting by registering at metrolinx.com/Q7BRT. 
Transportation