North York – a vibrant area north of Toronto – has experienced an overdue facelift as of late, generating subsequent interest on the real estate front. In particular, the heart of the region – the bustling intersection of Yonge and Sheppard – has grown rapidly in recent years, becoming an increasingly desired place to call home.
Offering a fresh, youthful, and view-filled addition to the neighbourhood is the anticipated 181 East condo development from Stafford Homes.
---
Located steps away from Yonge and Sheppard, the upcoming boutique condominium – the only one in North York – offers an upscale and distinctively downtown vibe, but caters to the COVID-19-inspired need for more space and to reconnect with nature. It's one of the few mid-rise buildings surrounded by low-rise residential and parks, with the abundant greenery offering an ideal mix between city and suburban life.
Designed by award-winning interior designer Johnson Chou, the sleek, nine-storey midrise building features 185 units, ranging from bachelors to three-bedroom suites. With no shortage of glass throughout, it boasts an exceptionally bright, airy design and is complete with top-of-the-line amenities and artfully landscaped terraces.
A celebration of the outdoors is a common theme throughout.
"A design concept we developed throughout the interior common areas was to evoke references to landscape and nature. Interior spaces allude to those of the exterior with a blurring of both realms, and details such as wood slat partitions and interior planting work in tandem to enhance the effect," says Johnson Chou, the project's interior designer.
"Where most condominium designs tend to be inward-looking, dull and at worst dreary, 181 East is about three things: creating a connection to nature by extending the interior to the outdoors and the outdoors in; creating spaces of enduring beauty and elegance; and developing an engaging diversity of amenity areas of work, play, fitness, and relaxation," says Chou.
READ: What to Consider When Buying a Condo in the Time of COVID
Catering to a growing culture of office-free workers, the building will feature a sleek co-working space, private workrooms, and a meeting room. A central coffee bar offers a space for collaboration and creativity. But, the editorial-worthy units are just as work-friendly.
"You have units here with 30-foot frontages – some have 40 to 50-feet – of gorgeous upper terraces, " says 181 East architect Henry Burstyn. "The frontage helps to create areas like internal offices with desks basked in natural light and opportunities to step outside and on to a furnished terrace and have an extension of your unit."
The building's façade will also give the neighbourhood something to talk about.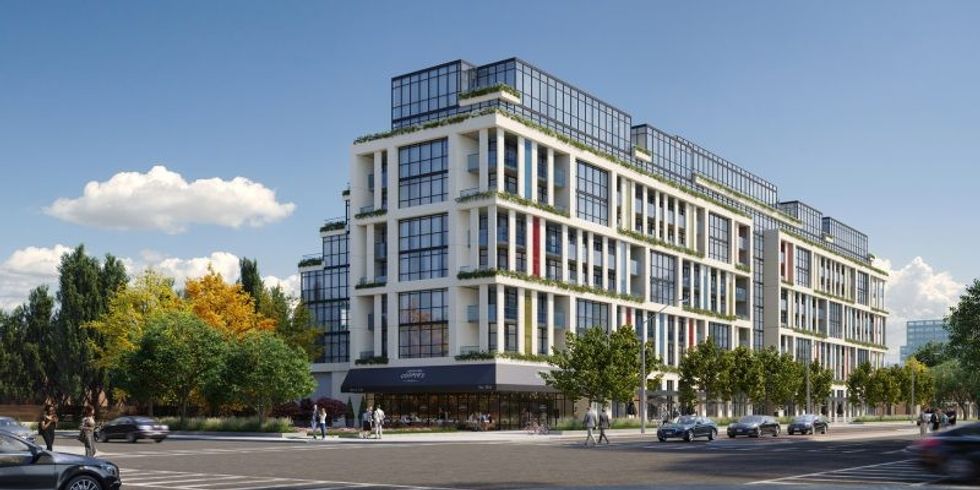 "An interesting thing about the building is that it stands out because – especially if you travel along Bayview – many of the local condos are monochromatic. There are a lot of whites, blacks, greys, but not a lot of colour or playfulness," says Burstyn. "Our façade features two-story-high panes of glass with these pops of colour that add a lot of interest."
The lush and abundant greenery also sets 181 East apart from local condos. "We have these expansive linear planters around the entire building, which are going to soften the façade, offer privacy, provide a living edge, and create an opportunity for people to connect with the outdoors and engage in a modest level of planting," says Burstyn.
While the spacious suites lend themselves to entertaining, residents may also enjoy the second-floor events lounge, private dining room/lounge, the outdoor dining room/lounge, or tasting room.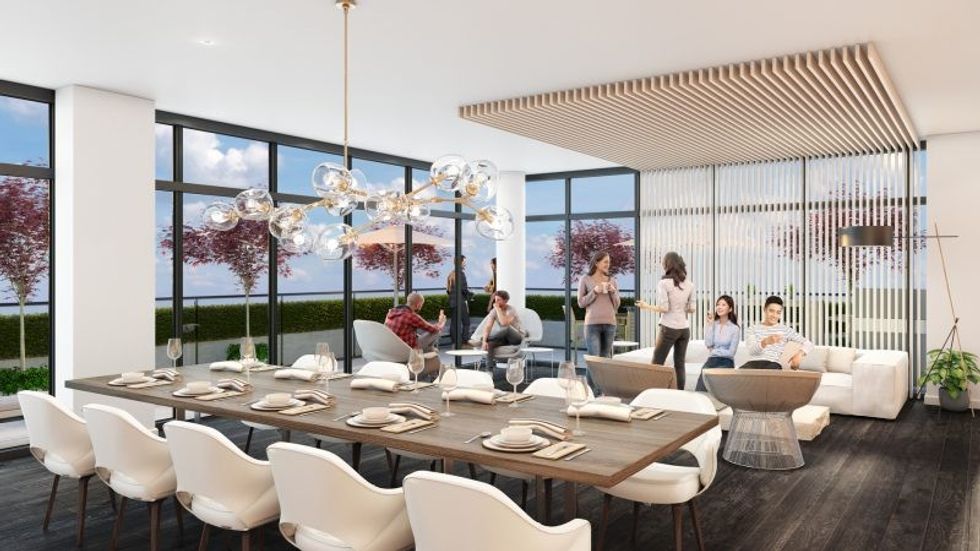 Of course, location is one of 181 East's major selling features. With the Sheppard TTC station just steps away and Highway 401 around the corner, the downtown core is never too far away. The neighbourhood offers all of the essentials, plus more – from boutiques and restaurants worth posting about to local farmers' markets and Whole Foods – within walking distance. The recently revived Yonge Sheppard Centre (a project that came with a $300-million price tag) now boasts fresh retail shops, new daycare space, a new food court area, and an easy-on-the-eyes extension of the façade on both Yonge Street and Sheppard.
The local foodies have no shortage of cuisine options within walking distance, with the Yonge Street stretch between Sheppard and Finch housing everything from Korean, Japanese, and Taiwanese, to Persian offerings. You'll also find inviting pubs, neighbourhood eateries, and grab-and-go options.
In short, the neighbourhood checks all the boxes – and the time to buy in the increasingly coveted area is now. In a climate of a collective re-evaluation of living spaces thanks to the pandemic, Toronto's real estate industry certainly isn't suffering – in fact, it's booming.
"Over many years, real estate has been the most stable part of the Canadian economy and it continues to be," says Jonathan Goldman, President of Stafford. "We have all recently experienced a huge shift in terms of the time we spend at home versus the office. Now more than ever, we as a society value our homes and personal spaces more. A comfortable home has shifted from a nice-to-have to a need-to-have for many."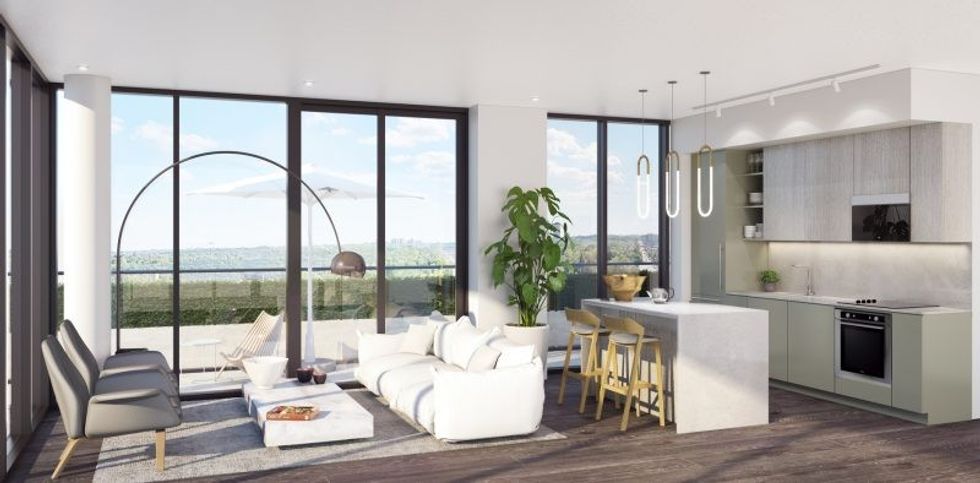 At 181 East, each of the 55 units features unique individual plans to cater to different lifestyles. "We take serious consideration of the actual livability of the space, how people are going to grow in their home. …. We put endless energies into designing the amenities spaces …s and make sure that they are forward-thinking. It's an energy-efficient building. The designs are fresh, high-end and modern," says Goldman.
The appeal in 181 East is undoubtedly strong – something that's reflected in high sales. Notably, the anticipated 8th Floor Terrace Collection – with both north and south-facing terraces – and the 9th floor Grand Penthouse Collection have just been released and are in high demand.
Word of advice: If you want in, move quickly. Find out more about 181 East here.
Future Developments