Toronto's upcoming LSQ Master-Planned Community will reinvigorate the concept of community.
---
The forthcoming master-planned community by Almadev -- coming up on a lively stretch of Sheppard East in North York -- will offer the best of many worlds: a place to live, work, eat, play, and ultimately, belong.
In addition to several high-end and sky-scraping condo towers, the over 1.5 million sq. ft development will integrate a robust suite of amenities and various commercial components, including spaces dedicated to retail, dining, and employment.
To top off the LSQ experience, the built environment will include a much-needed 1.2 acre central park. 
For Almadev -- a multi-billion dollar real estate development, investment, and asset management company, with over 7,500,000 sq. ft of income-producing properties in its portfolio and more than 7,000,000 sq. ft of construction in the pipeline -- this idea of creating a mixed-use, master-planned community from scratch is well-founded. It's what they do.
The company is backed by more than two decades of experience, and a track record of seeing multi-phased development projects from concept through to completion.
Upon completion, LSQ will serve as a continuation of the company's mission: to bring best-in-class master-planned communities and mixed-use properties to prime locations across Canada and the US.
"Everything a Community Should Be"
"We envisioned LSQ as an energetic mixed-use community that would set the standard for the future of living in North York," says Rod Pell, Associate Architect at Wallman Architects. "Designing LSQ1, the flagship building, was no small feat, and we wanted to create a respectful and modern design that is functional, timeless, and fosters an exceptional sense of community."
Master-planned communities are about more than having a place to call home. They play into the idea of complete communities -- those that consider and accommodate all the possible needs of future residents.
LSQ in particular -- touted as "everything a community should be" -- is uniquely situated and on track to be a major business and employment hub. The development will benefit from the City of Toronto's ConsumersNext growth plan, which seeks to enhance Consumers Road Business Park and the areas around the Sheppard and Victoria Park intersection.
By inviting new residential and mixed-use developments to the area, such as LSQ, the City's goal is to realize Consumers Park's full employment potential.
As it currently stands, Consumers Park has one of the highest concentrations of employment opportunities outside of Toronto's downtown core, with reputed companies that are essentially recession-proof (American Express, Sony, NBC Studios, Statistics Canada, Insurance Bureau of Canada, Enbridge, and Reliance, to name a few) already established in the area. Consumers Park presently employs around 20,000, and through ConsumersNext, an additional 13,500 office jobs are anticipated to be created.
It's clear that the area will see continued growth and expansion in the coming years, and that in itself is a true testament to North York's popularity. Demand in the suburb emerged strong during the pandemic -- particularly among young professionals seeking centrally-located real estate outside of the downtown core -- and is yet to relent.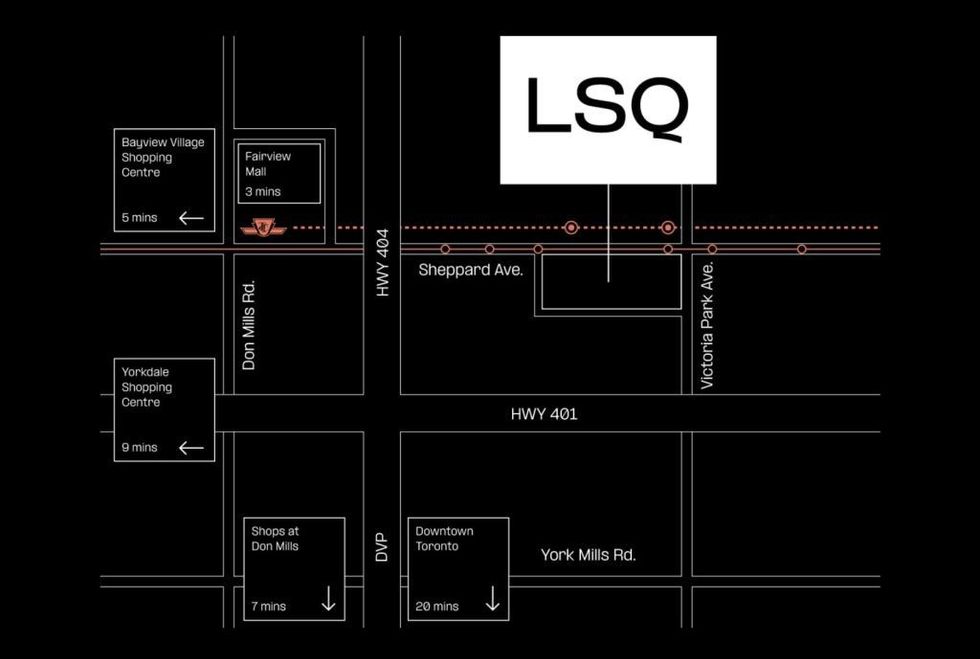 LSQ Transit Orientation
What's more, North York boasts transit connectivity and quick and easy access to the Don Valley Parkway, Highway 401, Highway 404, Don Mills subway station, and bus stops, and it's just a short distance from downtown Toronto and other pockets of the GTA. The area will also benefit from future transit, including the proposed Sheppard East LRT.
"We are thrilled to continue our legacy in North York, and witness our vision come to life with LSQ. Just like our recently-completed master-planned community Emerald City down the road, we are committed to providing quality housing, green space, modern amenities and commercial offerings to support this fast-growing region," says Rafael Lazer, CEO of Almadev.
"LSQ will be transformative for this area of the city, and we are so humbled by the reception so far."
With LSQ by Almadev, investors and end-users alike have a rare opportunity to tap into a holistic and all-inclusive lifestyle, as well as the future potential of a burgeoning, blossoming area.
Click here to learn more.
---
This article was produced in partnership with STOREYS Custom Studio.
Future Developments