Almost a year has passed since parking minimums for new residential developments have been removed. As a result, we have seen more developments look to transit infrastructure and resources to move their future residents instead of building parking spaces.
---
In our article at the beginning of the year, we ruminated on the changes Toronto's parking minimums would bring and how further investments and commitments to transit, cycling, and complete communities are needed for a more car-free society to thrive. These investments and commitments are happening now. Take a look at some of the exciting projects happening in our city!
Our Plan Toronto: Becoming the Most Inclusive City in The World
The City of Toronto is undergoing a big municipal comprehensive review of our Official Plan, a process named Our Plan. This is a major undertaking that will set out Toronto's long-term vision and guide decision-making on development, growth and the city's environment for the next 30 years. 
READ: 50-Storey Tower to Transform the Corner of Yonge and Steeles
You can learn more about Our Plan Toronto from the experts behind it in our webinar Our Plan Toronto + Vancouver Plan 2050. 
Toronto has just completed Phase 3 for public engagement and has released the draft vision statements and directions. With an overarching focus on Indigenous planning perspectives, placemaking and peacekeeping, Toronto's new official plan will try to eliminate disparities, take climate action, and make Toronto the most inclusive city in the world.
A critical part of Our Plan Toronto is creating a transit-oriented plan that meets provincial requirements. To build compact, walkable areas next to transit, Toronto will shift towards more sustainable modes of transit in the coming future.
Take a look at the official plan to see how Toronto has progressed so far and get involved by giving input through the Major Transit Station Areas Interactive Engagement Tool.
Ontario Line: Moving Towards Complete Communities
An exciting project currently underway, cutting through the heart of Downtown from Exhibition to the Science Center is the upcoming Ontario Line subway line. Several transit-oriented community developments will accompany the new 15-station subway line. Over 7,000 new housing units and 55,000 jobs are expected to be generated from these developments.
These transit-oriented communities will be coming to Corktown and First Parliament, Exhibition, King-Bathurst, Queen-Spadina, and East Harbour. Authorized through several Minister's Zoning Orders on April 18, 2022, these developments are now under construction or in pre-construction.
You can find the project data and studies for these transit-oriented communities at Infrastructure Ontario and Engage East Harbour. 
Go Line Expansions: A More Connected Region
Metrolinx is currently undertaking the GO expansion program, previously known as the GO RER, that will transform the GO rail network to provide more all-day service, service in both directions, and improve service times to 15 minutes with faster trains. The GO expansion program will also improve station access and boarding accessibility.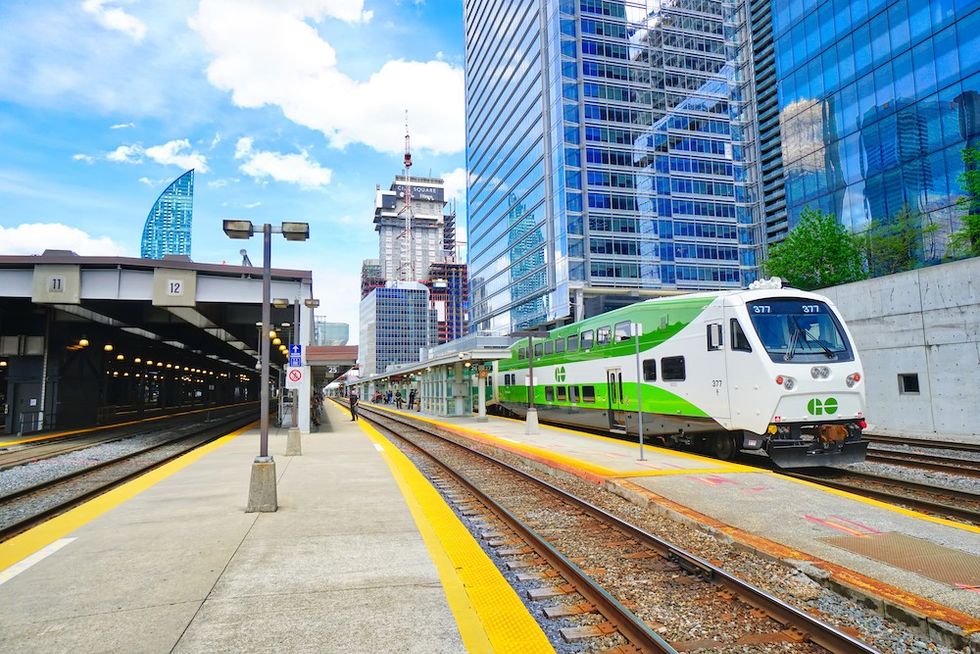 Toronto, Ontario, Canada-27 May, 2019: Toronto Union station terminal that service Go Trains, VIA Rail Canada, UP Airport Express and freight trains
This program will upgrade 42 stations, add a second track to the Stouffville and Barrie GO lines, and add a fourth track to the Lakeshore East and Kitchener Go Line. The GO expansion program will also electrify some GO rail networks which means faster trains and up to 30% more service. 
With strong regional connectivity and more accessible stations taking public transit rather than a car will be much more convenient. To learn more about the expansion program, check out our blog: GO transit is reimagining its rail service and you might not even know about it.
Cycling Network Plan: 100 Centreline KM of New Bikeways
From 2022 to 2024, Toronto will be rolling out approximately 100 centreline km of new bikeways, upgrading existing routes, and conducting studies for future implementation. This is 35% more than the 2019 to 2021 Cycling Network Plan Near-Term implementation program.
The Cycling Network Plan is a 10-year plan that serves as the roadmap for the City's long-term cycling vision, city-wide cycling routes, and three-year near-term implementation program. With 27 projects underway, 35 upcoming projects, and 29 repair and upgrade projects, Toronto's future as a bikeable city is much anticipated.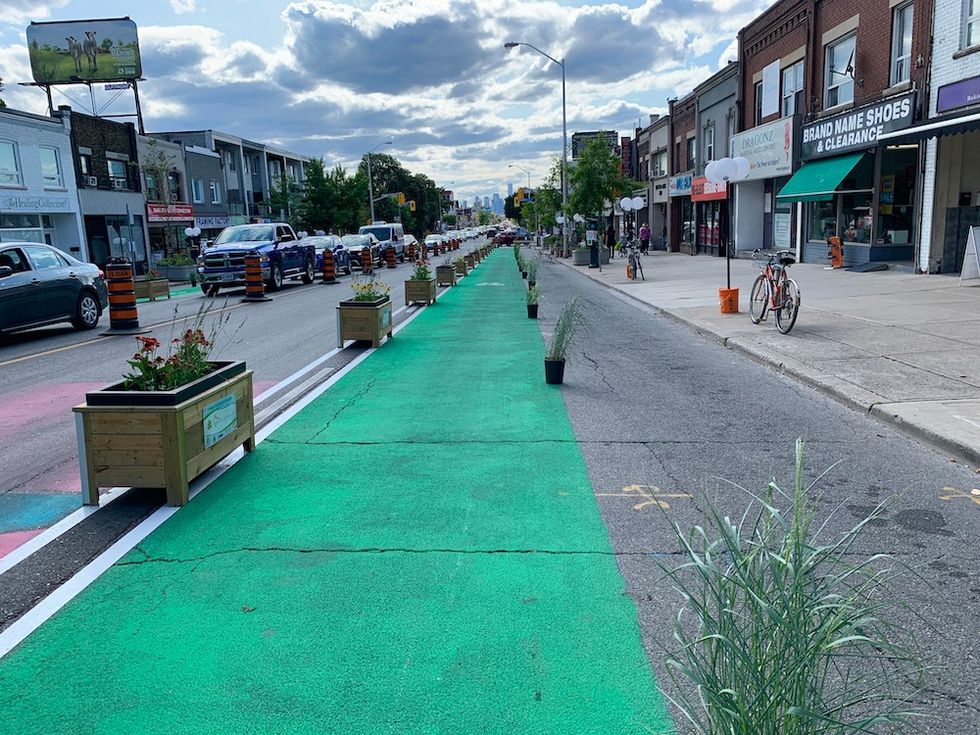 Toronto - August 23, 2019: Two lanes of the roadway along Danforth Ave. are made over for Canada's first ever Vision Zero Popup Street Makeover by 8 80 Cities, The Better Block Foundation, and DECA.
Twenty two centreline km of the projects currently underway are for creating dedicated bike lanes. The largest project is an 11-centreline km dedicated bike lane along Eglinton Avenue from Weston Road to Brentcliffe Road. Check out EglintonTOday to learn more about the Eglinton Avenue bikeway project.
Rethinking How We Move
Moving away from aggressive parking requirements in 2021 was a big step in Toronto's path to becoming the sustainable and healthy place it wants to be. Now that we are committing to complete communities and following up with more investments in transit and cycling infrastructure, we can see how Toronto is rethinking how we move people and weaning itself off car dependency. It's happening now; keep an eye out and get involved! 
Urbanity Fair