Money
Household Mortgage Debt Just Rose By a Record Amount in Canada
According to a report released on Thursday by Statistics Canada, household mortgage debt in June rose more than $23B from May, marking the largest monthly increase on record.
What's more, when compared with June 2021, "mortgage borrowing was up 9.2%, a pace not seen since October 2008."
The housing market reached a fever-pitch in the spring of this year, culminating with national home sales in the month of March setting a new all-time record to mark the highest level of activity of any month — not just any March, but any month — in history.
As Stat Can acknowledges, "there is normally a time lag between the sale of a home and the actual receipt of mortgage funds," which could help to explain why June's numbers were pushed so high despite a recent 'cooling' of the market.
READ: Those Who Bought Homes at Peak Prices Vulnerable to Debt, Becoming 'House Poor'
In April 2021, household mortgage debt already grew by 1% to $1.69 trillion, which represented the fastest pace since 2010. In fact, by that point, the amount of total mortgage debt in Canada had already drawn level with the country's entire GDP.
June, apparently, said 'hold my beer'.
According to Stat Can, Canadian households have added $81.6 billion in mortgage debt over the first half of 2021. In all 12 months of 2020, the total accumulation fo mortgage debt was $108.6 billion. It's no wonder TRREB has already forecast 2021 to be its biggest year on record.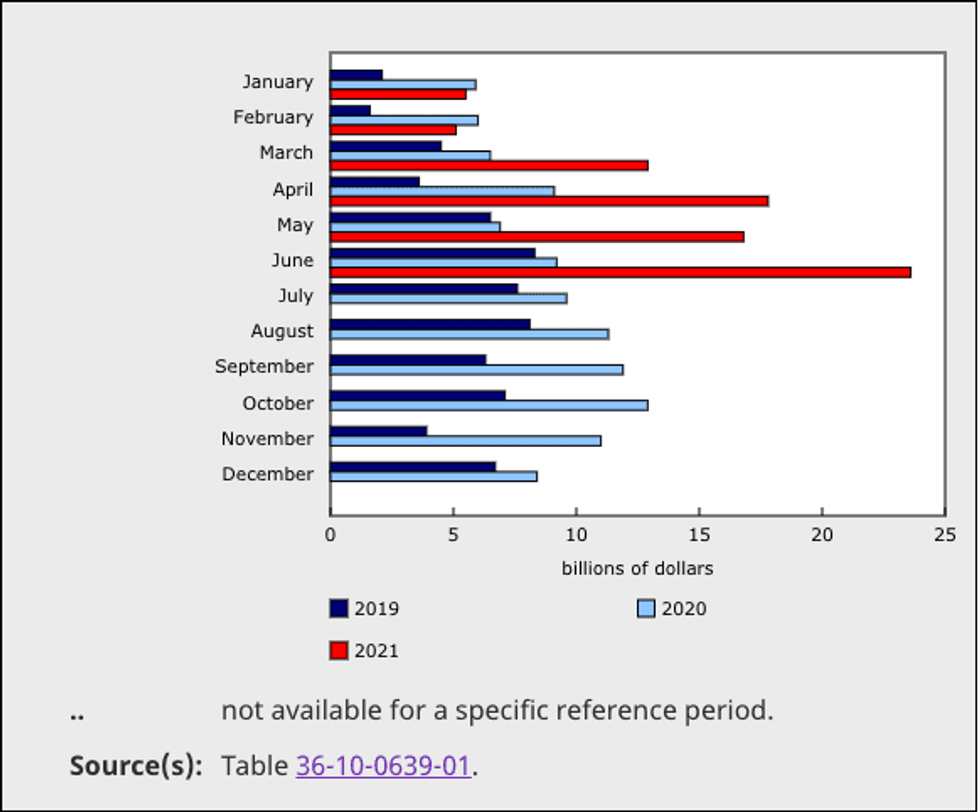 As for the reasoning behind such growth, Stat Can points to the introduction of the latest stress test (for uninsured mortgages) taking place on June 1 as a reason for buyers to have rushed into the market prior to its enforcement. They also suggest that "borrowers may also be in the market for a new home, or otherwise be taking additional equity out of their home or consolidating debt when refinancing their existing mortgages."
Of course, record-high prices across the country also equate to record-high mortgages. Not to mention the willingness to take on mortgage debt thanks to record-low interest rates.
Speaking of records, after June's receipts were counted, real estate secured debt in Canada — composed of both mortgage debt and home equity lines of credit — surpassed $2.0 trillion for the first time.
Though that may be a record many in the country regret helping to break.