---
Across the real estate zeitgeist, it's generally accepted that the Canadian home selling market is amongst the world's most buoyant.
And, according to our realtor neighbour Paul (who, 'til recently, worked in New York) the vertiginous ascent looks set to continue. 
Paul regularly opines, in fact, that it's only going to get better. Or indeed worse, according to which side of the bricks and mortar conundrum you find yourself.  
Seller's market? Unequivocally. Buyer's market? Not so much: unless, that is, you have very deep pockets. With prices accelerating, and multiple-offers scenarios commonplace, our chap reckons we'll look back (in a few short years) and chide: "Remember the halcyon days when you could bag a two-bed condo in downtown Toronto for two million bucks, or a detached home for less than three million? Boy, we should have jumped further and faster…"
Whilst speculation such as this seems far-fetched, let's wander back to 2006, the very year we landed in Toronto, to film 'Colin and Justin's Home Heist', our first original series for HGTV Canada.  
Back then, a Cityplace two-bedder, or a similar 'off plan' cookie cutter in the emerging waterfront community, would have skinned its speculator $200K, give or take change. Spool forward to 2021 and you'll easily pay $800K for a similar space. That's towering 400% growth in a decade and a half, which equates to an average annual return of 25%. Were that pattern to continue, our realtor's prediction seems eminently realistic, huh?  
Unless deftly skilled in the study of crystal balls, who could accurately predict what lies ahead? Although, the historic nature of our market must surely provide – at least some degree of - validation.  
All this to say the environment, cross Canada, is wildly competitive, nay fierce. Whatever – and almost wherever - you're selling, there's an aspirant just waiting to pounce. But the opportunity warrants more than simply sticking a sale board in your front garden and hoping for the best. If, that is, you're prepared to polish your jewel…
Today's climate decrees you could probably list and sell without lifting a finger, but come on: where's the fun in that? Wouldn't you like to optimize dollar yield? In our line of work – both on screen and off - we're forever asked to comment upon which modification produces the biggest 'return.'   A bedroom overhaul? A kitchen trick out? A bathroom refresh? When moving isn't on the agenda, we tend to suggest that best returns be measured on a daily basis. Mightn't it be more rewarding to evaluate our nests with an 'enjoyment quotient' yardstick? But when ready to hit the market, our strategy changes…
Whilst there's no hard-and-fast rule to determine what to spend, our experience demonstrates that 5% of value reinvested in a tired home can add between 15 and 20% come sales time. Just imagine how excited your potential buyer would feel were every off-putting 'red flag' erased. You know: all those time consuming – and pricy - perceived revamps, the absence of which could jettison your home to next-level competitive bids.
So what, precisely, should be tackled? Well, for some homes, a 'Marie Kondo' style blitz, or a 'Home Edit' style purge will quickly gloss proceedings. Come on: were you buyer, rather than seller, which would be the obstacles you'd see? And how might you tailor an offer to accommodate perceived hassle? 
Remain mindful of our maxim: 'To fail to plan is to plan to fail'. Yes indeed, smart home-selling is all about strategy. Without further ado, here's our guide to get you moving. Consider it a schematic cleanse, a decorative douche, if you will, to enliven your home's most dated corners and set you on the path to maximal return…
First Impressions
Must we really flog a dead horse? Without further ado, reach for your tools and fix that wobbly fence, trim back unruly bush (we're not suggesting an Edward Scissor Hands type manicure to sculpt foliage into birds and poodles, but a horticultural Brazilian will make all the difference) and repaint your front door.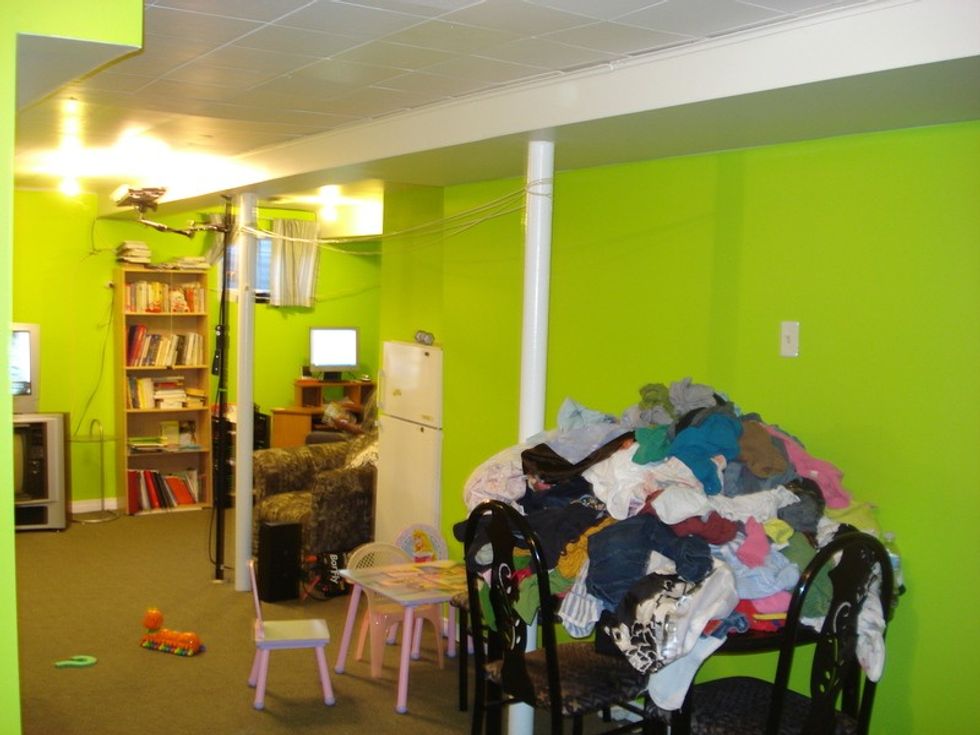 It's not easy being green – colouration like this might easily encourage lowball offers.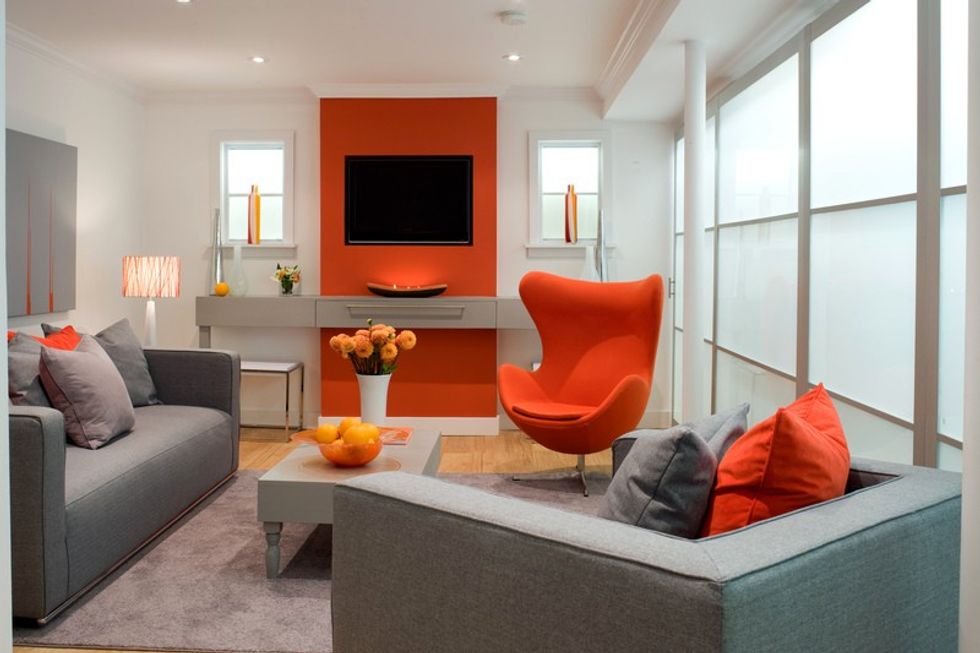 As 'correction', C+J laid new floors, installed Ikea wardrobe doors (to separate a laundry) and added windows (lit from behind) to give the illusion of daylight in this formerly dark basement.
One chance, an' all, to make a good first impression. Obvs…  
Clear Passage
Stepping inside, think model-home scene-setting to stimulate buyers.  Improve circulation to windows so views can be appreciated.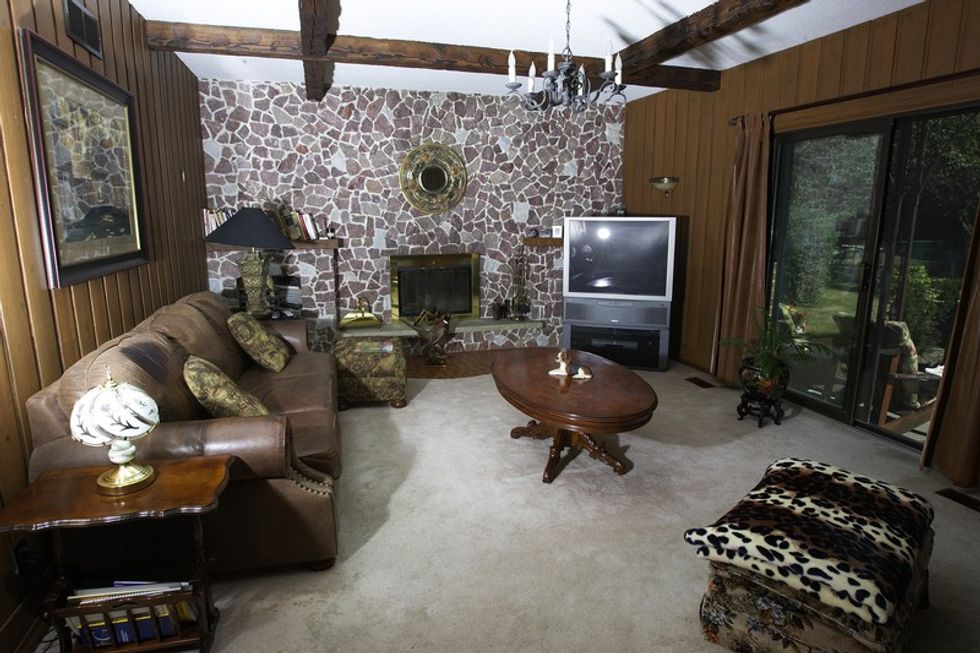 The Flinstones wall screamed YabadabaDONT, so the rocky veneer was removed and walls repainted.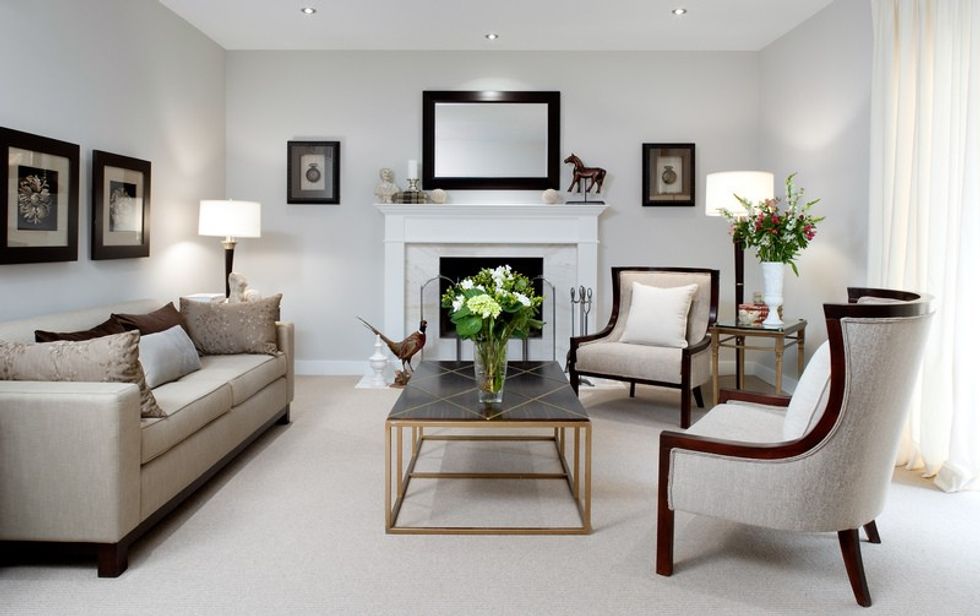 Now, wood flooring and restrained furniture suffuse an eminently more saleable mood.
Swap out billowing curtains for simple blinds, and accord each space its own function, rather than allowing hybrid bedroom/office/TV rooms to baffle viewers.
Popcorn Ceilings
Guaranteed to challenge the most ardent investor, overhead texture is a no no. If yours is unpainted, chances are the bumpy affray will scrape away on a DIY basis.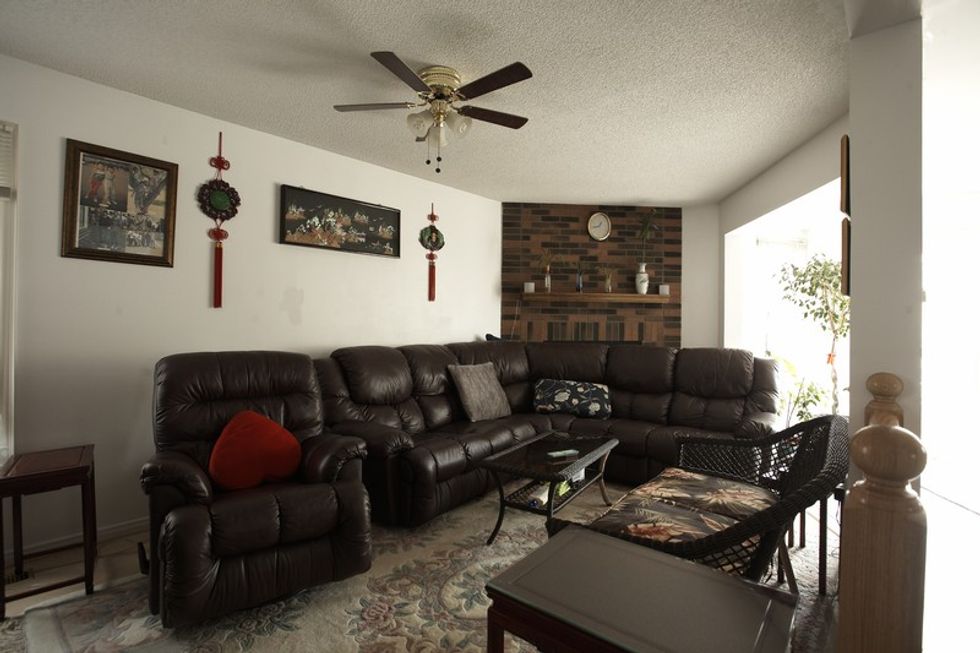 A tight and dark 'before,' even despite a large window bringing solid light into this living room.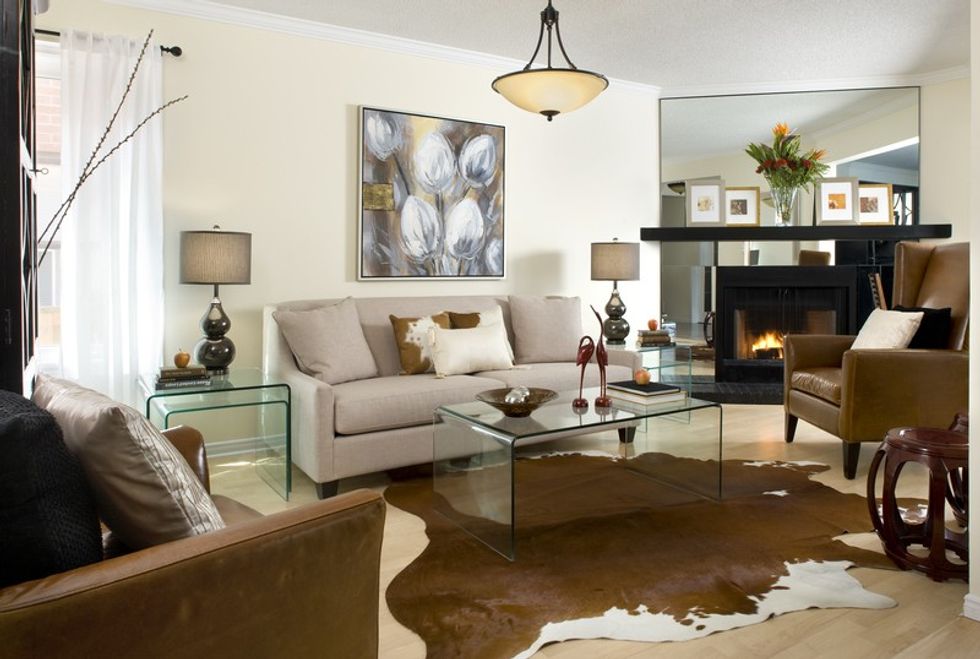 Heatproof mirror enlivens the fireplace wall and magnifies 'perceived' space. New flooring, smart furniture and artwork prepare the scene for oft' critical buyers.
However, if lurking below a layer of matte or satin, it's a trickier remedy: we recommend calling the pros to 'plaster skim' everything as smooth as a Kardashian forehead. 
Either way, it's gotta go…
Sleeping Beauty
Bedrooms can be dragged nearer market expectation with auspicious paintwork, linens, rugs and lighting. Stagers make short shrift of stylistic alchemy such as this, but they'll typically charge $500 for a consultation and $300 - $500 thereafter (per room, per month) for furniture rental.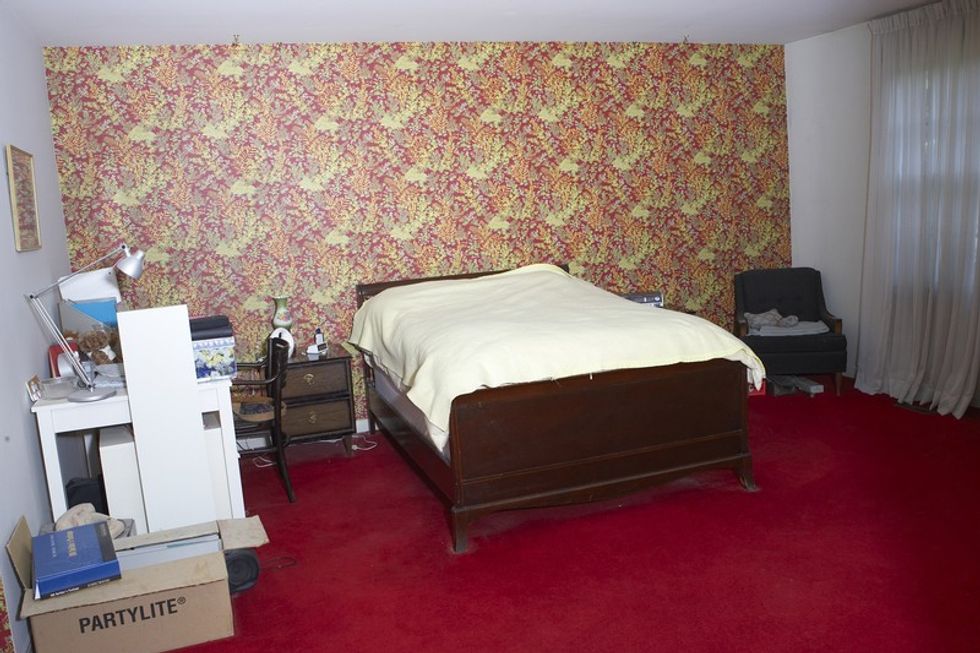 Wallpaper 'accents' are one thing, but when design 'language' becomes overpowering, barriers to sale are quickly established. 
The solution? A real estate friendly white and grey palette with replacement flooring and 'lay on' wall paneling. Can't you just feel those multiple bids brewing?
And that's before decorating. 
Figures quickly escalate, and if you're living in the space as the process endures, you'll be required to meet the costs of anything that's damaged… 
Living Rooms
The optimal word, here, is 'living'. So if your lounge has flat lined, buyers may struggle to imagine it paddled back to life. Dispensing with clutter is a no brainer, as it touching up paintwork (or indeed starting from scratch) to showcase everything at its most tempting. When, after all, was the last time you espied a model home hued library green? Hmm? Go on: wield that roller, immerse in bone-coloured paint, and breathe…
This living room was darkly unappealing and distinctly 'non market ready'.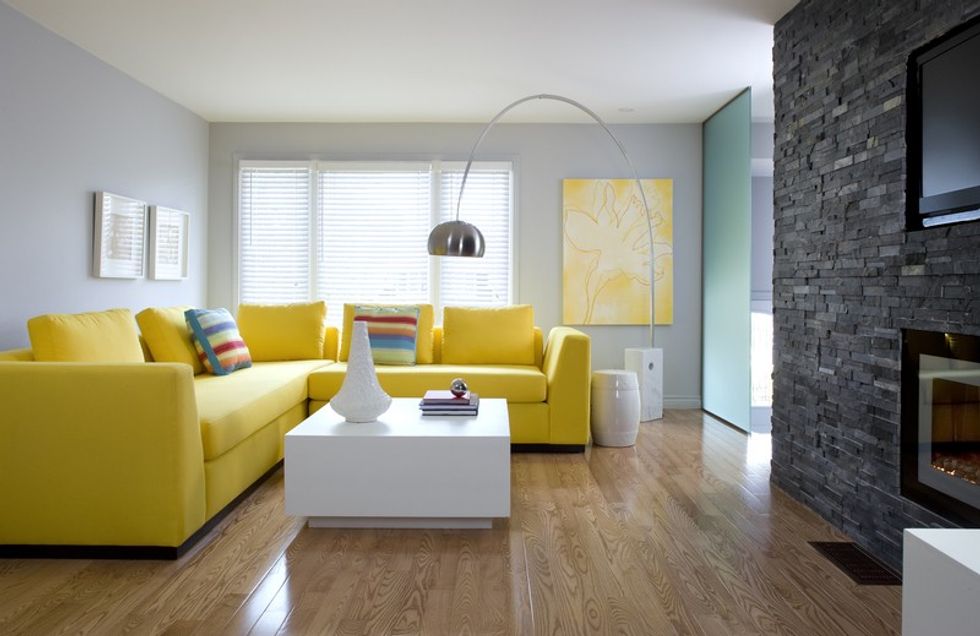 Cream walls, a statement sofa (adding portable colour) and a stack stone feature wall set the scene ahead of real estate showing.
It's also worth considering furniture purchase for your new home ahead of time. If your existing coffee table, case goods and sofa are dated, simply delete, then layer in everything planned for the next rung of your property ladder. This is stage setting at its simplest: your place will shine, and besides, everything travels to your new home when you finally break free…
Kitchen (less than) Confidential
Food prep zones are a huge priority, and whilst it might seem counter-intuitive to be shelling out prior to departure, if yours looks dowdy, a rejig can dramatically impact sales price. These days, a modest Ikea kitchen can be bought and installed for 5-10K, an investment (for that is the key word) to tempt a profitable future.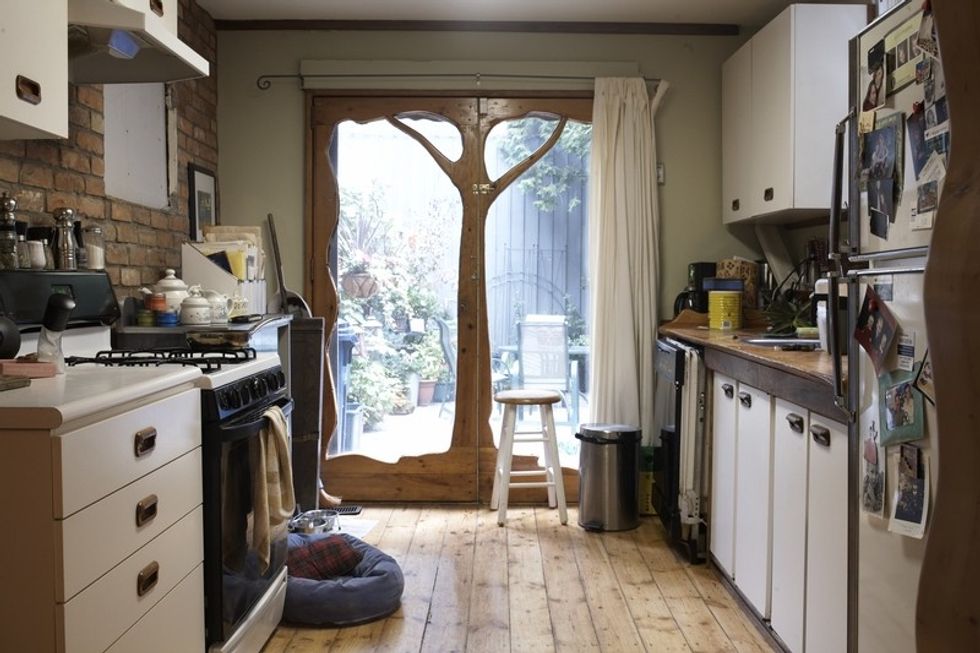 The hobbit habit is unlikely to excite potential homeowners.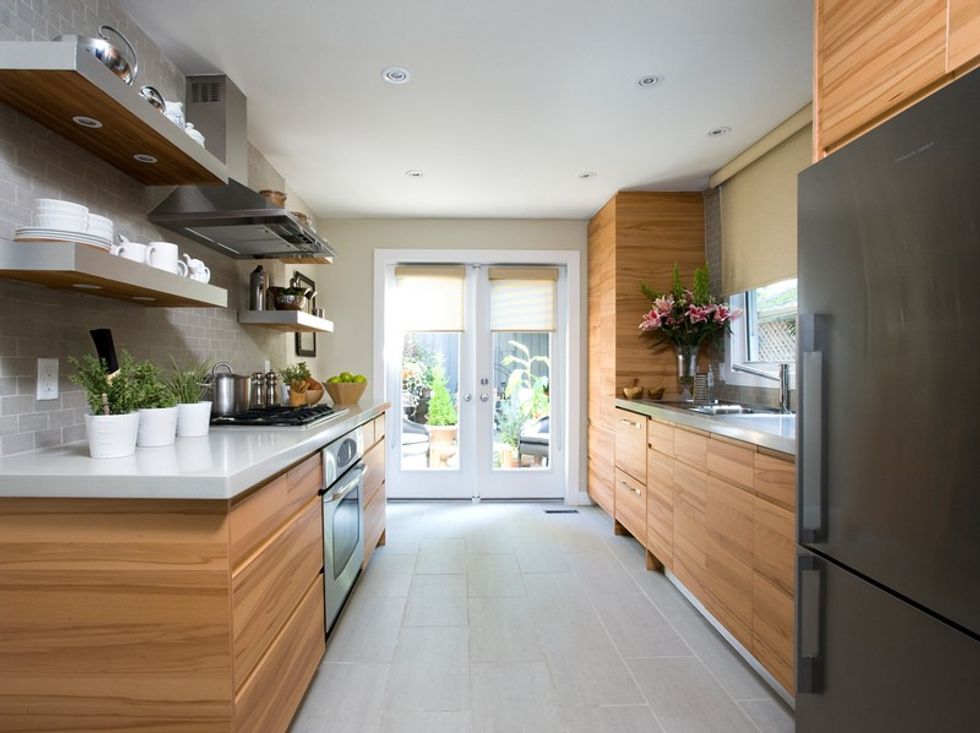 Chasing their optimal market, C+J added a tiled floor, an Ikea kitchen, quartz counters and slick new French doors.
On the other hand, hardwares and replacement counters (consider quartz which is more affordable and harder wearing than stone or marble) could awaken your existing offering.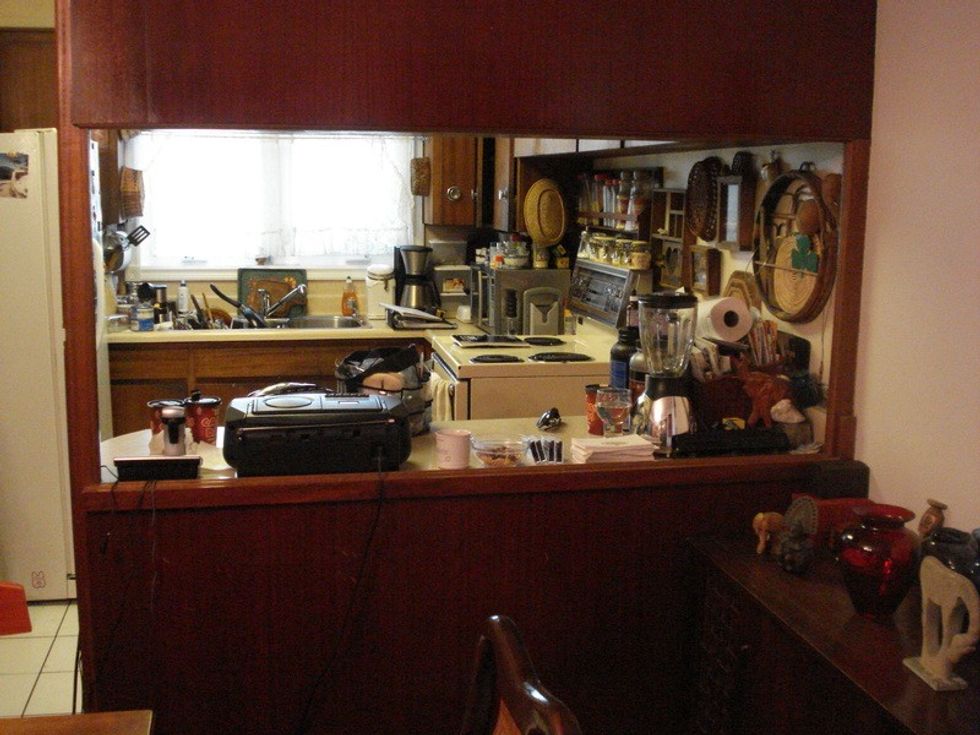 Clutter and dated lines conspire a very unappealing vibe.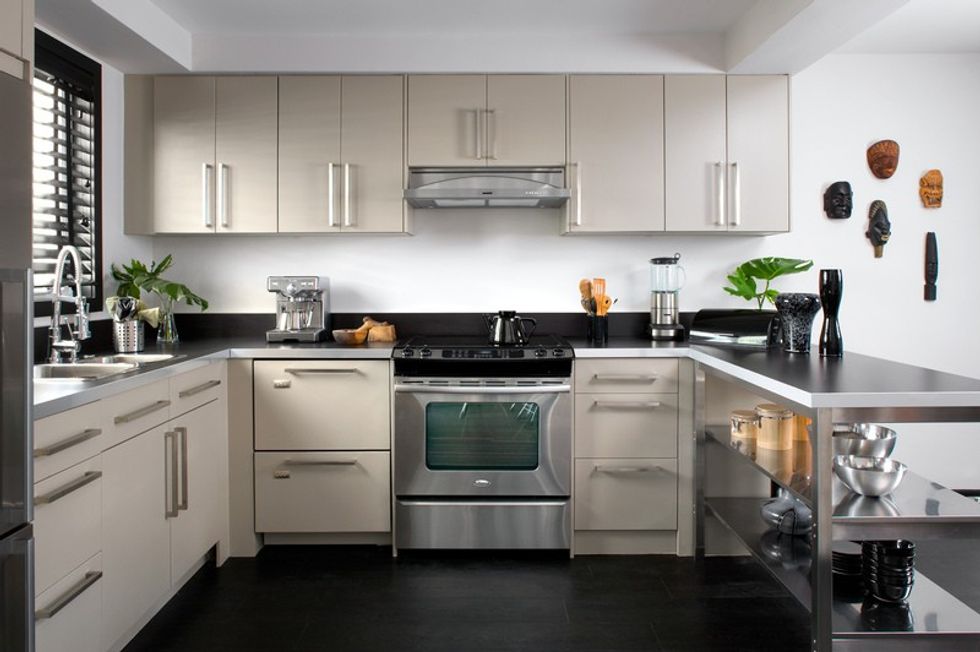 To banish the gloom and 'open' space, the non-supporting wall was removed and a cream painted kitchen installed. New appliances and quartz counters add enticing drama.
For a streamlined aesthetic, trick out older cabinetry with integrated appliances, 'counterscape' with Breville coffee makers and toasters (don't stress it, Scrooge - this 'jewellery' goes to your next home) and consider a statement-ceiling fixture to flood proceedings with alluring light. 
Remember: you're selling a lifestyle. So switch on, pronto….
Create a Home Spa
Shower curtains are one thing, but glass screens win every time.  Updating an old vanity will reap rewards, as will new tile, faucets or a sexy towel stand. Complete your reversion with a slick mirror, and you'll be well on the way to delivering a spa-at-home vibe to make buyers swoon.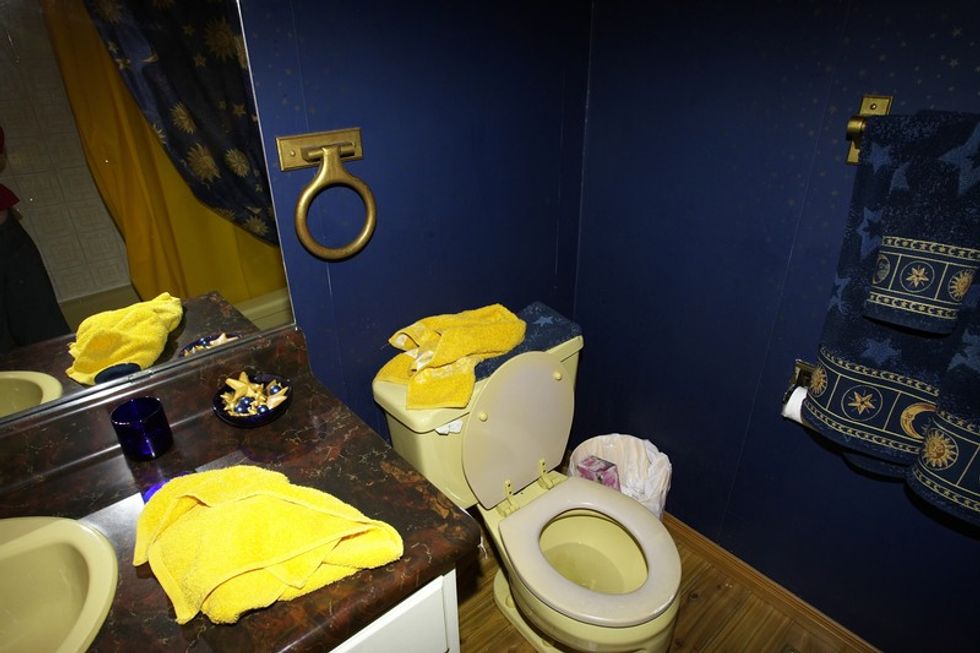 The sun had long since set on this dark room, so C+J 'borrowed' real estate from a large bedroom next door to augment the space by 20% (buyers love bathrooms).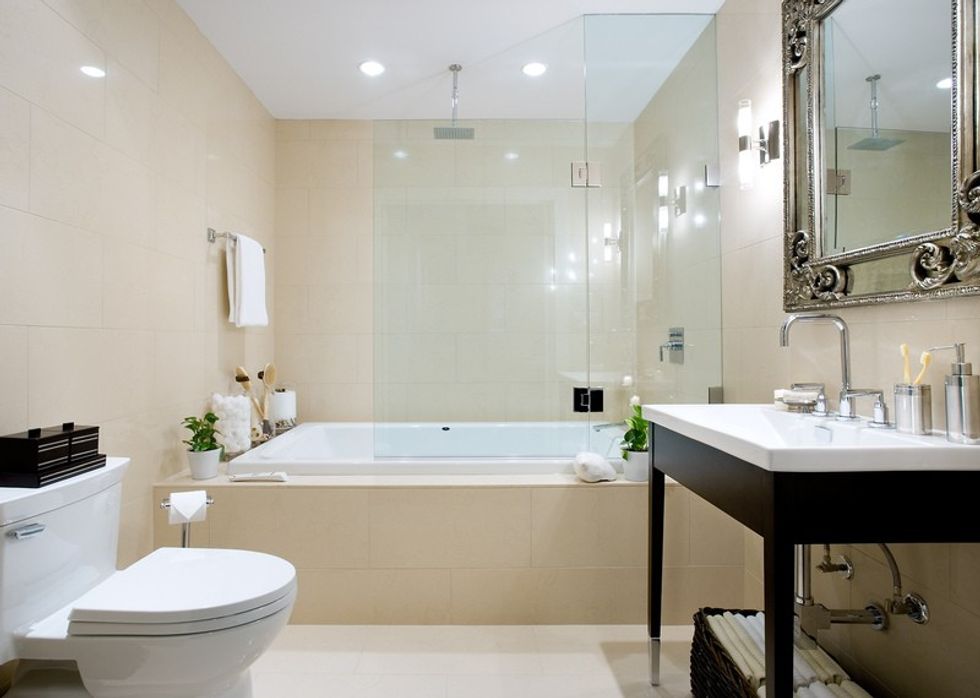 The space now features added slick white fittings and a glistening shower screen.
Whichever way you chop it, schematic 'correction' is your best friend.  At the very least, you'll be polishing your biggest asset to be enjoyed in the short term (reference our earlier suggestion re deriving optimal returns on a daily basis) and harvesting generous uptick (on a modest investment) to bolster your coffers, going forward. Win win? And then some…
Style + Décor