---
The dust has barely settled from the Bank of Canada's most recent (not to mention, ninth) interest rate hike, which took many speculators by surprise just last week. Despite the fact that hikes have done a number on purchasing power, causing a months-long housing market downturn across the country, spring has seen buyers and sellers eager to come off the sidelines.
In the Toronto area specifically, sales jumped 24.7% year over year in May, according to the latest data from the Toronto Regional Real Estate Board (TRREB). The average selling price, while up 3.5% from the month prior, saw a year-over-year dip of 1.2%.
Still, compared to May of last year, home sales are collectively racking up a larger tab in the majority of Toronto neighbourhoods. This is according to a new report from Zoocasa, released Tuesday.
The report considers each Toronto ward where at least 10 transactions have taken place. For each ward, Zoocasa has compared the dollar volume of total sales in May 2023 to see how it stacks up against May 2022.
Zoocasa's findings reveal that, with respect to freehold homes, including detached and semi-detached houses, dollar volumes are up in 22 Toronto wards.
"It's likely that the reason there has been such a spread of dollar volume increases is because of the more predictable cost of borrowing so far in 2023," says the report. Later, it adds, "Buyer psychology plays a large part in the real estate market. Even though conditions are tighter in terms of interest rates and prices, it seems previously reluctant buyers have adjusted to the reality of climbing mortgage rates and have moved off the sidelines."
The largest increase was observed in C13 -- which includes Banbury, Don Mills, Parkwoods, Donalda, and Victoria Village -- where dollar volume increased by 199% over the course of a year.
Conversely, dollar volume has decreased in 12 Toronto wards, with the largest year-over-year disparity observed in E08 (Cliffcrest, Eglinton East, Guildwood, and Scarborough Village) and W07 (Stonegate and Queensway).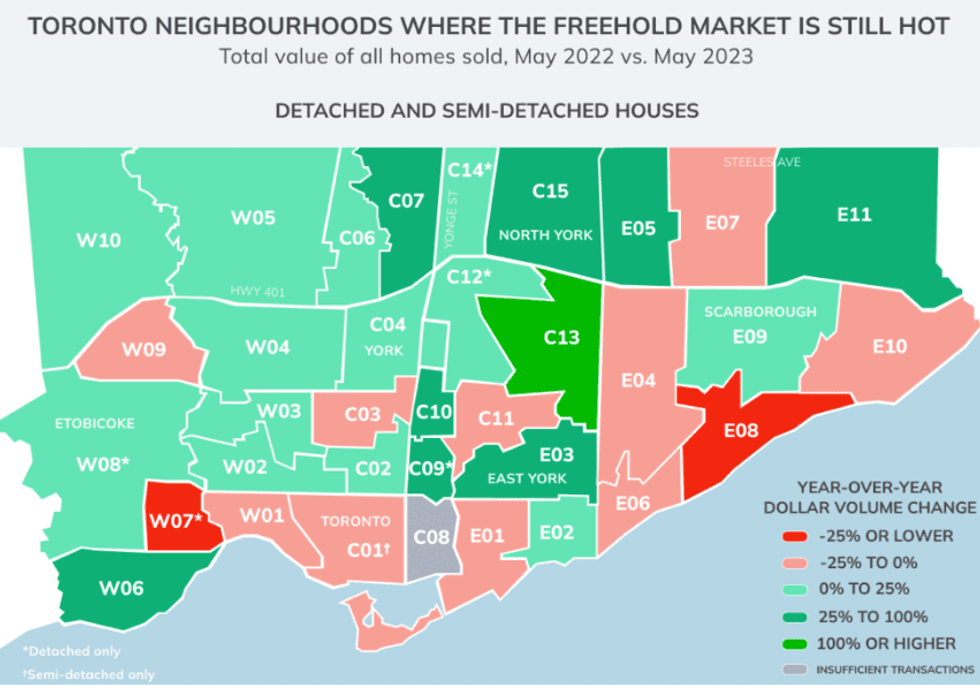 Zoocasa
Within Toronto's condo market, the findings were similar, with an uptick in dollar volume observed in 23 wards.
"This is more likely due to the increased popularity of condos in the last year as a more affordable property type, with how oppressively expensive freehold homes can be in the city coupled with the higher cost of borrowing," explains Zoocasa.
The greatest jump in dollar volume was observed in C12 -- which includes York Mills, Bridle Path, and Hoggs Hollow -- with an increase of 169%.
Meanwhile, dollar values have slipped in just six neighbourhoods, with the most substantial drop observed in C03, which includes Forest Hill South, Humewood, Cedarvale, Oakwood Village, and Yonge and Eglinton.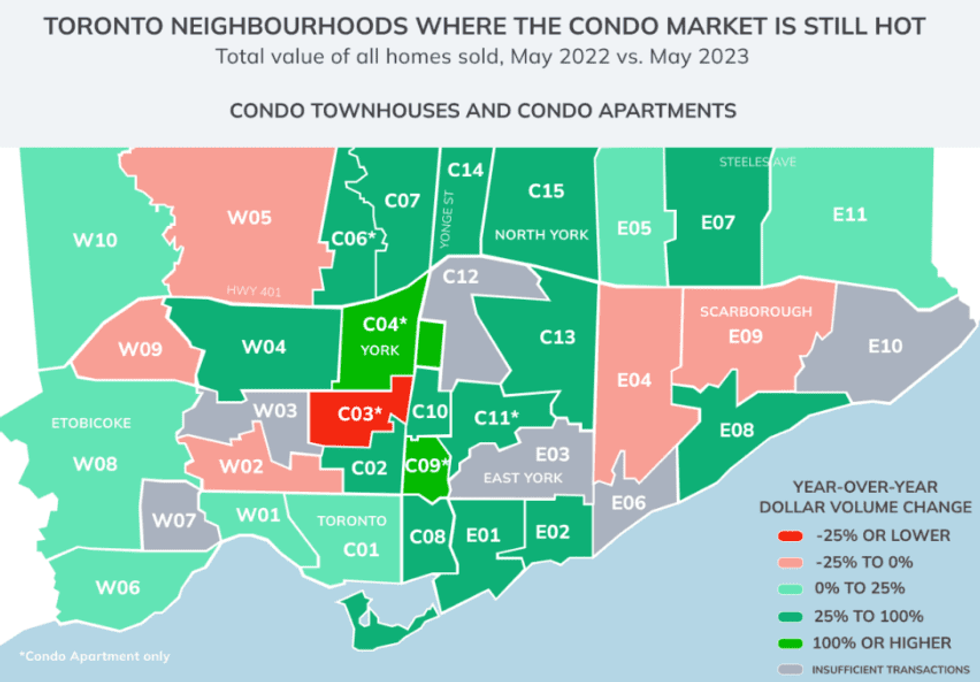 Zoocasa
Toronto