One of Toronto's most popular spring traditions has arrived a little early this year, with the popular Sakura in High Park website announcing that the High Park cherry blossom season has officially begun.
---
READ: All The Places In Toronto Where You'll Find Cherry Blossoms
In his first update of 2020, Sakura in High Park discusses Toronto's relatively mild winter, and the recent warm temperatures, as reasons for the cherry blossom buds to be making their debut a full ten-days before spring kicks old man winter to the curb.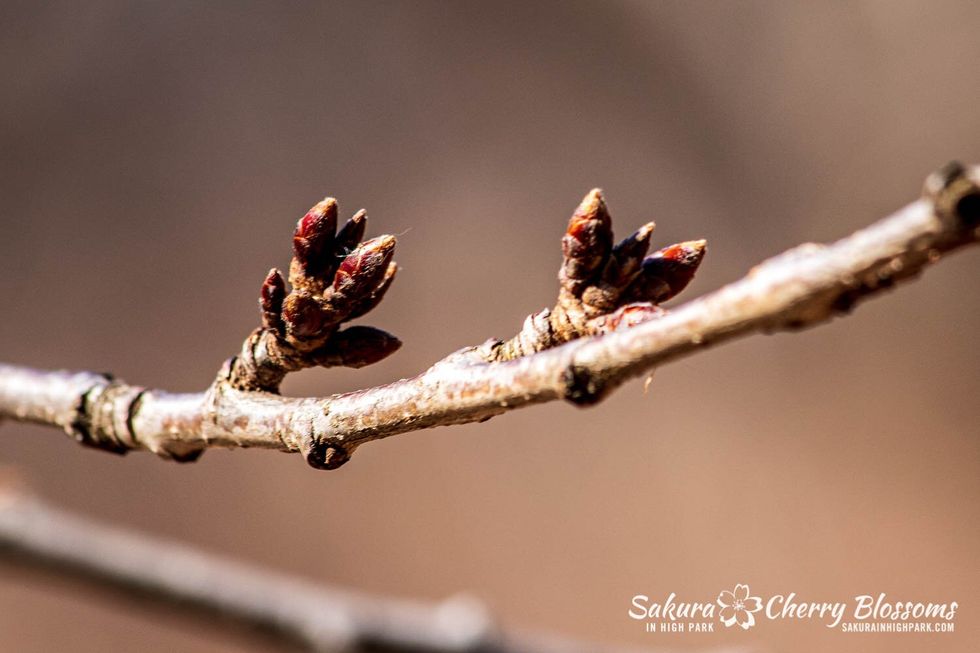 Sakura in High Park mentions earlier blooms in Vancouver (early February) and predictions that Tokyo will also receive earlier than usual bloom as reasons to expect that Toronto is well on its way to reaching peak bloom sometime between late-April and early-May. Sakura in High Park also mentions that 2012 was the last time Toronto saw an early bloom.
On his journey through High Park on Monday, Sakura in High Park noted branches "full of well-shaped, round cherry blossom buds, with many of them in beautiful deep bronze colours."
Last year marked the 60th anniversary of Toronto's High Park cherry blossoms as, in 1959, former Japanese ambassador Toru-Hagiwara donated 2,000 sakura trees on behalf of the citizens of Tokyo. It was meant as a gesture of appreciation after Toronto took in a number of relocated Japanese-Canadians following World War II. Since then, the cherry blossoms have become a symbol of the friendship between Canada and Japan.
And last year, another six trees were donated to the City by Japanese Consul General Takako Ito:
While peak bloom only tends to last somewhere between one week and ten days, the craze that takes over Toronto during this time seems much, much longer. So start getting excited, or start going into hiding, 'cause High Park cherry blossom season is here whether you're interested or not.
You can check out Sakura in High Park's video walk-thru from yesterday below.
Toronto