Toronto-based architectural firm Hariri Pontarini Architects (HPA) has been chosen to design a new, stand-alone art gallery at York University's Keel campus.
The new building, which will become a centrepiece at the North York campus, will build upon the rich history of the Art Gallery of York University (AGYU) and magnify its reach into the local community and the world beyond while "enhancing its visibility and prominence, as well as increasing its accessibility."
---
HPA was one of three shortlisted firms from an online design competition that received a wide show of interest from the architecture community. Moriyama and Teshima Architects and gh3 were also on the shortlist. All three firms have received Governor General's Medals in Architecture.
READ: York University Campus in Markham Gets Green Light to Start Construction
The new stand-alone art gallery will be constructed thanks to a five-million-dollar donation by philanthropists and art collectors Joan and Martin Goldfarb in October 2019. When completed, the gallery will also carry their name, the Joan and Martin Goldfarb Gallery, in honour of their long history of supporting the arts at York University.
"The new design reflects our vision of an accessible and collaborative art gallery that serves as a space for creation, exhibition, and appreciation of diverse art and culture. I would like to thank the Goldfarbs for their generosity and unfaltering commitment to the arts, which made this project possible," said President & Vice-Chancellor Rhonda Lenton.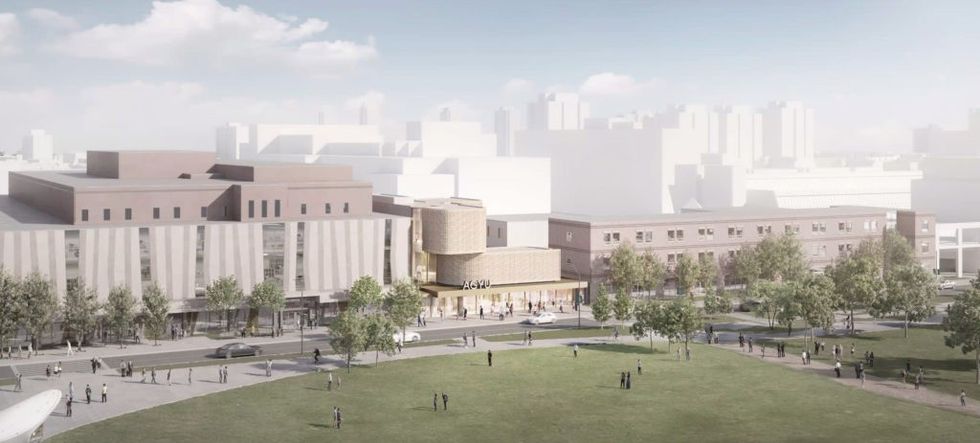 Rendering designed by Hariri Pontarini Architects
The new building, which will stand out thanks to Hariri's signature curves, will be located at the heart of the School of Arts, Media, Performance & Design, adjacent to the Harry W. Arthurs Common, and just steps from the York University subway station.
The three-storey building will highlight architectural innovativeness and define a space for the exhibition of contemporary and historic art, including a ground-level event space with four separate gallery spaces set within a redefined xeriscape garden.
"We are thrilled to be working with York University to build upon the AGYU's rich history and help reimagine its future," says Siamak Hariri, founding partner at Hariri Pontarini Architects.
"To signify this transformation, we were inspired by metaphor and nature. Like a butterfly, each of the five wings of the new gallery extend their reach out to the campus and of course beyond. Responding to the AGYU's aspiration to expand the social and civic role of the gallery, the building will have a powerful presence, a new presence, embracing the full University Common, and welcoming and attracting visitors to all the wonder it has to offer."
HPA's design, which was led by Hariri, was selected for its visual strength and magnetizing draw with a vision to generate flow and connection while centring the arts on campus. The design also expressed "a nuanced understanding of art, its role in society, and the framework needed to support art and the curatorial process."
Currently, the AGYU's collection contains 1,700 works including a donation by the Goldfarbs of 76 artworks in the early 2000s which includes prominent donations of works by Norval Morrisseau and Andy Warhol.
Other pieces in the collection include:
200 prints and sculptures by renowned and influential Inuit artists including Kenojuak Ashevek and Kananginak Pootoogook;
Paradigmatic work by Canadian "Automatistes" Jean-Paul Riopelle and Paul-Emile Borduas;
Pieces from American Modernists such as Helen Frankenthaler and Kenneth Noland;
RISE, an internationally acclaimed film by Bárbara Wagner and Benjamin de Burca, featuring performances from some of Toronto's most influential spoken word and rap artists
The AGYU first opened in 1988 and moved into its current 3,000 square-foot location in 2006. The new building, combined with the AGYU's existing space will serve as a unified art institution that will "magnify the breadth of the gallery's scope, with a re-envisioning of the University's art collection."
The new building will join HPA's impressive portfolio that includes the recently opened Tom Patterson Theatre in Stratford, which has received high accolades, in addition to the Bahá'í Temple of South America, which won several awards including the RAIC International Prize.
Future Developments