---
The bite of rising mortgage rates continues to be felt in the Greater Toronto Area housing market, as May data reveals home sales and prices continue to trend downward.
According to the Toronto Regional Real Estate Board (TRREB), a total of 7,283 homes traded hands across the GTA last month, a 38.8% decline from 2021, and down 9% from April levels. The average home price for the region clocked in at $1,212,806 -- still up 9.4% year over year, but sliding 2.6% below April. The average home also now costs $121,738 less than it did at the February price peak, representing a 9.1% drop.

Average GTA home prices, May 2022/Toronto Regional Real Estate Board
Such softening market conditions finally caught up to the City of Toronto, which had shown price resilience compared to the 905 markets in the past few months. Sales fell 11.4% from April with 2,679 transactions, resulting in flat month-over-month price growth of -0.74% to $1,233,748. Meanwhile, the 905 markets continued to see larger losses; prices fell 4.8% month-over-month to an average of $1,243,070 -- down more than $60,000, while sales dipped 7.6% with 4,604 transactions.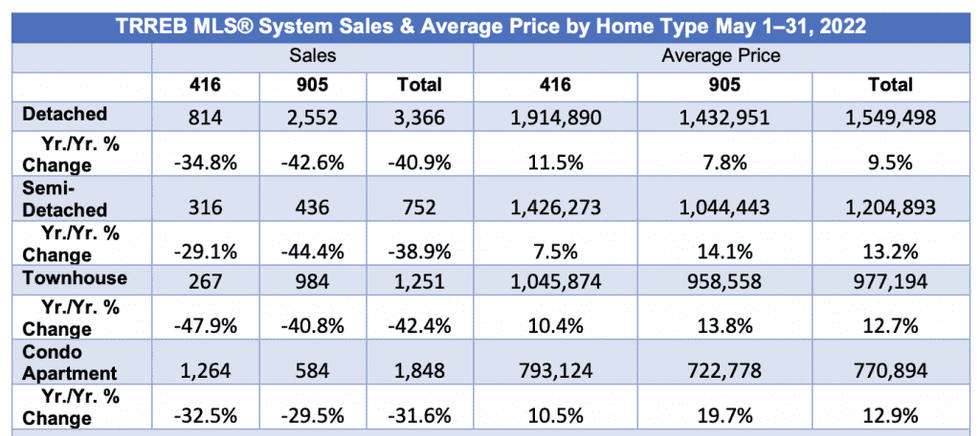 Average GTA home prices by type, May 2022/Toronto Regional Real Estate Board
Overall, the market finds itself in better balance, as new supply comes online with overall healthier inventory levels; a total of 18,593 properties were newly listed in May, with the month ending with 12,247 available for sale -- nearly triple the record low of 4,140 seen in January.
That's led to an easing of the sales-to-new-listings ratio -- the measure of buyer competition in the marketplace -- to 65.1%, down from 68% in April. While still indicating sellers' market conditions, that's softened considerably from 72.9% at the start of the year. However, conditions remain tight enough to push the overall cost of housing higher, with the MLS Home Price Index benchmark up 23.9% annually.
READ: May Marks a Cooler Vancouver Housing Market as Sales Fall 32%
The sharply-rising cost of borrowing has trimmed buyers' budgets and also has them second-guessing their timing, says TRREB President Kevin Crigger. 
"Bank of Canada rate hikes, including the 50-basis point hike on June 1, are impacting home buyers in the short term. There is now a psychological aspect where potential buyers are waiting for a bottom in price," he states. "This will likely continue through the summer. However, as home buyers adjust to higher borrowing costs, housing demand will be supported by extremely low unemployment, high job vacancies, rising incomes and record immigration."
READ: What the BoC's Half-Point Hike Means for Borrowers
TRREB's Chief Market Analyst Jason Mercer says that today's conditions remain largely aligned with that the board had anticipated for the year, though market fundamentals have shifted considerable.
"Price trends observed over the past three months -- both in terms of moderating annual growth rates and the recent month-over-month dips -- are in line with TRREB's forecast for 2022," he stated. "After a strong start to the year, the current rate tightening cycle has changed market dynamics, with many potential home buyers putting their purchase on hold. This has led to more balance in the market, providing buyers with more negotiating power."
The board also points to the ongoing housing supply challenge facing the province, and the need for the incoming government take bold action to encourage its creation. Earlier this week, TRREB released several proposals for the prospective winners of the provincial election, including the removal of exclusionary zoning, and a review of the current buyer loopholes allowable under the current Trust in Real Estate Services Act (TRESA). They also suggested doubling the rebate for land transfer tax for first time buyers, as well as indexing it to inflation.
"The recent elections have shown that senior levels of government understand the need for more housing to support regional growth. The approval of new and more diverse housing types happens at the municipal level, subject to provincial laws and regulations," said TRREB CEO John DiMichele. "It will be important to understand the stance of local policymakers as we move toward the fall local elections. The shorter term impact of higher interest rates will not be with us forever. Supply remains the long-term challenge." 
Real Estate News