Condo Sales in GTA Hit Record High for Q3, Soaring 30% Y-O-Y amid the pandemic, according to the latest data from Urbanation.
According to Urbanation's Q3-2020 Condominium Market Survey , the total number of new condominium apartment sales in the GTA increased 30% year-over-year in Q3-to 6,370 units, reaching a record high for third-quarter activity.
---
However, this comes after sales in the second quarter declined to a 10-year low and total year-to-date sales declined 22% annually to 13,454 units, 13% below the 10-year average (15,451 units).
Urbanation says activity in Q3 was primarily in the 905-region, where sales grew 106% from a year ago to 3,834 units, while sales in the City of Toronto declined 16% to 2,536 units.
READ: From Downtown to 'Urban Centre', Why Mississauga Could Be the Move to Make
"The third quarter showed impressive demand for new condominiums in the GTA amid the pandemic, with the suburban markets leading the way,"  said Shaun Hildebrand, President of Urbanation.
"This regional shift in activity is expected to continue as buyers gravitate to less expensive markets while the downtown area faces supply challenges in the near term."
The average selling price for new condos launched in the third quarter was $1,044 psf, up 3.5% compared to the average price for new launches sold in Q3-2019 ($1,009 psf). Sixty-five percent of new launches in Q3-2020 were located in the 905 Region of the GTA, which sold on average for $915 psf, compared to an average of $1,275 psf for new launches sold in the City of Toronto.
As for the number of new units launching for pre-sale in the third quarter, a total of 6,694 new units were recorded -- a record volume for Q3 launches -- representing growth of 162% compared to the 2,556 units launched in Q3-2019.
"As the resale market was reporting a sharp recovery in sales during the summer, developers ushered in new projects, which were very well received in the market," reads the Urbanation report.
What's more, 74% of the new units launched in Q3 were sold by the end of the quarter, increasing from the 63% share of new launches sold in Q3-2019 and the highest absorption rate for new launches since Q4-2017.
When looking at unsold condominiums in development, the GTA saw a decline of 4% year-over-year to 12,962 units, which was 11% below the 10-year average level of unsold supply (14,545 units).
According to Urbanation, unsold units available at the end of the quarter were asking an average price of $1,106 psf across the GTA, which was up 7% year-over-year.
However, within the 905 Region, the annual price increase for unsold new condos was 15%, compared to 6% annual growth for the City of Toronto.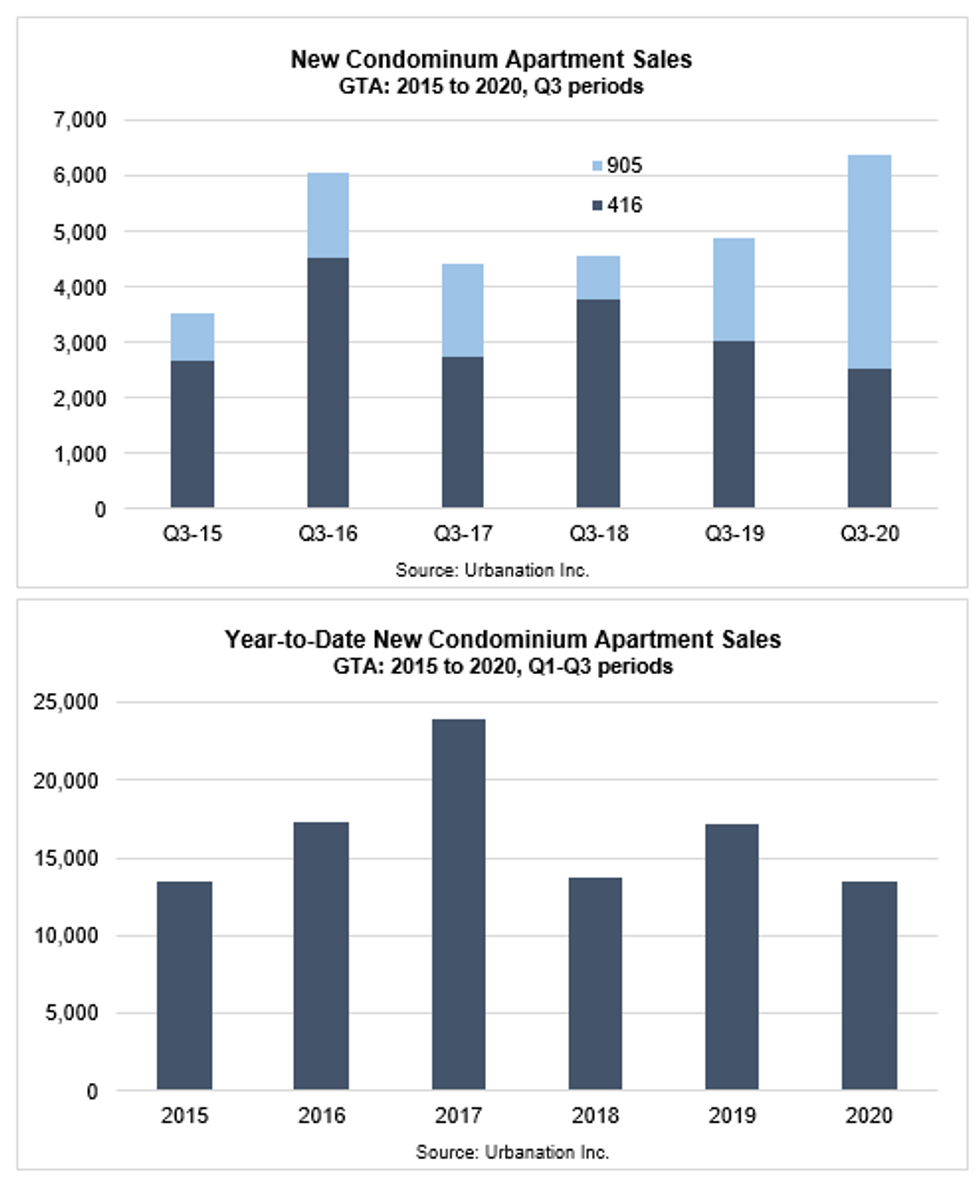 Despite the pandemic bringing many industries to a standstill and even halting construction projects, a total of 6,816 new condominium apartments still reached completion in the GTA in Q3-2020, bringing total year-to-date completions to 17,596 units -- 47% higher than a year ago (11,952).
READ: 17 Toronto Condo Launches You Need to Know About This Fall (MAP)
Though, despite the surge in completions, the number of condos still under construction in the GTA remained near a record high at 78,156 units in Q3-2010.
Urbanation says there's an additional 5,411 units scheduled to be completed in Q4, which would bring year-end 2020 completions to 23,007 units, a record high.
What's more, Urbanation says completions are projected to remain "elevated" with 22,434 new condos scheduled for completion in 2021, more than 70% of which are located in the City of Toronto.
Condos