GTA
Real Estate News
Average GTA Home Price Drops in March as Supply Surges
March was a continuation of the hot late-winter real estate streak, as sales activity in the Greater Toronto Area clocked in at the third-highest level for the month, and capped the second-best first quarter on record.
A total of 10,955 homes traded hands, reports the Toronto Regional Real Estate Board — a 30% decline from the record-smashing 15,628 sold in March 2021, but a 20% uptick from February activity.


Supply came roaring back to the market with a vengeance, helping to considerably alleviate some of the tight competitive conditions experienced by home buyers. A total of 20,038 new listings were brought to market, an increase of 41.6% from February. While still marking an 11.9% annual decline, that the drop was well outpaced by sales has taken pressure off of the GTA's sales-to-new-listings ratio, easing to 70.5% from last month's 72.2%.

End-of-month active listings came in at 10,167 — down -4.1% year-over-year, but up 45.5% from last month, indicating the overall inventory of homes for sale is rebounding from record lows.
READ: New Housing Supply is Here: But How Much of It is Just Relisted Homes?
That was reflected in a very slight short-term dip in home prices; at $1,299,894, the average home cost 2.5% ($34,650) less than the February average, which TRREB attributes to a larger proportion of cheaper condo units in the sales mix.
Sellers' Markets Still Reign Supreme
Overall, though, the market remains wound in fairly tight sellers' conditions. Year-over-year prices are up 18.5%, with the MLS Home Price Index benchmark rising by 34.8% annually.
While sales for all major home types declined year-over-year, condos were by the smallest margin, down -17.6% with 3,154 units sold. Detached houses continue to lead the market in terms of sales volume at 4,884 transactions, but saw the largest annual drop in sales, down -35.3%, followed by semi-detached houses (982 sales, down -33.4%) and townhouses (1,842 sales, down -29.9%).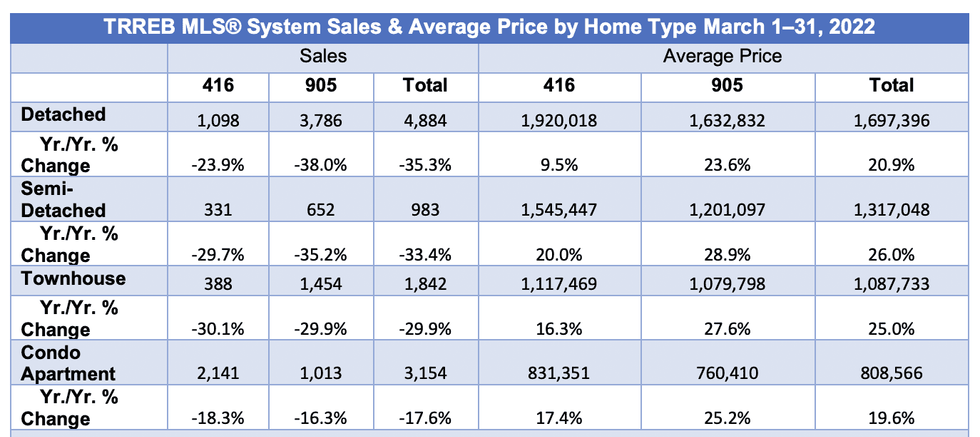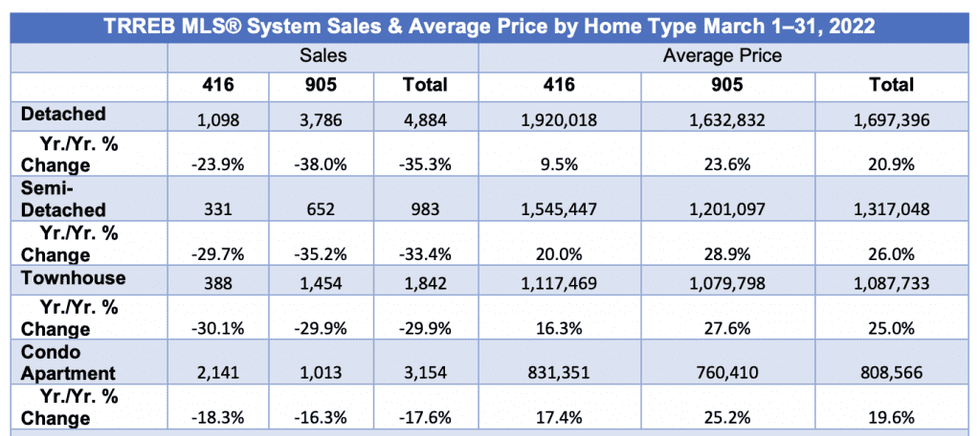 "Competition between home buyers in the GTA remains very strong in most neighbourhoods and market segments. However, we did experience more balance in the first quarter of 2022 compared to last year. If this trend continues, it is possible that the pace of price growth could moderate as we move through the year," said TRREB Chief Market Analyst Jason Mercer.
However, adds TRREB President Kevin Crigger, the supply-and-demand imbalance is only set to worsen, as the region expands rapidly following the pandemic.
"Now is the time for governments to govern and focus on measures that are proven to increase housing supply. The GTA population will experience rapid growth in the coming years as our region's economic strength and diversity continues to attract people from around the world," he says. "In order to sustain this growth, we need adequate housing supply and choice. This needs to be the focus of policymakers rather than short-term and ineffective measures to artificially suppress demand. Evidence-based decision-making should inform government policies, and we encourage representatives at all levels of government to think big and act decisively to improve needed housing supply in a significant way."
A number of initiatives have been announced by the provincial Ontario government in the past week, including upping the Non-Resident Speculation Tax to 20% from 15% and expanding it across the province, as well as tabling new legislation that would reduce the amount of development fees cities receive should they miss decision deadlines on new housing development. New housing policy measures are also anticipated to be included in the Federal Budget, to be announced this Thursday.
READ: New Housing Legislation Falls Short of Province's Own Task Force Proposal, Say Critics
"Housing policy decisions and promises made in conjunction with the upcoming provincial and municipal elections will influence not only the GTA housing market but also the region's overall economic competitiveness," stated TRREB CEO Jon DiMichele. "Of particular importance will be the reduction of roadblocks and red tape associated with the development of more housing rather than trying to suppress demand which has been ineffective. Population growth is expected to be at or near record levels in the coming years. Demand for ownership and rental housing is not going away."