Toronto
Toronto
How To Grow Farm-To-Table Food And Where To Find It Ready-Made In Toronto
Let's face it, none of us are Gwyneth Paltrow, the Goop guru and winner of everything organic and healthy. But with her inspiration and some easy life changes, we can come somewhat close. And in Toronto, this can be done thanks to Modular Farms Co. — a Canadian design and engineering company.
The company has made its mark by creating purpose-built container farms and delving into food research and development, using vertical farming solutions.
Its scalable and modular farming systems are capable of growing fresh foods virtually anywhere, in any climate.
Currently, Modular Farms is experimenting with vertically growing quinoa, blueberries, raspberries, lavender and dandelion. 
Its CEO Eric Amyot is all about local eating.
He believes changing the global food system takes more than just funding from large corporations; it boils down to individuals.
Amyot says, "I want to not only expose people to the capabilities of what vertical farming can do, but also teach others the tools that will enable them to grow local produce in their own backyards."
Now that the weather is heating up, it's time to get dirt stuck under your nails and bring hyper-local foods into your kitchen.
And so, we had Modular Farms, put together a grow guide so you can get started. Plus, we've rounded up some Toronto spots where you can eat a vertical farm-to-table meal.
Winterbor Kale
Whether you eat it in a salad, bake it in the oven, or add it to your morning smoothie, the kale craze is in full force.
Modular Farms grows a unique cool-season variety called winterbor kale, which features thick, curly, blue-green leaves, yielding 300-600 grams per eight-foot tower.
This hardy species of kale can be harvested in cooler months as a microgreen, baby greens (seedlings), mature leaves/leaflets or fully-grown plants, making it an excellent versatile plant to grow even at home.
It is an early-spring and late-fall species and is a popular choice amongst market growers. The variety is tastiest in a salad when the leaves are chopped finely and massaged or baked in culinary dishes. 
Tip: Kale tastes sweeter with a touch of frost. Don't be afraid to grow it through the winter months. Shield your kale during that time with row covers for extra protection.
Bull's Blood Beet Microgreens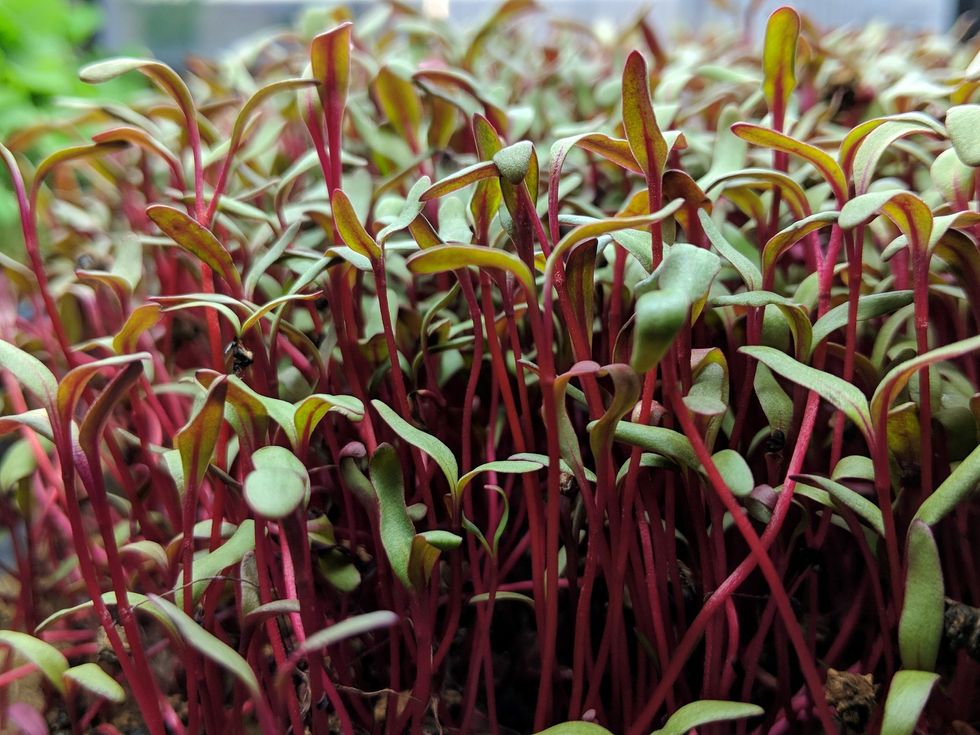 Bull's blood veet microgreens stand out with colourful purple stems and bright green leaves. This plant is commonly used for garnishing and has a mild spinach-like flavor.
In Modular Farms, these sprouts are grown in trays using hemp mats as the substrate instead of soil or peat moss. However, feel free to use soil at home.
Luckily for all farmers (even home growers), microgreens have a very quick turnover rate (with each harvest taking place each time the plant reaches a height of four to five centimetres.
Tip: When watering, keep the water off the plants — only focus on the medium. This will help it last longer in the fridge. But since this plant degrades quickly, we recommend eating it as soon as possible once harvested.
Rosemary
Who doesn't love to liven up their dishes with some fresh herbs?
Rosemary is a top choice amongst home growers with its ability to grow indoors and outdoors.
You can dry, freeze, preserve and even use the herb to flavour oil or butter. The best part? Once you cut rosemary, simply repeat the process and let it grow back in again. With ZipGrow towers, Modular Farms is able to grow up to five varieties of herb at a time.
Tip: Hang stems upside down in bunches to dry. Then, strip the leaves and store in a container to use in the kitchen.
Do want to grow? Then go vertical farm-to-table!
Not so into growing or growing impatient waiting for your plants to thrive? You can still make a difference by eating a vertical farm-to-table dish.
The Food Dudes have you covered as they currently receive a weekly batch of Modular Kale from the parking lot Modular Farm at the HQ to use in their vertical farm-to-table dishes. Find it at a couple of their restaurants, including OMAW and Rasa.
OMAW features a Rutabaga dish and chopped salad that contains fresh, modular kale grown in their parking lot (and is legit to die for).
The Food Dudes creative director Brent McClenahan wanted to install a Modular Farm to supply their restaurants because they saw Modular Farms Co. as a "manifestation of forward-looking companies actively trying to tackle the challenges facing our society."
McClenahan says, "I saw the partnership as a way to get hyper-local food sources for a true farm-to-table experience and as a way to build a community who shares the same vision as my business — to create a food culture based on innovation and efficiency."
With the capabilities of a Modular Farm, McClenahan and his team can grow produce and take it farm-to-table in a matter of hours. With this, diners are not only able to eat the freshest foods, but also will understand where and how their foods were grown. 
This is yet another reason why I'm such a big fan of The Food Dudes — from their grade-A catering to their talk-of-the-town restaurants, they continue to shapeshift the Toronto food scene and set trends that help us grow and flourish.