As Toronto remains under a state of emergency, grocery shopping is one of the few reasons for residents to leave home right now.
And in the era of social distancing, your weekly grocery store run can quickly turn into a lengthy process, as most stores are asking shoppers to wait in a queue to get in to better control the number of customers in the store at a given time to prevent the spread of COVID-19.
---
While measures like this are critical for keeping employees and customers safe, nobody likes waiting in line, even at the best of times, which is why a new open-source tool may be able to help you avoid a long wait time.
READ: Toronto Man Makes "Social Distance Machine" to Demonstrate the City's Need to Open Streets
Florence-based developer Miki Lombardi has created an interactive map that displays estimated wait times at grocery stores and pharmacies in your area.
"This project aims to avoid the gatherings of people in various supermarkets and pharmacies during the COVID-19 pandemic. Based on the geolocation of the device, it will show various points of interest such as supermarkets, pharmacies, clinics, bars etc., with an estimate waiting time and a forecast of the next hour," said Lombardi.
Lombardi added that he doesn't want the project to be for commercial use and said that it's intended to help people stay outside their homes as little as possible so people can avoid others during the quarantine period.
The map, which works for cities around the world, includes wait times for various stores throughout the GTA. Though, it's important to note that wait times aren't available for every store, so some wait times for select stores might not be available. Pins on the map are colour-coded – from green to deep red – to show estimated wait times between five to over 60 minutes. The blue pins are for stores that don't have current wait time information available.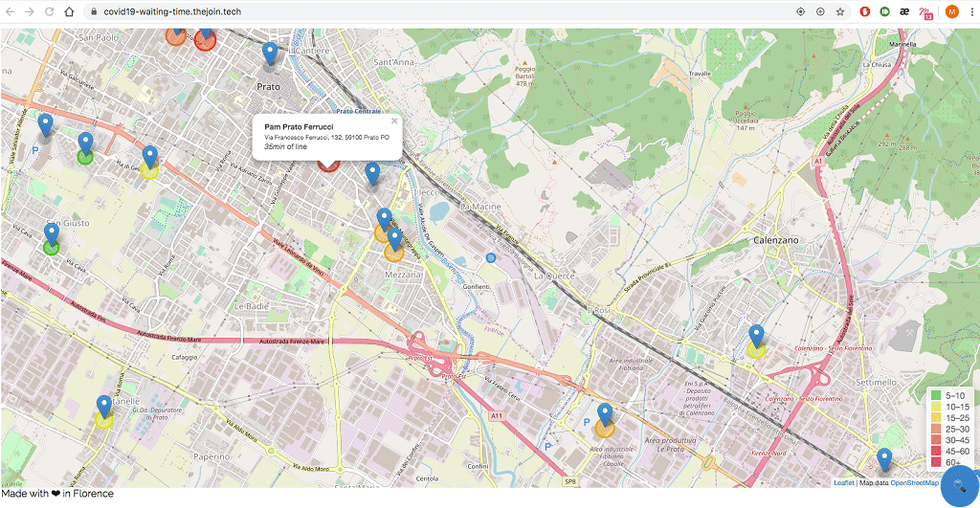 Toronto Wait Times/GitHub
Lombardi says the data comes from Google and uses similar real-time data to that used for tracking traffic in Google Maps. The data pulled is from the past week and includes the time spent inside a place and the estimated waiting time to be able to complete a purchase.
Keep in mind that all wait times are estimates, so don't get disgruntled if you show up and you have to wait longer than five minutes.
Experiences