Urban Living
GO Transit is Currently Plagued By Staffing Issues and Unhappy Workers
If you're planning to travel on the GO Train or UP Express this week, you better manage your expectations and pack your patience.
This morning, Metrolinx announced on its website that it would be short-staffed this week, resulting in some cancelled trains.
"We are sorry to advise that due to staff illnesses we will need to cancel some train trips this week," reads the official Metrolinx website. "Please check the Service Updates page before travelling, check the departure boards at your station, or follow our GO bus and train line Twitter handles for the status of your trip. We encourage you to sign up for On The GO Alerts to receive email or text notification that you can customize for your travel needs."

This afternoon, according to updates on the GO Transit site, the West Harbour GO 16:13 – Union Station 17:30 train has been cancelled because of staff illness; and the Union Station 15:34 – Kitchener GO 17:21 train has been cancelled because of staff illness.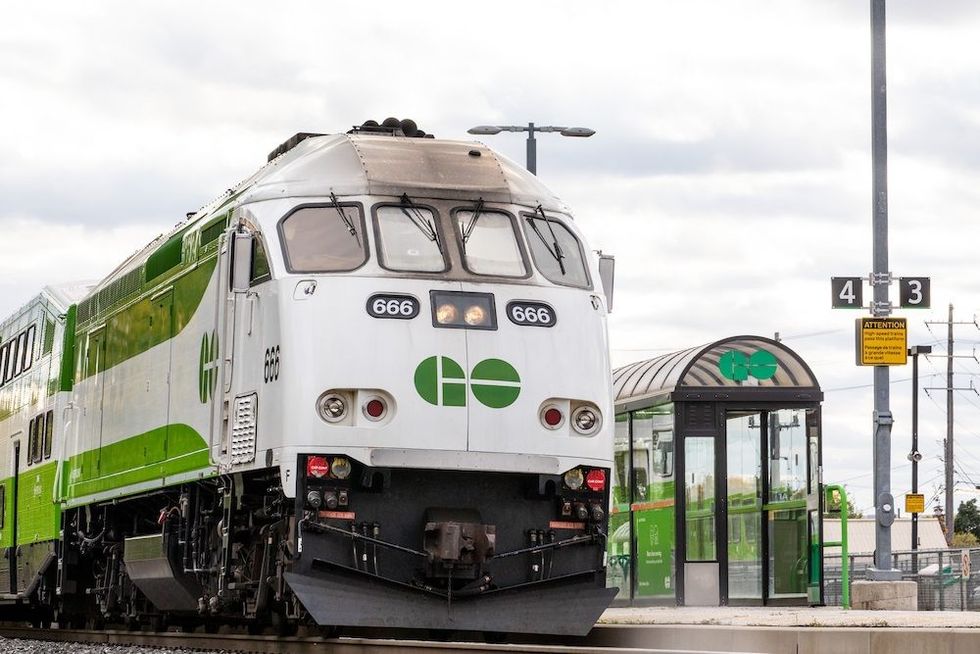 Metrolinx advises riders to plan ahead and give yourself extra time.
"Because we're experiencing some staff illnesses currently we wanted to warn our customers that there may be some minor adjustments and isolated and temporary train cancellations this week and perhaps next week," said Anne Marie Aikins, Head of Media and Public Relations for Metrolinx, to STOREYS. "We will give as much notice as possible to our customers and as always, we recommend they plan ahead and check the schedules. We'll be communicating frequently through social media, On the GO alerts and our website."
While she says it's difficult to predict from day to day, approximately 10-15 train trips a day are currently being impacted, says Aikins. "Cancellations are spread out across hundreds of daily UP and GO trips so the impact to customers is limited and they continue to have lots of travel options," she says.
In other GO Transit-related news, the union representing 2,200 GO Transit bus operators, station attendants, plant and fleet maintenance workers, transit safety officers, and office professionals says their members have voted 93% in favour of striking if no deal is reached.

In a press release issued earlier today, Amalgamated Transit Union (ATU) Local 1587 accused Metrolinx of refusing to negotiate on the wage, work-life balance, and job security fronts.
"This is by far the largest turnout for a strike vote in our Local's history," says Rob Cormier, President of Amalgamated Transit Union (ATU) Local 1587. "Workers have said loud and clear that we will do whatever it takes to reach a collective agreement that addresses our priority issues and treats us fairly."
The ATU said its members have been working under an expired contract since June 1. So far, strike deadline has been issued.
"We understand the union representing GO bus operators, station staff and other Metrolinx staff has voted in favour of a strike. However, a strike is not imminent and there is no deadline as yet," says Aikins to STOREYS. "Negotiations with the union continue to go well and we remain optimistic for a positive outcome. We will keep customers closely updated."
Of course, Toronto's current transit woes aren't reserved solely for GO Transit. Toronto Pearson International Airport has made international headlines for its insanely long line-ups, abundance of cancelled flights, and piles of unclaimed luggage.