This holiday season, when you need a break from your not so favourite Aunt bragging about her fruitcake recipe, choose one of these awesome events. Whether it's hiding out at the movies, supporting a charity, or singing along at karaoke, there are tons of things to do in Toronto over the next few weeks.
Where: Kensington MarketWhen: Friday 6:30 p.m. to 10:00 p.m.Cost: Admission is free!
This year, Kensington Market is hosting a community round dance ceremony for the opening of the 29th Annual Kensington Market Winter Solstice. The ceremony is being held to express gratitude and support for Indigenous leadership and land acknowledgement. At this time, there will also be a special honouring of indigenous youth and their services to the community.
---
Program:
5:00 p.m. Opening Pipe Ceremony
5:30 p.m. Feast
6:30 p.m. Round Dance
11:00 p.m. Giveaway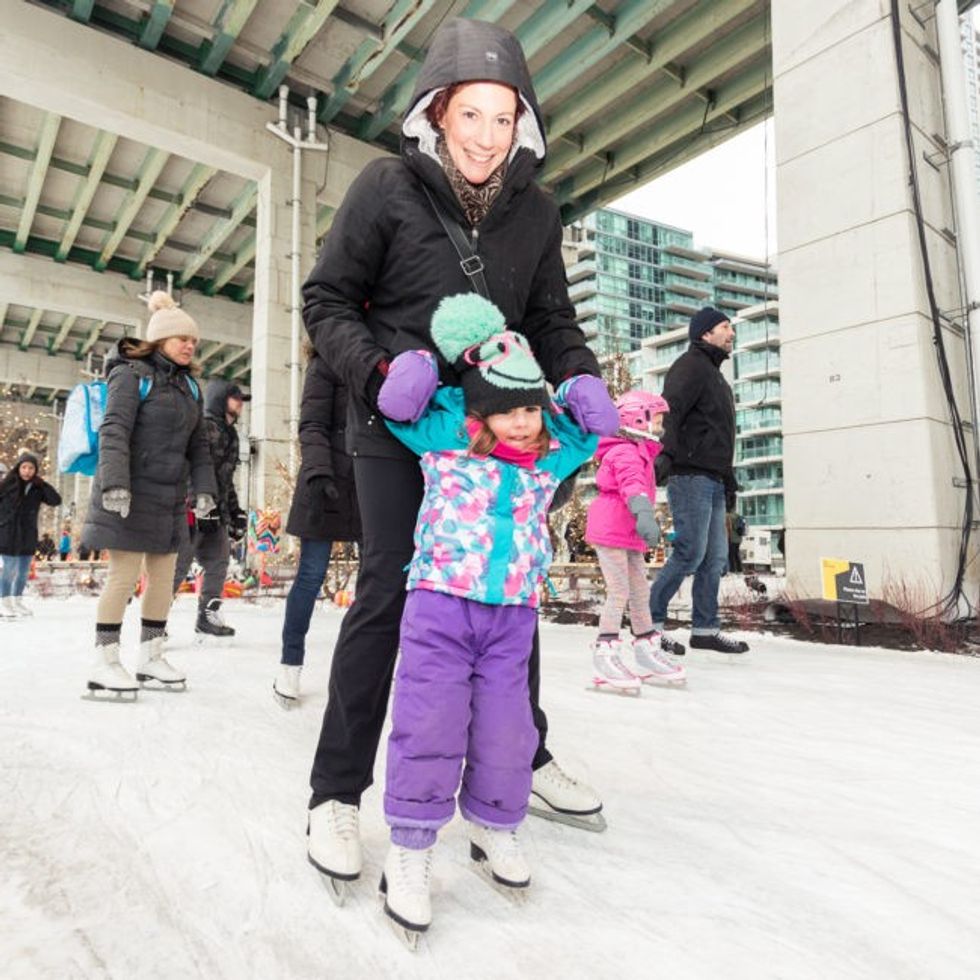 Where: The Bentway Skate TrailWhen: December 21-23 for opening weekendCost: Free!
The figure-eight skate trail is opening right before Christmas for skating lessons, skate rentals, and free skating throughout the holidays. There will also be curated food and beverage options not to mention a beautiful winter village with cozy blankets, warming lounges, and fire pits. There will also be a public art exhibition entitled, If, But, What If?.
Where: Natrel RinkWhen: Saturday at 8:00 p.m.Cost: Free!
DJ Skate Nights kicks off a season of free ice skating parties by the waterfront with a night of hot music with DJ DLUX who is the official DJ for 1 LOVE T.O., the Toronto Blue Jays and Toronto Argonauts.
Where: The Gladstone HotelWhen: Saturday at 8 p.m.Cost: $35
'Twas three nights before Christmas, when all through the hotel
Every brewery was pouring, the music was swell;
The steins were filled by the breweries with care,
In hopes that dancing and karaoke would soon be there;
They made a list and checked it twice–of 12 local breweries,
naughty and nice–to join us at The Gladstone's annual beer-drinking extravaganza!
On Dec 22, throw on your ugliest Christmas sweater and cross a beer (or 12) off your list. There will be live music, DJs, and a lot of beer. This event sells out every year, so get your tickets early!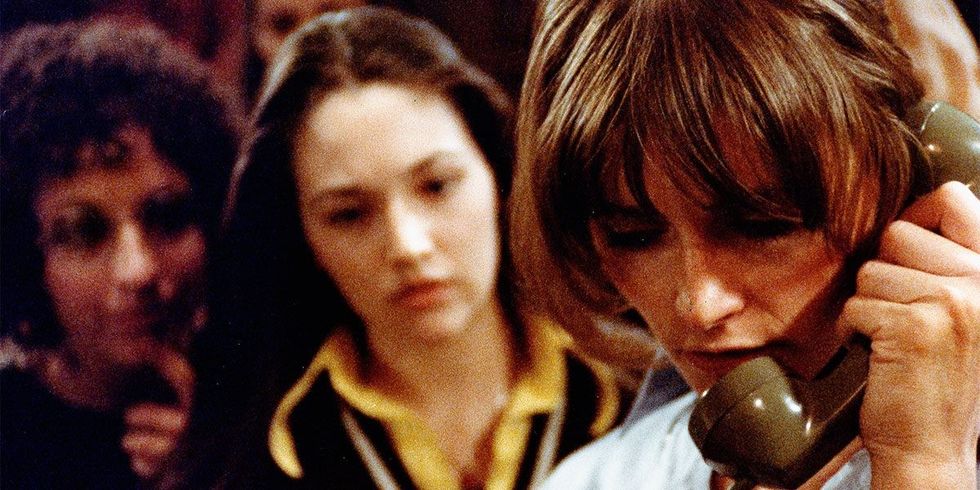 Where: TIFF Hot DocsWhen: Saturday at 8 p.m.Cost: $11
Bob Clark's Toronto-shot thriller may be our country's most influential contribution to the horror genre. Its inventive camerawork, ruthlessly clever scares, and shocking violence crystallized the tropes that would define the "slasher" cycle of the 1980s and beyond.
Where: The Opera HouseWhen: Saturday at 7 p.m.Cost: $20
Not Dead Yet presents a benefit for the Toronto Overdose Prevention Society featuring Fucked Up, Metz, Witch Prophet, Joel Eel, and Sydanie.
Where: TIFF Hot DocsWhen: Saturday at 10:30 a.m.Cost: Free!
A masterpiece of American cinema, Frank Capra's beloved tale of a family man learning to look at his life in a whole new light on Christmas Eve—thanks to the help of an angel trying to earn his wings—remains no less enchanting today than when it was first released.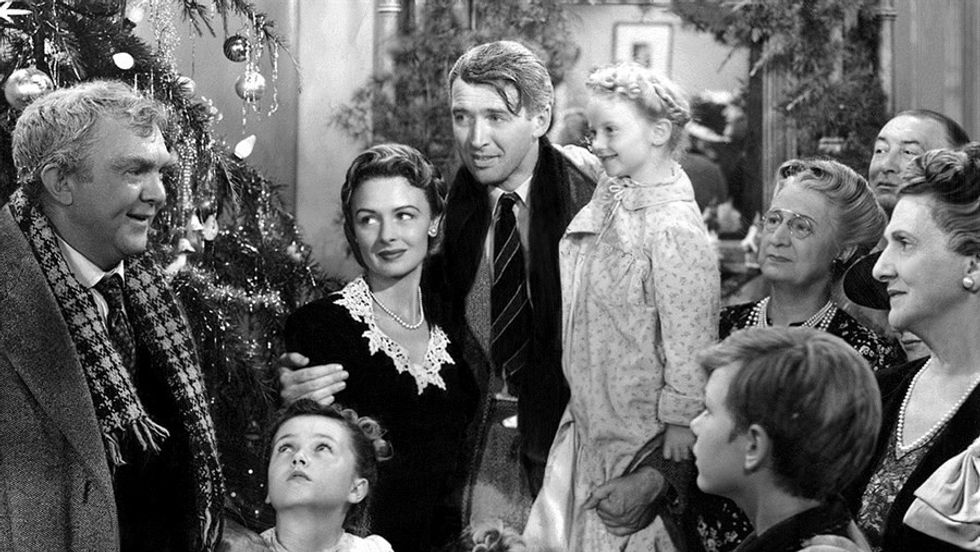 Where: Church of St. Stephen in-the-FieldsWhen: Saturday at 11 a.m.Cost: Admission is Free!
The Toronto Etsy Street Team are hosting their annual Christmas Marketplace this weekend. Drop by for handmade goods, moments with Santa and plenty of snacks.
Where: 163 John StreetWhen: Saturday at 7 p.m.Cost: Admission is Free!
Saturday Showcase is a show with a variety of six headliner worthy comics on every show performing tight 10-minute sets. Come see Toronto's best comedians all together in one show!
Where: 663 Greenwood Ave.
When: Saturday 1 p.m., Saturday, December 29 1 p.m., Saturday, January 5 at 1 p.m.
Cost: $15
Every Saturday is a family day at LucSculpture. Call and book a spot for your family and friends to make clay sculpture and hand built pottery. They will fire the clay pieces for you!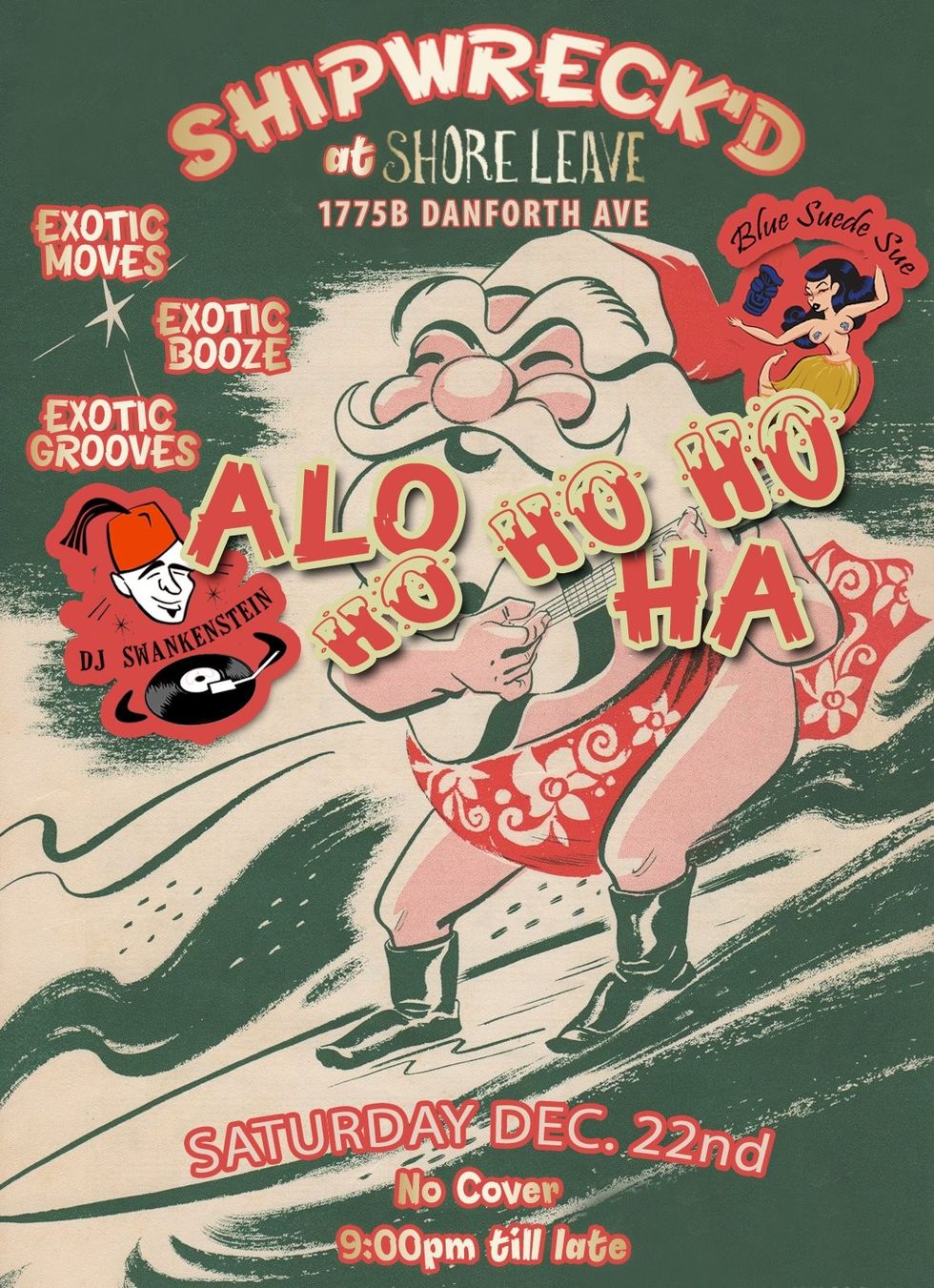 Where: The Shore LeaveWhen: Saturday at 9 p.m.Cost: Admission is Free!
'Twas the Night Before The Night Before The Night Before Christmas all through Shipwreck'd Island, all the creatures were stirring because Blue Suede Sue was hip shakin'!, Captain DJ Swankenstein was spinning his vinyl by the palm trees with care in hopes surfin' Santa soon would be there. Santa hung ten on a mighty swell as he rode into sight "Alo-hohoho-ha to all... and to all a Merry Mai Tai!"
Where: Grand BizarreWhen: Saturday at 8 p.m.Cost: Admission is Free!
Grand Bizarre is a vibrant celebration of food and entertainment. It draws an eclectic mix of cuisines, music and performance art. It Introduces the world's first food currency and puts an end to modern dining and splitting bills. Grand Bizarre is the beginning of a social dining experience that encourages guests to mingle, explore and engage in their surroundings. It's here that they will discover the most innovative food creations and share it with not only each other but on social media.
Where: Saturday at 11 a.m.When: Cakes CoveCost: Free!
Santa Claus is making a very special visit to Cakes Cove to eat his very favourite treat: COOKIES! And you can share in the fun with him all day long. Get your picture taken with Santa for free!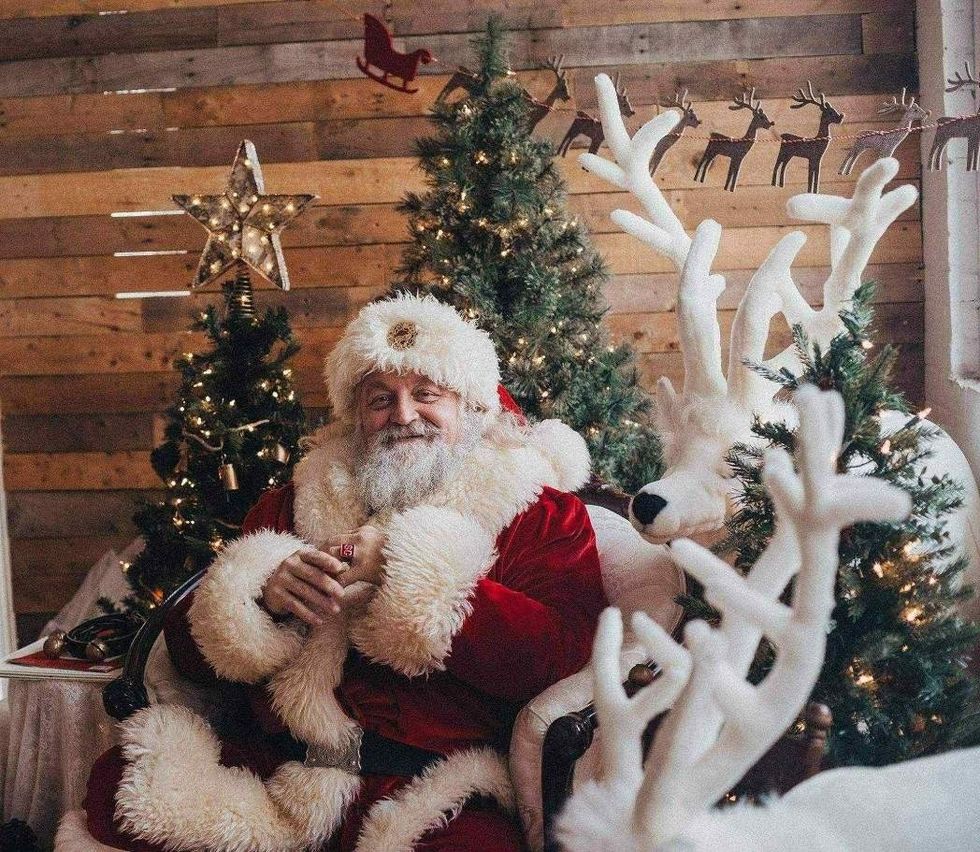 Where: The Great HallWhen: Saturday at 11 a.m.Cost: Free!
In an effort to give back to the city and foster a sense of community, The Great Hall has teamed up with West Queen West to host a neighbourhood holiday celebration. There will also be a mini market hosted by The Trinity Bellwoods Flea featuring eight local businesses.
Where: TIFF Hot Docs CinemaWhen: December 23rd at 9:30 p.m.Cost: $11
Calling all ladies, gentlemen and little jerks: It's time to don your ugly Christmas sweater for Hot Docs fifth annual Home Alone quote-along! Embracing the spirit of the holidays, the Hot Docs Cinema is showing it with subtitles, karaoke-style, so you can get rowdy and shout out your favourite lines.
Where: The Painted LadyWhen: December 23rd at 9 p.m.Cost: Free Admission!
Heart made of coal but voice of gold? Come sing it out! Lose your voice singing so you don't have to talk awkwardly with uncle Robert over the holidays.
Where: CinesphereWhen: All weekend starting on Friday, December 28Cost: $15
The film made a new kind of history with its network television premiere on CBS in 1956. Nearly 45 million people tuned in for this initial telecast, marking the beginning of an annual tradition. Ever since then, The Wizard of Oz has been shown pretty much annually on network (and then cable) television. Its magical story and heartfelt performances have enabled it to grow from a perennial classic to its current status as a treasured icon of popular culture.
Toronto