Sometimes it takes a dead end to propel us down the right path.
Glen Buttigieg had his sights trained on a professional football career. He had the drive, the natural instincts and ability, and the right mentorship behind him.
---
Early on, Buttigieg learned to listen, as his coaches imparted the values of hard work and teamwork. He learned to get along with his fellow players, and ultimately, to help inspire them as a captain.
The future seemed clear for Glen Buttigieg, but as is so often the case, adversity forced his hand.
He tried out for the Hamilton Tiger-Cats of the Canadian Football League, but blew out his ACL. With the encouragement of his father, he worked doubly hard to rehab the injury — only to suffer the very same injury on his other leg.
The moment was a challenging one and, recalls Buttigieg, a pivotal one.
"I didn't know what to do, or in which direction to turn. All I knew was the football field, and the lessons learned there and at home."
It was those very lessons, though, that would help point Buttigieg toward a brand new field.
"My parents came from Europe to Canada with little in their pockets. And though our home was always a happy one, we must've moved 10 or 11 times over the course of my childhood.
"So I was taught to be resilient at a young age. And as a result, I think I really came to welcome and embrace new environments."
Upon a friend's suggestion, Buttigieg reconnected with John Mehlenbacher, an old pal who was a rising star in the real estate industry.
"My friendship with Glen dates back to grade school," recalls Mehlenbacher.
"And ever since I have known him he has had an infectious positivity and a magnetic personality."
Mehlenbacher was quick to recognize how Buttigieg's affability could translate to sales, and he suggested that Buttigieg make his presence known at the offices for CityPlace, Toronto's largest-ever master-planned community.
Every day, for the next nine months, a resilient Buttigieg took the train from his home in Burlington to CityPlace, shadowing sales agents on different projects, and learning every facet of the business. Like on the football field, he was able to see a clear path forward and determine which players knew how to carry the ball.
His intuition caught the eye of Mark Cohen, and Buttigieg was offered a job ... stuffing envelopes.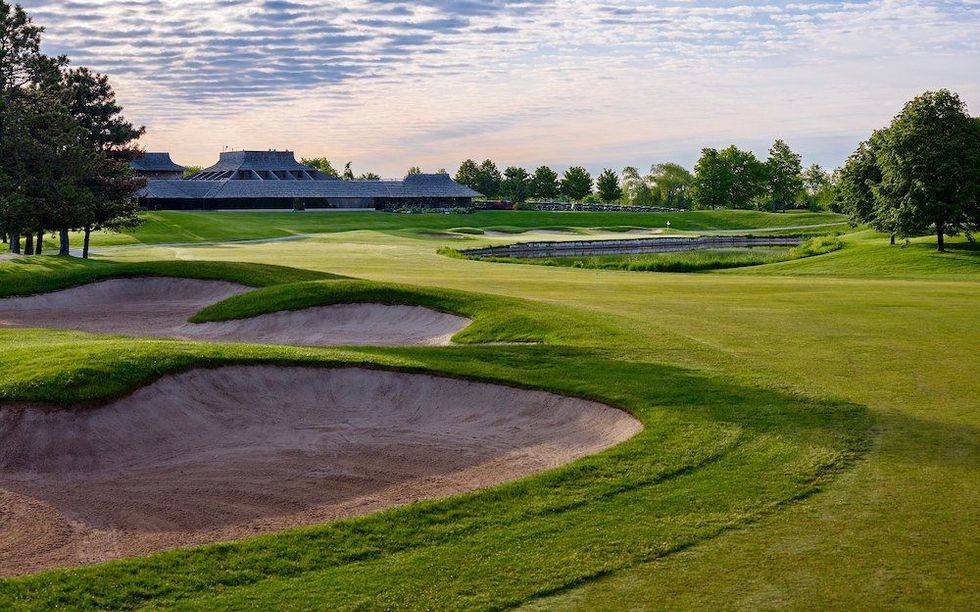 No matter how menial the task, Buttigieg showed grit, always moving a few feet further down the field. He absorbed all of the wisdom that Mehlenbacher, Cohen and CEO Henry Man imparted. And when Man gave Buttigieg an opportunity at a sales event for CityPlace, he ran with it.
"Henry pointed out the people I should talk to," said Buttigieg. "I didn't think they'd want to buy … but after the first weekend, I ended up with 30 deals! It was innate."
Buttigieg's knack for sales was surely cemented in his youth. The can-do attitude of his parents made its mark on him. And being part of the football team wasn't just about executing plays on the field.
Dressing room pep talks and bus rides to away-games ingrained in Buttigieg a genuine curiosity and love for other people. Over his first couple of years in real estate, Buttigieg was involved in hundreds of transactions with people of all backgrounds and cultures. And he took the time to understand each client's unique reason for buying.
"My dad taught me to treat people the way that I want to be treated," says Buttigieg. "And along the way, I've really enjoyed studying people. I seem to learn the most from those with a style entirely different than mine."
Buttigieg had enormous early success as a salesperson, following Mark Cohen and the team over to Tribute, where he received the 2006 Greater Toronto Home Builders Association Best Sales Person Award.
When he began working at industry giant, The Condo Store, his natural sales abilities continued to score points. Like the coaches from his youth, Buttigieg's mentors at The Condo Store saw leadership potential in him, and he was appointed director of sales.
Mehlenbacher says, "Today, as Glen leads our sales teams, I see that very same energy and enthusiasm channeled into the projects he directs."
Buttigieg has not forgotten those early lessons and continues to stand side by side with the team he directs, winning their admiration and respect along the way.
"I always aspired to be captain," he says.
"And a good captain has to remain in the trenches earning the team's respect. I've been an agent, and understand that grind. And I've faced adversity, so I can help my team to pivot and grow as the market evolves."
When the odds stacked up against Glen Buttigieg, he charged forward with a whole new set of goals in sight.
Industry Profiles