---
There's more evidence to suggest that we're returning to business as normal-ish in Canada -- even if it looks a little different than it did pre-pandemic.

According to flexible workplace provider IWG, Canadian office visits were up 45% between January and March of this year, thanks to the removal of restrictions. IWG, which operates 130 locations across Canada, relied on new WiFi data from their facilities to draw these conclusions. 
As companies and workers adapt to new hybrid working models, splitting their time between home and office, IWG found visits to their in-person co-working and flexible workspace locations are rising significantly from coast to coast. The number of people working from Canada's network of IWG workspaces -- including Spaces and Regus locations -- increased steadily over the past three months across the country.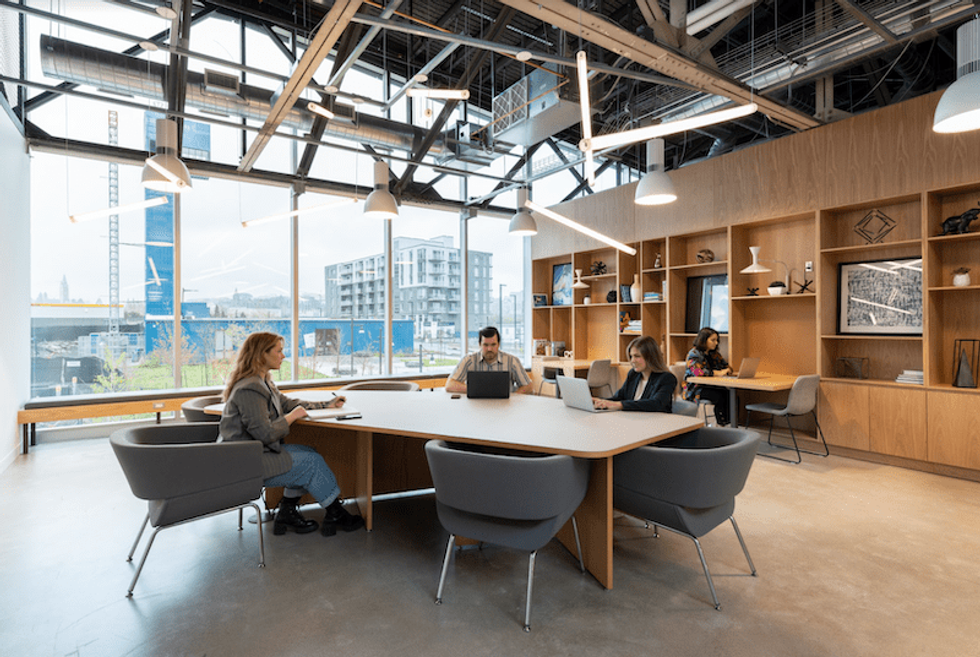 Spaces Zibi Gatineau. Image: IWG
All major cities witnessed similar increases in people working from the office, with Toronto visits up 43% since January, followed by Montreal (42%), Vancouver (42%), and Calgary (41%). 
Of note -- especially at a time when countless people moved from confines of the urban concrete in favour of the surrounding suburbs -- the data found employees want to work closer to home in the heart of their local communities, reducing the need to commute (something that can take a toll on mental health). IWG's suburban locations experience the largest uplift in office visits, with Dartmouth leading the way with a 163% increase in visits to its Regus location compared to January, followed by Hamilton (121%) and Waterloo (116%). 
"As more Canadians turn their backs on long daily commutes, and instead choose to work flexibly from nearby coworking centres, demand for suburban and rural locations continues to rise," reads an IWG-issued press release. The company points to earlier research from IWG in the UK  that revealed that employees are four times more likely to choose an office close to home than in a city centre, with 82% saying the lack of a daily commute was a key benefit of hybrid working.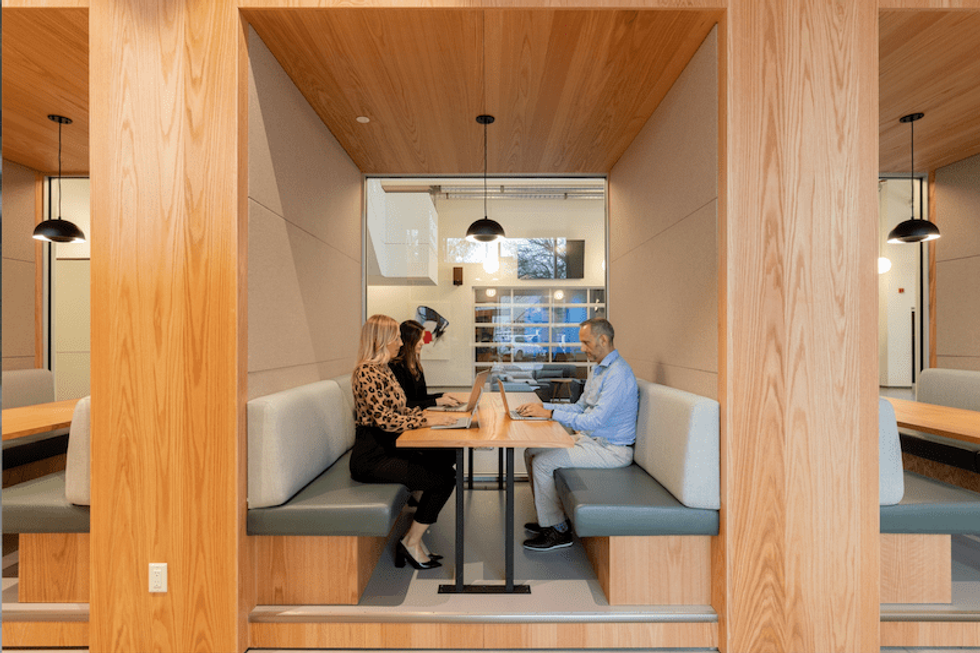 Spaces Kelowna. Image: IWG
In general, the uptake in all IWG locations prove that more workers are embracing the social and team-building benefits that come with flexible working, whether it's working closer to home from a suburban location or at a downtown workspace, says the company.
"We are seeing in real time more and more people in our spaces, not only in Canada, but across the more than one hundred countries that we operate in," says Wayne Berger, CEO, IWG Americas. "The data shows there is a strong appetite to spend part of the time in an office environment, whether that's at a local flexspace or a central HQ. The growing popularity of hybrid working means workers now have the freedom and flexibility to choose a location to work that best suits their lifestyle."
 Globally, IWG has found that all-access membership plans to its flexible workplace solutions are up by more than 100%, year-on-year. When looking at shorter-term memberships, the numbers jump even higher: five-day memberships are up 120%, and 10-day memberships have soared by 150%, further proof that the hybrid working revolution is well underway, both locally and globally.
According to the recent IWG data, the most popular day to work from the flexible workspace as part of a hybrid working week is Wednesday, which increased by 31% in March compared to January. Tuesday and Thursday are also popular days to work flexibly, with visits to centres increasing by 32% and 29 % respectively, compared to January.
With this "new normal" office culture, we have a feeling Canada's flexible workspaces will continue to bustle --regardless of the day of the week -- for the foreseeable future.
Real Estate News