Economy
These 5 Female Entrepreneurs in Toronto Took Control of Their Own Destinies
As we celebrate International Women's Day, a few selected female entrepreneurs from the Toronto area share their successes and challenges, and offer advice, especially to younger female entrepreneurs, as well as young women and girls looking to their futures.
Over the 2005-to-2013 period, about 67% of companies were owned by men, according to Statistics Canada, and 18% were owned by women (the rest were co-owned by both genders). However, the fastest growth in that time was in female-owned businesses, according to Statscan. They face greater barriers, though, especially in financing, and the federal government has launched the Women Entrepreneurship Strategy to help boost the number of women-owned businesses by 2025 through access to financing, talent, networks and expertise. This isn't just good for women. Female entrepreneurs add about $150 billion annually to the country's economy, according to Startup Canada.
So, if you're looking for some entrepreneurial inspiration, look no further than the success stories of these five incredible women.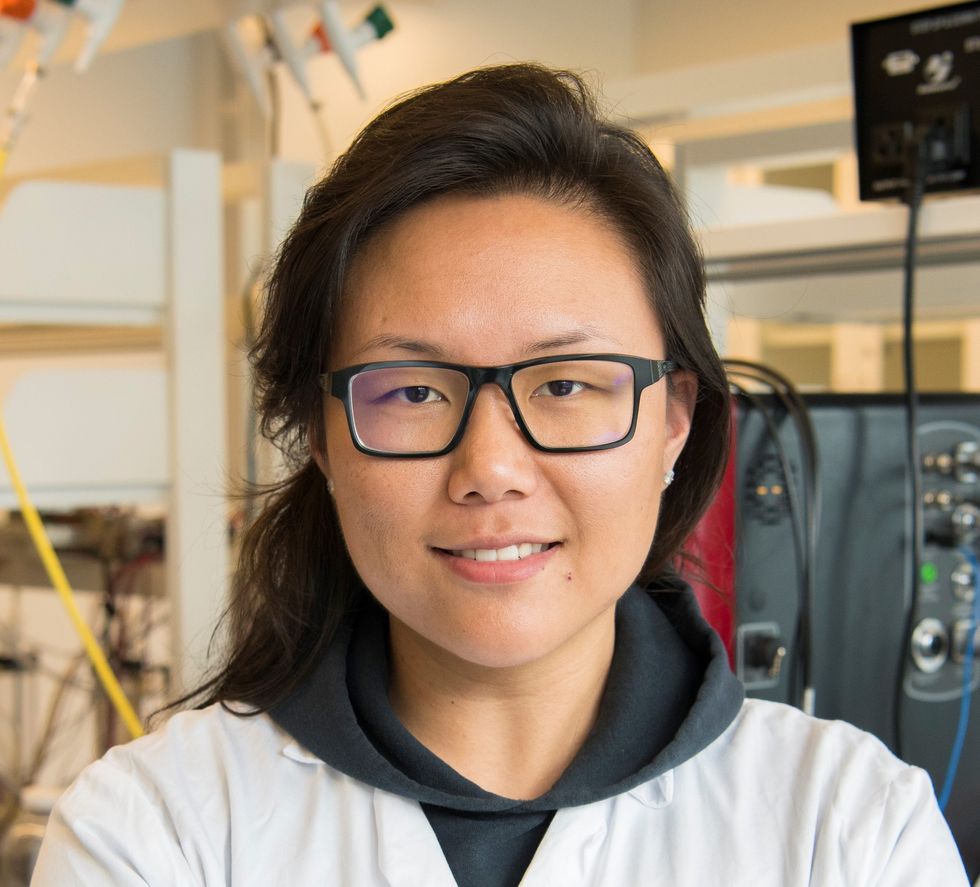 When Luna Yu's biotech company Genecis was in its early days, they didn't have enough money to buy an expensive $20,000 bioreactor to grow bacteria. So they went to Canadian Tire, bought some rice cookers and retrofitted them with things like sensors.
Yu always knew she wanted to be an entrepreneur. "I owned businesses back in university," she says. She wanted to learn as much as she could about startups, joining as CEO of a software company, and in sales positions at other companies.
With a master of environmental science from the University of Toronto, she had gone to a conference on biogas and biomaterials, which sparked the idea for her company. She worked in that field for a couple of years, but realized it took too long for the bacteria to create the biogas, used for energy, and it didn't create a high-value product.
Genecis uses carbons from food waste to feed bacteria to make plastics called PHAs, or polyhydroxyalkanoates, which are biodegradable. The process is faster and results in a higher-value product. It is also cheaper than processes that use plant sugars. Different PHA plastics are used for different products, from coffee cups to plastic packaging and medical applications.
Challenges have included getting the financing – "We were close to running out of money. We had $7,000 in the bank," she says.
READ: 5 Women, 5 Questions On Working In The Construction Industry
But, through the support of MaRS's Women in Cleantech competition, they won $230,000 over two years, which was a game changer. They have now raised $5.5. million through funding rounds and government grants.
Other challenges included not having lab space in the early days. Because they were using food waste, the process was "stinky," so they used public washrooms. Now, however, they are in a 4,000-square foot space, developing products in collaboration with their customers. With 15 full-time staff and two part-time, Genecis aims to move to a bigger space, and build its portfolio of bacteria in order to be able to make different kinds of PHA plastics for different applications.
Advice to entrepreneurs: "Don't ever give up. There was a lot I didn't know in the beginning. I was fortunate to have a great team that kept pushing through … no matter if investors said no to us or we couldn't afford equipment."
Advice for girls and young women: Fear can be a good thing. Look at Greta Thunberg. She was scared the world would be destroyed by climate change and was able to channel her fear into productive energy and to inspire so many people."
Catherine Addai, Founder and CEO of fashion boutique Kaela Kay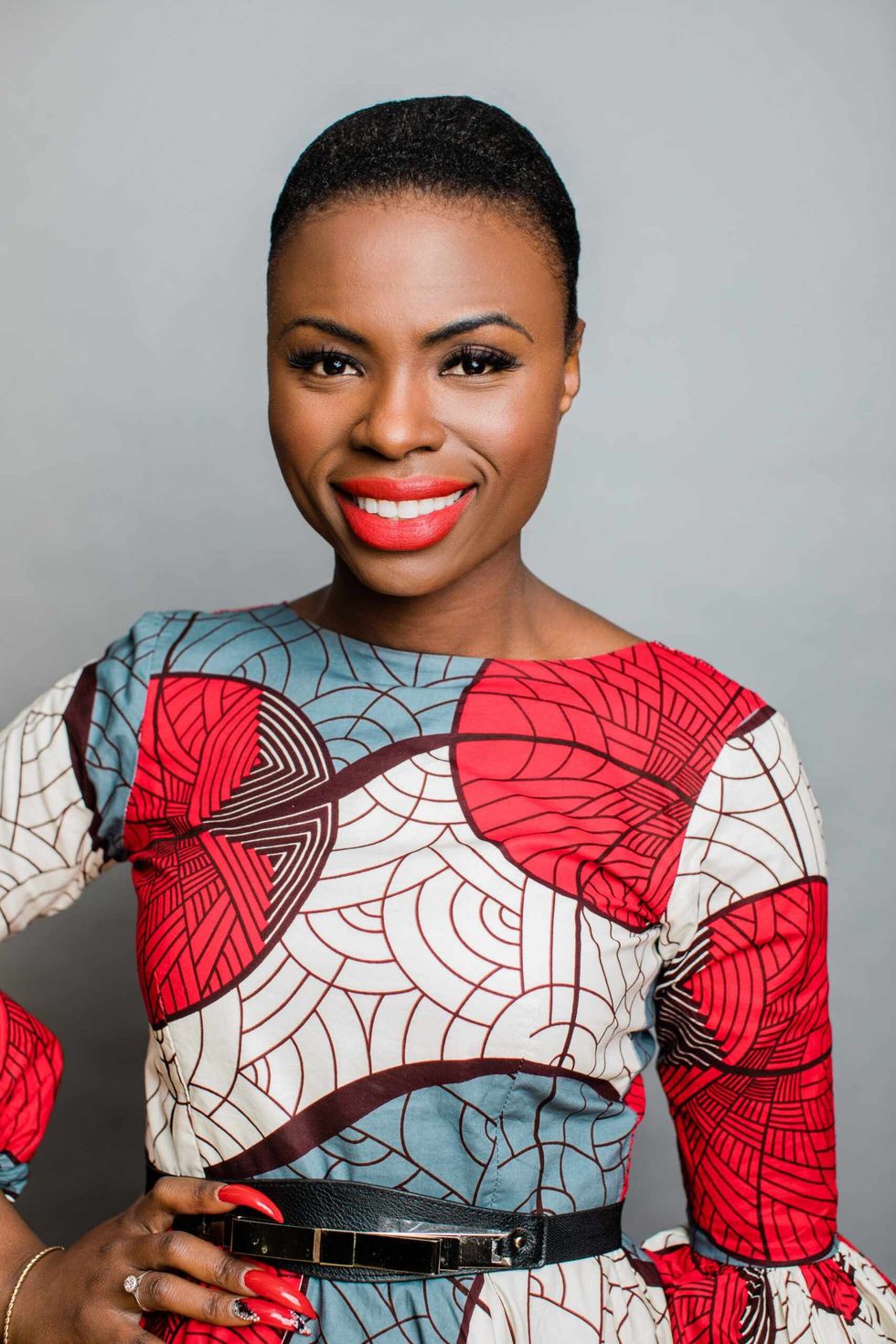 Catherine Addai taught herself how to sew – her mother had bought her her first sewing machine – but she never intended to start a business. Now, women from all ethnic backgrounds (not to mention some celebrities) are embracing her bright, African-inspired clothing.
Born in Ghana and landed in Canada via the Netherlands, Addai was working as a financial analyst and sewing for friends and family with the brightly coloured African fabrics known as Ankara. In 2013, she started an online store.
Then, "I was coming off a [maternity] leave with my daughter and … my husband suggested I register [as a business]."
In 2014, she thought she would try a collection. "It was five pieces and we shot it in Kensington Market with a student photographer, four student models and student stylists." The bold colours of the African fabrics caught people's attention, inside and outside the Black community.
And suddenly she was working on more collections.
A big part of her aim is "to show the beauty and historical nature of the prints, in a modern way," she says of the bright Ankara prints. She sources the fabric locally when she can, or from suppliers in Africa, Europe or the United States, and employs 3 seamstresses in the Toronto area.
"My clothes are made for real women," she adds. "All sizes, all shapes, all colours."
But it wasn't a straight path to her own boutique in North York.
"When I approached stores … [the aesthetic] wasn't what they thought would appeal to a mass clientele." She didn't let that stop her, though. She did popup shows, worked with influencers before finally opening her own store.
However, she was working full-time as a financial analyst as well as running Kaela Kay … plus raising a family, which now has grown to three children, the youngest of whom is 3.
So two years ago, in a "very scary move," she quit her job.
With celebrities, such as Cityline's Tracy Moore, filmmaker Ava DuVernay and actress Busy Philipps, wearing her designs, and the launch of her spring collection at the end of March, Addai aims to offer more services, such as bridal, prom and evening-gown designs, and expand in the United States, beyond her presence in Los Angeles retailer Kutula.
Advice for entrepreneurs: "Jump into something, but have a backup plan."
Advice for girls and young women: "Just relax. I've found in life, it always works out the way it's meant to be. I've made rash decisions because I was nervous. Whatever decision you make in life will be the best for you. No one is perfect." In terms of social media: "Don't focus on what you see. Focus on your plan and your path."
Hiawatha Osawamick, Executive chef and owner, Hiawatha's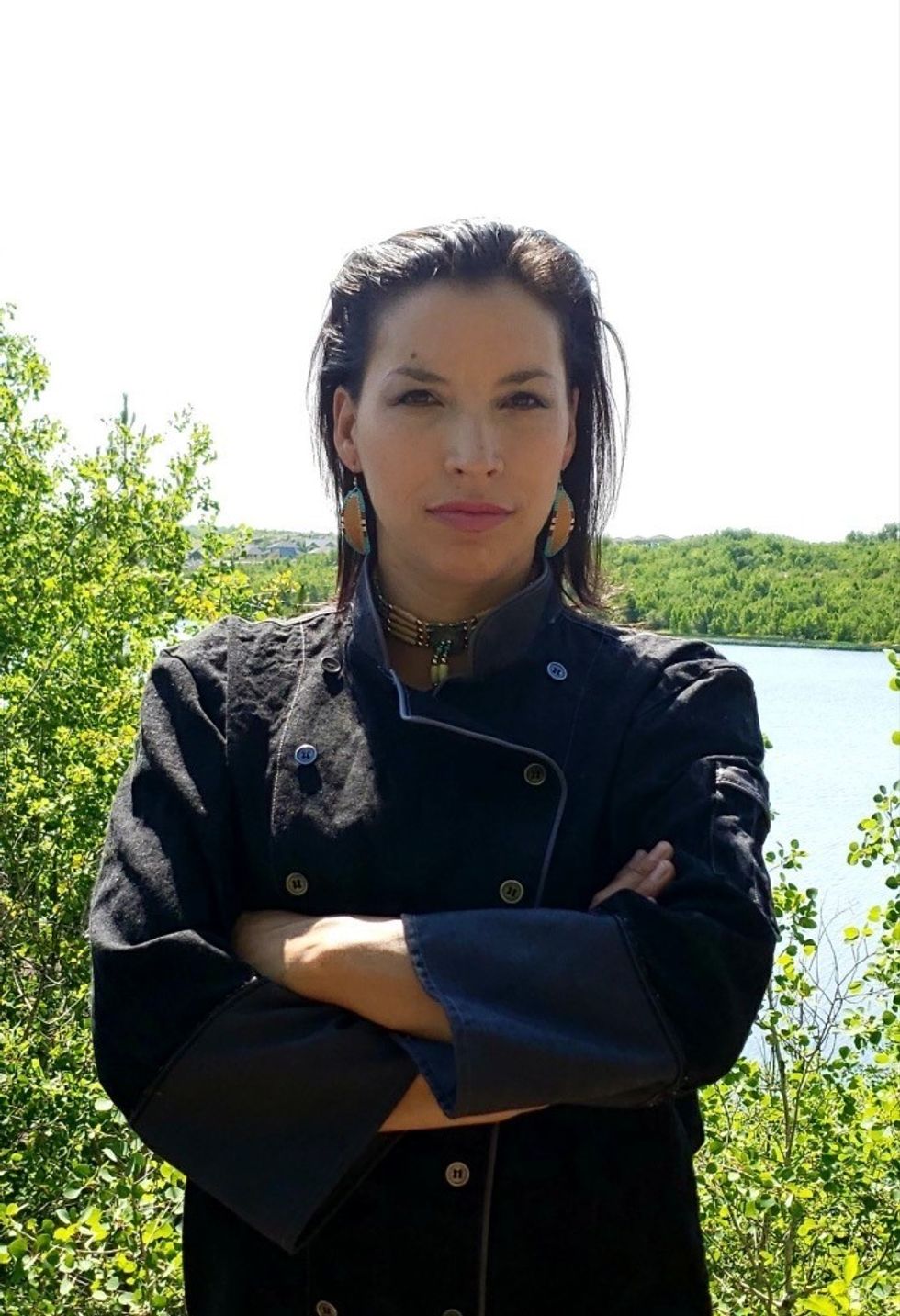 Hiawatha Osawamick founded Hiawatha's Catering in Toronto a decade ago but her roots in the food industry go back to working as a 16-year-old in her aunt's restaurant, Pat's Café, in Wiikwemkoong Unceded Territory near Sudbury.
After graduating from high school, she worked in various positions at Casino Rama in Orillia, Ont., realizing she wanted to work in the kitchen. Through a two-year apprenticeship through Georgian College, she qualified as a Red Seal Chef. In 2008, after her maternity leave with her first daughter ended, she realized she was not able to work the evening and weekend hours the kitchen at Casino Rama required, so she started her own catering business.
READ: Up With Women Founder Proves Homelessness Is Not A Dead End
"Being female, especially an Indigenous chef, I felt I wasn't able to move up in a male-dominated industry. That was another reason I opened my own business."
Since then, she had two more daughters. She moved to Sudbury to be closer to family, and continues the catering business in Toronto. At 39, she has taken the leap to open her own restaurant, Hiawatha's Eatery, serving Indigenous food in Sudbury this spring.
"My daughters and I play hockey so I'm opening the eatery around my daughters' schedule." Her children, she says, prepared her to be the woman she is today. "I am showing my children through hard work that they can do anything."
Advice to entrepreneurs: "Take your time, don't rush into it, get a business plan."
Advice for girls and young women: "Family is important. The teaching and guidance you receive from your parents and grandparents shows you the way. You can't do it alone. … Family is important for your success and feeding your dreams."
Kalynn Crump had been having a blast as an account director at a youth marketing agency … when it went bankrupt unexpectedly.
"I never intended to start a company because I saw the challenges my dad [a serial entrepreneur] went through," she says. But she jumped in with the former marketing agency's stranded accounts in 2008. "2008 was the financial crisis. … My parents said, 'Have you lost your mind?' … The mentality was – you need a job for success."
However, she says, "What I quickly learned was if I was short on rent, it made me work harder."
In addition to her PR agency, Top Shelf, which includes clients such as Bosch, Thermador and Gaggenau, she founded ReBLOOM in 2014, which repurposes event floral arrangements.
ReBLOOM takes floral arrangements after events such as corporate get-togethers or weddings or bar mitzvahs and rearranges them into smaller, bedside bouquets that are donated to institutions such as hospices, hospitals or shelters. After they are used at those organizations, ReBLOOM sends them into composting, rather than the landfill they usually end up in, where they create greenhouse gases.
"My parents raised me to appreciate Mother Nature, and it broke my heart to see flower arrangements just left to die."
It was a challenge at first to convince companies or couples to pay for something they were used to throwing out, she says, but growing environmental consciousness has made a difference.
Advice for entrepreneurs: "The advice I would have given my younger self is have patience. Our younger generation is suffering from a lack of patience," she says, using the example of people who complain about slow Internet on planes, which wasn't even possible a decade ago. "It takes time to nurture and to grow a business."
Advice for girls and young women: "It's so amazing for people today to be able to grow up with so much possibility," she says about entrepreneurial opportunities for young people. "All those things your parents said you have to have, you can create on your own."
Debbie Fung, Co-founder and COO of Yoga Tree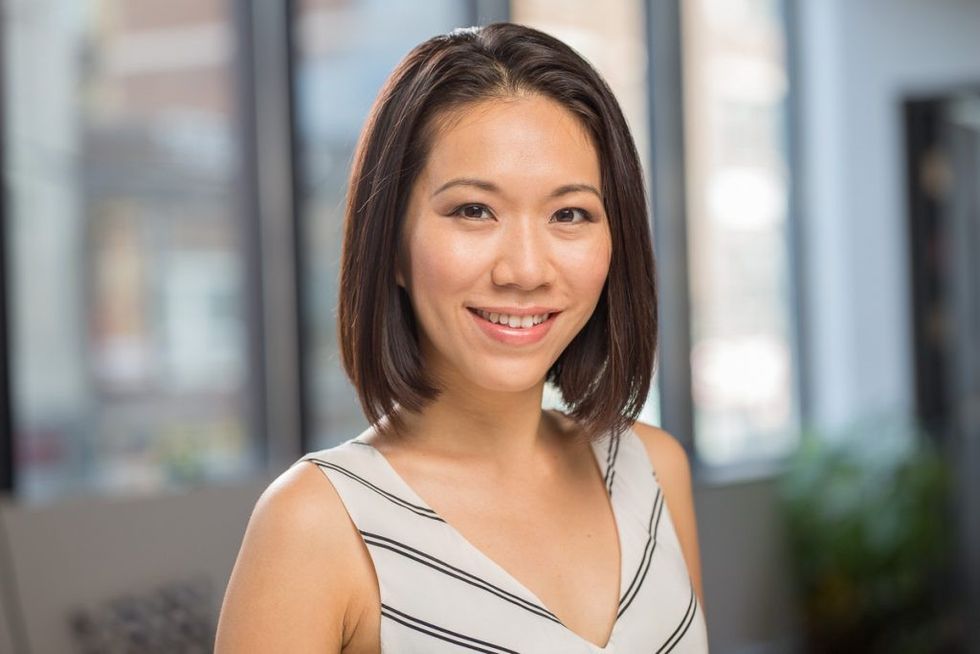 Debbie Fung graduated from university 13 years ago and worked as a buyer in retail. It was a great job, she says, but she felt it was not the direction she wanted to go in for the next 10, 20, 30 years.
So she and her husband, Jason Lu, went off to India to study Yoga and Ayurvedic medicine. When they returned to Toronto, they opened the first Yoga Tree in 2007.
But with no track record in the health and wellness industry, they had found it hard to secure a lease. The first location was in a Thornhill suburb, not on a prominent street, in a location that was a mix of industrial units.
In 2008, they opened their second studio, but with only one room, they couldn't offer the different styles of yoga they wanted to in order to reach heir goal of making yoga more accessible to different body types and athletic abilities.
"We have teachers from all walks of life and backgrounds," in terms of ethnic background and body size. "We want to make sure students feel safe and comfortable."
In 2011, they not only opened their Richmond Hill location, but Fung gave birth to her son. She was back at work in three weeks. With a new studio, "I had to be accessible to my team," she says. "As women, we have to have the ability to wear different hats." In 2013, they opened another studio, and Fung had her second son.
By now, with a track record in the industry, they were able to open their flagship location at a prominent spot at Bay and Dundas.
With five locations in Toronto that clients can move between with one membership, they are starting a new approach. In mid-March they are breaking ground on a new venture in Yorkville called Cymetree, a holistic Yoga studio including health care, mental wellness and community events that will not be part of the membership structure of Yoga Tree.
Advice to entrepreneurs: "Just try it. A lot of millennials like new goals and ideas, but often hold back because of financial reasons and fears." She adds that success depends on luck, timing, hard work and grit. "Carry through and do it from your heart. … Focus on the outcome, not the price of mistakes."
Advice for girls and young women: Take heart in that "more than ever before, [women] have huge representation. … They are breaking glass ceilings, there are women in high-powered roles."