Now that summer is coming to a (bitter sweet) end, the morning air has already become crisp, and in many places the leaves are starting to turn. And as pumpkin spice lattes and cozy scarves return to our lives for another year, it's time to start planning for the season ahead.
And luckily for Torontonians, The Weather Network has officially released its fall weather forecast, which suggests that we're in for a milder than usual autumn.
---
According to The Weather Network, while fall weather has already arrived early for much of the country, most Canadians can expect near or above normal temperatures during the heart of the fall season, with the exception of northern BC and Alberta, which are at risk of tipping to the colder side of normal.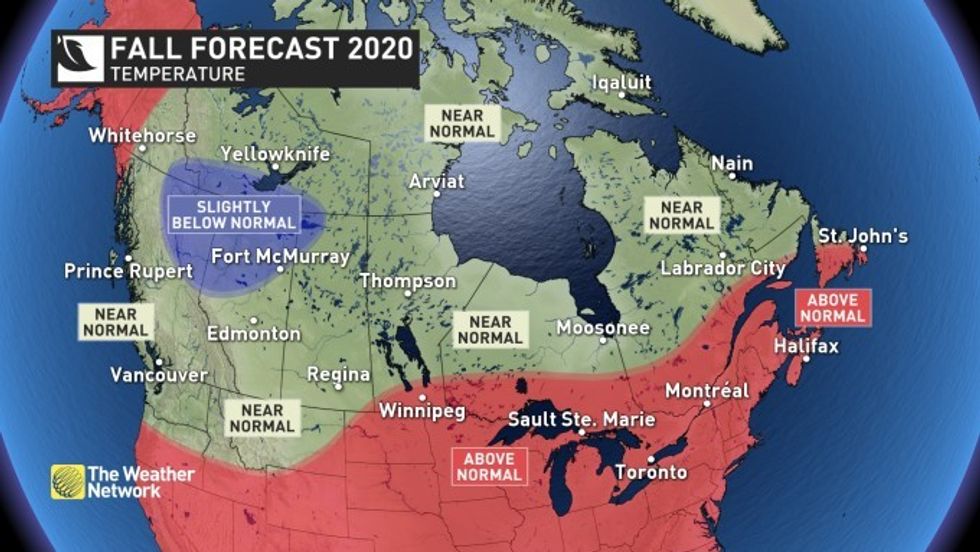 The Weather Network - Canada Fall Weather Forecast
As for rainfall, the forecast says most of Canada should see "near normal precipitation totals during the fall," while a wetter than normal fall is expected across southern and central BC, the central and southern Rockies, and across southern Alberta.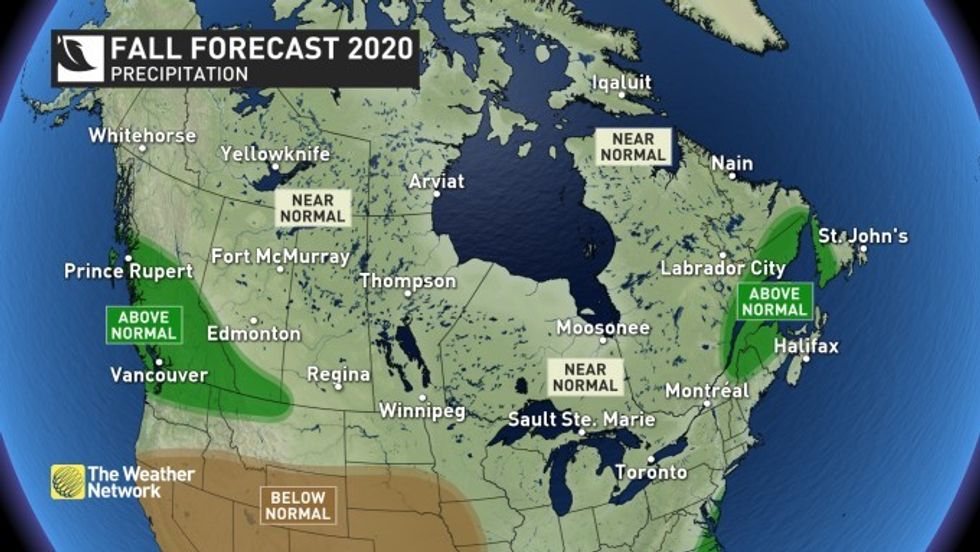 The Weather Network - Canada Fall Precipitation Forecast
On a provincial level, after an abrupt transition from a scorcher of a summer into a cooler September, the forecast says Ontario residents can expect cooler air early into fall, which will flip to warmer temperatures as we ease into October. From there, we can expect extended periods of "pleasant fall weather" into November with above seasonal temperatures dominating.
READ: 10 Public Art Installations in Toronto to Have on Your Radar (MAP)
"While a couple tastes of early winter can still be expected during the season, November is expected to be much milder than last year when winter-like weather dominated the month," says Dr. Doug Gillham, Meteorologist. "In fact, many residents of southern Ontario, including much of the Greater Toronto Area, actually saw their biggest snowfall of the cold weather season last year on November 11th." This indicates a major difference switch to what's expected for November 2020.
That being said, Torontonians can look forward to the ideal weather for enjoying the outdoors and all of the seasonal activities that are plentiful in the province during the fall. And while checking out the changing foliage and visiting pumpkin patches, wineries, and apple picking farms are always popular this time of year, residents can also make the most of the warmer temperatures by sticking local and checking out the cities many outdoor art installations or local farmers markets.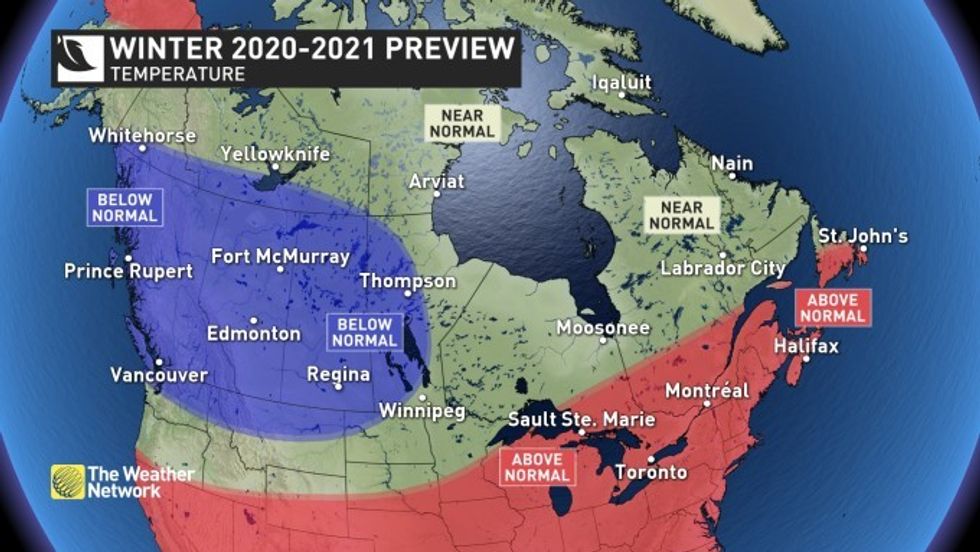 The Weather Network - Canada Winter Preview
Looking ahead to winter, the forecast says a developing La Niña is expected to be one of the key drivers of the country's winter patterns, which means that ocean surface temperatures in the central and eastern Pacific are a few degrees cooler than normal.
While La Niña winters do tend to be colder and snowier across Western Canada, from the Great Lakes to Atlantic Canada, Gillham expects that temperatures for the winter as a whole will be warmer than normal. "This should mean fewer and shorter outbreaks of severe cold and below normal ice coverage on the Great Lakes," says Gillham.
And as new COVID-19 case numbers in Ontario continue an upward trend, and many health professionals are warning there may be a second wave of the deadly virus, Toronto residents should take full advantage of the milder temperatures while they can -- both because interacting outside is safer and just in case stay-at-home orders are enacted again.
Toronto