---
Larco Hospitality, the owner of the Fairmont Hotel Vancouver, has filed a rezoning application with the City that would allow it add a 12-storey office building to the site, without significantly altering the heritage-designated hotel.
The portion of the Downtown Vancouver hotel that would be affected is the vehicle drive-through entrance that passes through the hotel, from Hornby Street to Burrard Street, facing the Vancouver Art Gallery on the east.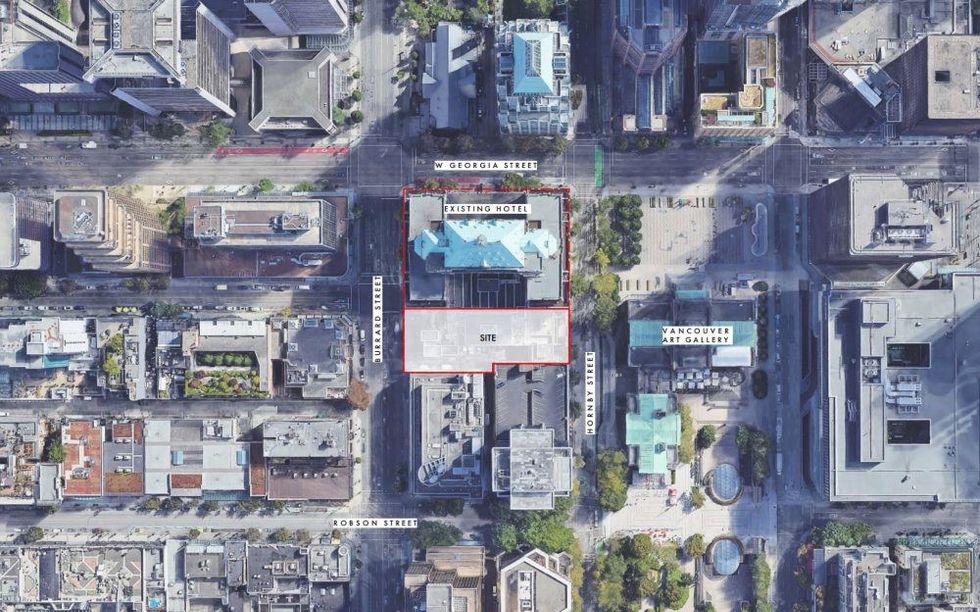 A context map of the proposed site. (Larco Hospitality)
Minimal details were included in the application booklet published by the City, but the proposal includes some commercial retail space on the ground level, public hotel space on the ground floor and second floor, and office space from floors three through 12.
Project documents show that there were will be 45,511 sq. ft of commercial retail space and 218,467 sq. ft of office space. The office space from floors three to 10 will be divided into two units per floor, while the floors above would each house one larger unit.
The proposal also includes three levels of underground parking, with 201 vehicle parking spaces and 226 bicycle parking spaces.
The total floor space ratio of the proposal is 13.10, and Larco Hospitality is seeking to rezone the site to allow for the increased density.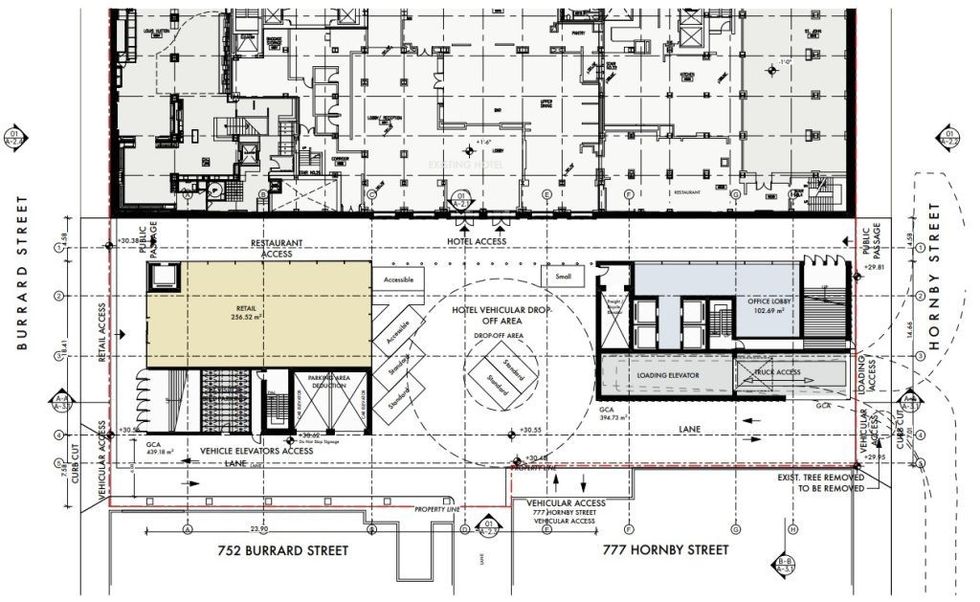 Site plan for the ground level. (Larco Hospitality)
Toronto-based architectsAlliance is serving as the architect of the project, and the design of the building looks vaguely akin to that of The Stack, Oxford Properties' office building in Vancouver that has features a box-atop-a-box look.
Adjacent to the proposed office tower on Burrard Street is a low-rise mixed-use retail and office building that includes a Shoppers Drug Mart and the Victoria's Secret store.
READ: Reliance, QuadReal Propose Twin 29 and 28-Storey Rental Towers On Broadway
Nearby, approximately two blocks to the west of this Fairmont Hotel Vancouver office project, is the future site of a 47-storey, flower-inspired residential skyscraper at the intersection of Barclay Street and Thurlow Street, consisting of strata condominiums and social housing. Vancouver City Council approved that project in a public hearing in January.
The City of Vancouver will be hosting a virtual open house on Fairmont project from Wednesday, April 19 to Tuesday, May 2.
Office