Mississauga
Future Developments
Last Call: The Exchange District's Final Phase is Rising in Mississauga
In Mississauga, where Hurontario Street meets Burnhamthorpe Road West, your last chance to get in on an unmatched lifestyle opportunity is rising.
EXS, Exchange Signature Residences — the fourth and final phase of Camrost Felcorp's award-winning Exchange District master-planned community, just steps to Square One — is a unique product offering coming for the first time to Mississauga. And it's one the city most likely won't see again for the foreseeable future, embodying the exciting and exclusive essence of "last call."
Hosting a boutique hotel that serves over 20,000 sq. ft of top-of-the-line amenities, signature services, and unparalleled connectivity, all in the heart of Mississauga's booming downtown core, the EXS experience is in a league of its own.
Mississauga is known as a bustling hub for young professionals, being home to 40,000 companies and fortune 500 regional headquarters. Students are served by the University of Toronto's Mississauga campus and Sheridan College, families find fun at the region's many parks, and retirees savour strolls along Lake Ontario's waterfront. Indeed, the city offers something for everyone, while Exchange District in particular boasts a mere 10-minute trek to Pearson Airport, or 20-minute ride into downtown Toronto.
Ease of access to Toronto's core aside, residents at EXS won't be left wanting when it comes to nearby urban offerings. In addition to the building's aforementioned proximity to workplaces, schools, parks, and the waterfront, Exchange District stands adjacent to Square One — a quick trip to the Apple Store, Babaton, or, say, Gucci, simply couldn't be easier. For when further pastures really do call, the new Hurontario LRT line, expected to be complete in fall 2024, is just steps away.
If it sounds like the area surrounding EXS has it all, you're listening well. But the convenience doesn't end there. The condominium itself serves a buffet of amenities and services, including access to the 20,000 sq. ft Exchange Club — home to benefits ranging from utilitarian to straight-up suave.
On the functional side, imagine: a state-of-the-art fitness auditorium with circuit training, cardio equipment, a yoga room, and stretching area, plus a social space finished with a catering kitchen, games room, and resident lounge. Additional flair is brought to the table by the basketball half-court, indoor pool, whirlpool spa, sauna room, and rooftop garden terrace, complete with a fire pit lounge and outdoor screening space.
The building hosts a dedicated health and wellness zone, with change rooms, showers, and day lockers at the ready. And, in step with the times, remote work will be easy here too, as multiple dedicated co-working spaces — complete with private work-from-home pods — are to be found throughout the building.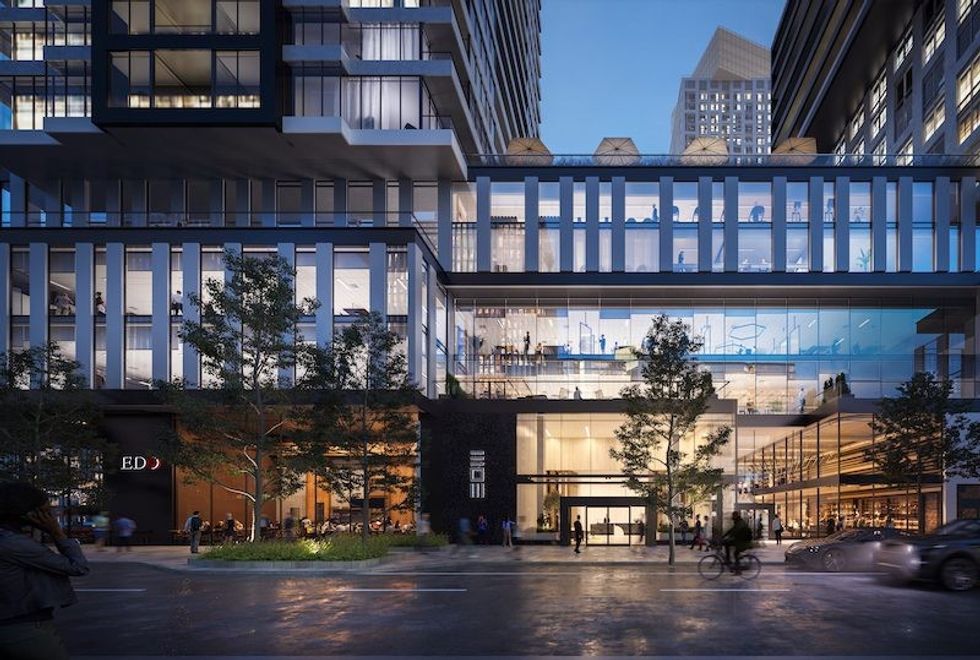 Among the most remarkable elements of EXS are the signature concierge services and hotel-like lifestyle that come with living in the building. In alignment with what guests experience through the MAED Collective-designed boutique hotel on site, residents will enjoy hotel-style services right at home, including suite cleaning, turn-down service, and more, provided by The Forest Hill Group. This is in addition to 24-hour building security and smart access to both the condominium and residential suites.
Speaking of which, where aesthetics are concerned, the suites at EXS are dressed to the nines.
Picture: imported Italian kitchens and cabinets (with a convenient soft-close system), quartz slab counter and vanity tops, laminate plank flooring and porcelain tile in the bathrooms, and smooth painted ceilings, soaring up to 9 ft. in principal rooms. Completing the chic, highly-livable spaces will be Miele appliances, Kohler plumbing fixtures, and Trevisana kitchens, and full-sized stacked washers and dryers.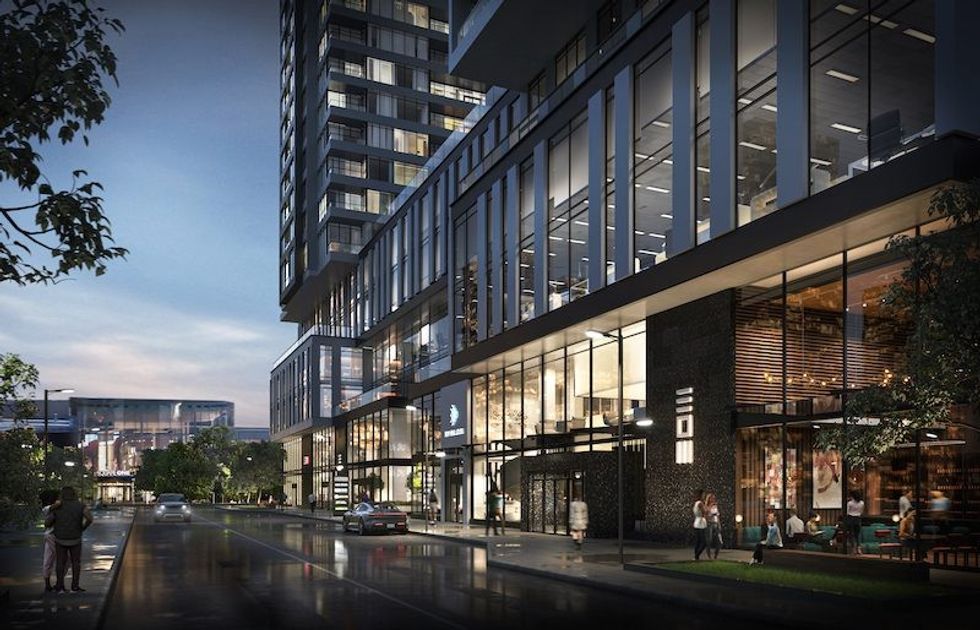 In its entirety, the development spans more than two million sq. ft, and is home to premium eateries like Byblos, Edo Sushi, and Zaza Espresso Bar, plus expansive retail, office and commercial spaces, lush parks, and a pedestrian piazza. Boasting impressive (read: multiple-time award-winning) success through its first three phases, and now building anticipation with its fourth and final, Exchange District is bringing Mississauga's core to new heights.
If you want to build the kind of life you won't need a vacation from, EXS awaits. Click here to learn more.
---
This article was produced in partnership with STOREYS Custom Studio.