In the Canadian market, rental scams are evolving and becoming harder to spot and avoid. Fraudsters are levelling up, and they're not just targeting renters.
---
Rachel Jolicoeur, Fraud Prevention and Strategy Director with Interac, attributes increasingly sophisticated cases of rental fraud to the all-consuming and rapidly expanding digital landscape. "The in-person transaction isn't as required as it used to be. We're just constantly transacting online, and that makes us more likely to be targeted for a fraud attempt."
But there's more to it than that. With awareness about rental fraud (and its pervasiveness) on the rise, its perpetrators are learning to adapt. "They're opportunistic," says Jolicoeur of today's calibre of scammers. And now, they have the leverage of rental scarcity -- and with it, a whole lot of unanswered demand. People are desperate.
As for what rental scams are looking like these days, Jolicoeur points to an emerging type of fraud involving sitting tenants.
"That's where you have someone posing as a legitimate landlord or property management company and contacting current tenants. They tell them, 'we've decided to change the method of payment for your rent,' or 'we've changed the email address where you send your money.'"
In addition, roommate fraud is also on the rise. According to an article published by Scotiabank, these types of cases typically involve a scammer posing as a prospective roommate who is out of town or from abroad and sending a fraudulent cheque under the guise of a deposit.
They may send a cheque for $10,000 instead of $1,000, the article explains, and then ask for the surplus back via cheque or wire transfer. By the time it becomes clear that the initial deposit was fraudulent, it's usually too late to rectify the situation.
Matisse Yiu, Marketing Manager for liv.rent, tells STOREYS that suspicious listings on the Vancouver-based rental platform are up since the pandemic, nearly tripling between June 2021 and June 2022. "And there's reason to believe that this threat has only grown more dire since then, as rental activity continues to grow alongside higher levels of immigration."
Yiu says she's seeing an increasing number of "phantom rentals" on the market, although these are nothing new.
"This type of fraud involves scammers posing as a landlord for a property that either doesn't exist or isn't theirs to rent. There are variations of this, including fake landlords reposting an existing listing with their own contact information or copying details from a property that's been listed for sale and claiming it's theirs to rent."
Yiu adds that rapidly inflating rental rates can mean that victims face a higher level of financial risk, citing the Better Business Bureau's 2022 Canadian Risk Report, which showed that the median loss to rental scams was $1,600. Last year was the first time rental scams were included in the Bureau's report. "With rent prices higher than ever in major markets like Vancouver and Toronto, that figure could go even higher throughout 2023."
Homeowners Can Be Implicated
Paul McNamara, a private investigator and retired Vancouver police officer, recently found himself unwittingly embroiled in a rental scam. His home was listed for rent, but it was done so without his knowledge. The photos used were from a past seller's listing.
To his knowledge, the listing was taken down before anyone fell victim to the fraud, but still, McNamara describes the experience as a violation. Moreover, the scammer is likely still at large -- and that is despite the fact that McNamara did a little sleuthing, posing as a prospective renter and engaging with the perpetrator.
In a days-long text exchange, the scammer requested a $1,500 deposit multiple times, in some cases, sending eight messages at a time with an increasing sense of urgency.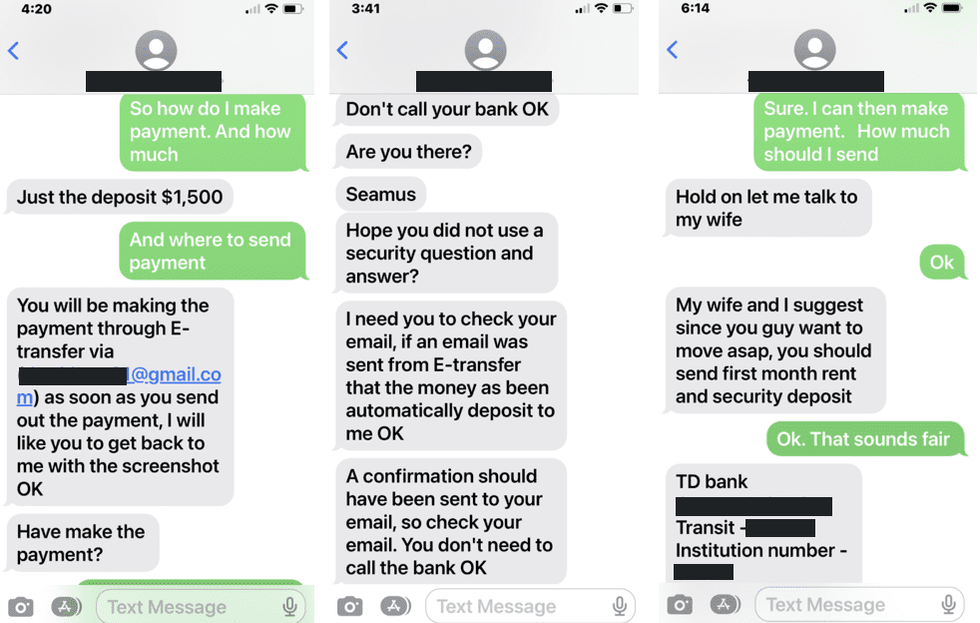 Selected text messages provided to STOREYS by McNamara, who was using the alias "Seamus"
"In any scam, whether it's a rental scammer or cryptocurrency scam or romance scam, you'll find the scammers will push you for money or information," he says. At the first sense of unnecessary aggression, he suggests playing it safe and walking away. "Try and think about if you were renting a house, how you would act as the landlord. You're probably not going to be pushy, you're not going to be demanding, but you are going to ask some legitimate questions like, where did you last live? Or why are you leaving your last house? Do you have references? And you'll find that scammers won't necessarily ask those questions."
Even if you think you have a good sense for suspicious behaviour, McNamara says it's getting harder to avoid fraudulent run-ins. "The rental housing market is tight, competition for housing is tight, people are desperate to find a place to live, and scammers are exploiting those issues in order to make money."
In individual statements, spokespersons for liv.rent, Facebook Marketplace, and Kijiji told STOREYS that fraudulent listings should be reported to local law enforcement, the Canadian Anti-Fraud Centre, and the respective platform. Even so, the consensus seems to be that it's difficult to rectify rental scams after the fact. If you've lost money, it's most likely gone for good.
As such, the best way for renters to combat fraud is through preventative measures.
In short, says Jolicoeur, "renters beware." Watch out for pushy landlords and unnecessary urgency, be wary of anyone who refuses to meet in person, avoid sending preemptive wire or cash transfers, don't be afraid to request a landlord's ID and property ownership documents, such as property tax statements, and be sure to verify any changes in property management. And trust your gut. If a rental seems too good to be true, it very well might be.
Landlords Are Not Exempt
Varun Sriskanda, a Toronto-based property manager and member of the board of directors for Small Ownership Landlords of Ontario, is familiar with another type of rental-related fraud. In his line of work, he sees no shortage of tenants who, often out of desperation, misrepresent information on their rental applications. And like fraudulent landlords, their tactics are becoming far more sophisticated.
"I see people submitting fake T4s, fake identity documents, fake bank statements. And the pay stubs and job letters go back to phone numbers with people answering saying that they're HR," says Sriskanda.
He's recently dealt with a case where a rental application was filed using a fake driver's license. In another case, he found himself fielding a fake SingleKey credit check.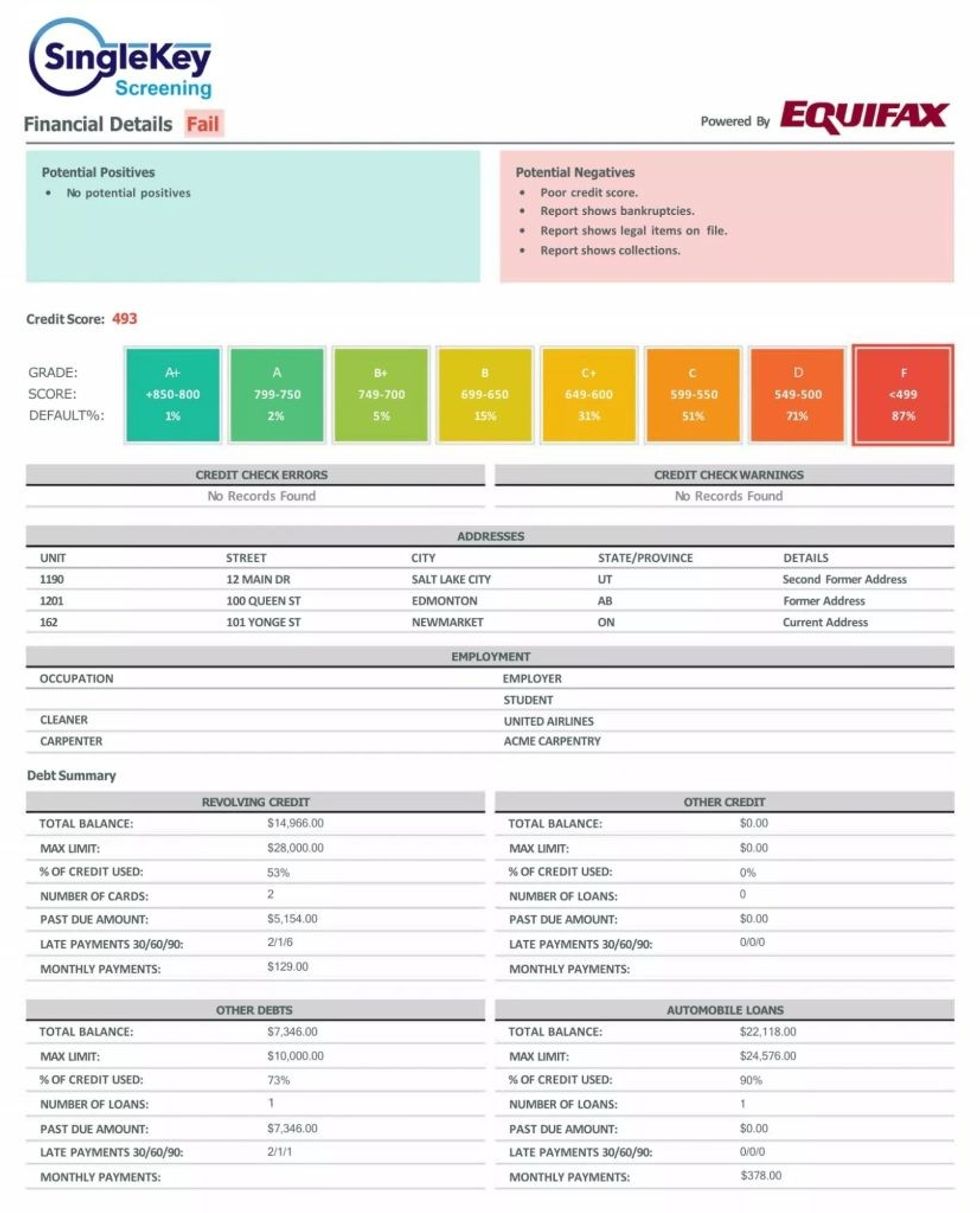 A tenant report from SingleKey includes a full credit report powered by Equifax (via singlekey.com)
"You can only catch these types of things if you really, really dig deep, and it requires landlords to now be private investigators. And agents also. Real estate agents complained to me often -- almost every day -- that they're getting a lot of fake documents. They're spending hours screening documents, which takes away from their buying clients."
As such, when looking to sign on a new tenant for one of his properties, Sriskanda will often indicate in the initial posting that he will be screening applications through SingleKey. This helps to discourage fraudulent applicants from the jump.
Despite the fact that he deals with the headache of fraudulent tenants regularly, Sriskanda can also see the other side. The housing market has backed many Canadians into a corner.
"I don't like to say this because I don't want to encourage it, but some of these fraudulent tenants end up paying rent on time, they end up being perfect tenants. They just needed the fake documents to get their foot in the door," he says, adding that without sufficient inventory to serve the growing number of Canadian renters, fraud in the sector is poised to only get worse. "These people are being put in a bad situation, and they're going to do what they have to do to get a rental."
Renting