---
Despite a three-month-long "pullback" reported just last month, Canadian rents are once again trending upwards. A new report from Rentals.ca  and Urbanation shows that the national average asking rent has, once again, surpassed the $2,000 mark, edging up 1% monthly and 10.8% annually to $2,004 in March. This is the first time since November that the rate has seen a monthly increase.
"Spring arrived with a highly competitive rental market in Canada, driven by a record population increase of over 1M people in the past year and low homeownership affordability after last year's spike in interest rates," said Urbanation President Shaun Hildebrand. "With supply unable to keep up with current levels of demand, expect further upward pressure on rents in the coming months."
The data also reveals that asking rents for purpose-built and condominium apartments ticked up 1.5% month over month and 10.9% year over year to $1,937 in March. Meanwhile, of all unit types, two-bedroom rents saw the steepest annual growth, up 10.7%, followed by one-bedrooms, up 10.1%, three-bedrooms, up 6.8%, and studios, up 4.9%.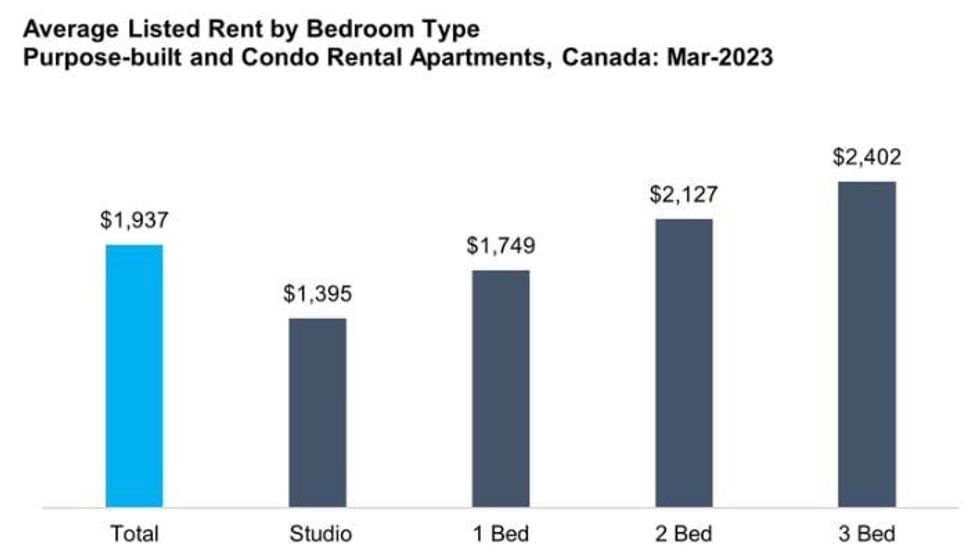 Urbanation Inc, rentals.ca network
Provincially, rent inflation hit double digits in almost every province. Nova Scotia led the pack, seeing a 20.8% year-over-year increase. Rents in Ontario, Alberta, British Columbia, Quebec, and Manitoba rose 17.1%, 13.4%, 13.2%, 12.2%, and 12.6%, respectively. Comparatively speaking, annual rent inflation was lagging in Saskatchewan, at 8%.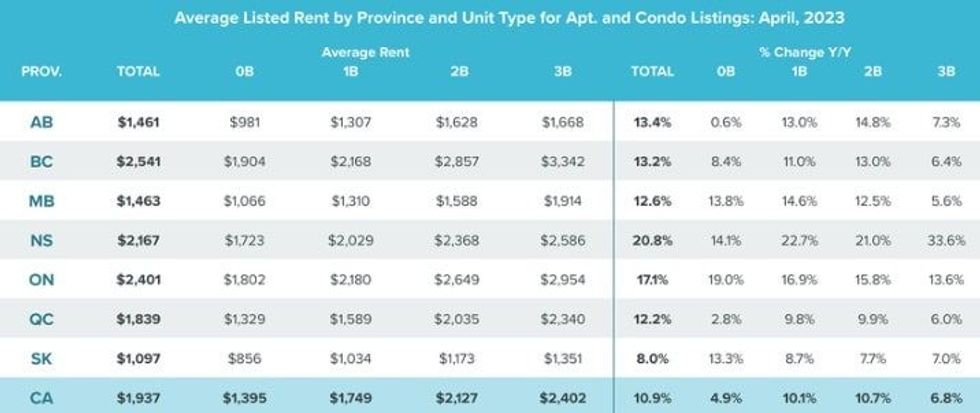 Urbanation Inc, rentals.ca network
With Calgary, Toronto, and Vancouver leading the pack in annual rent inflation amongst Canada's largest markets -- rates in those regions climbed 24.9%, 22.4%, and 18.7%, respectively -- this latest rent report captures many expected insights. But rather notably, rent growth was the most drastic of all in Scarborough and Brampton. In March, rates in those "immigration hot spots" climbed 34.9% and 29.1%, reaching averages of $2,527 and $2,518, respectively, making them the fastest-growing rental markets in all of Canada.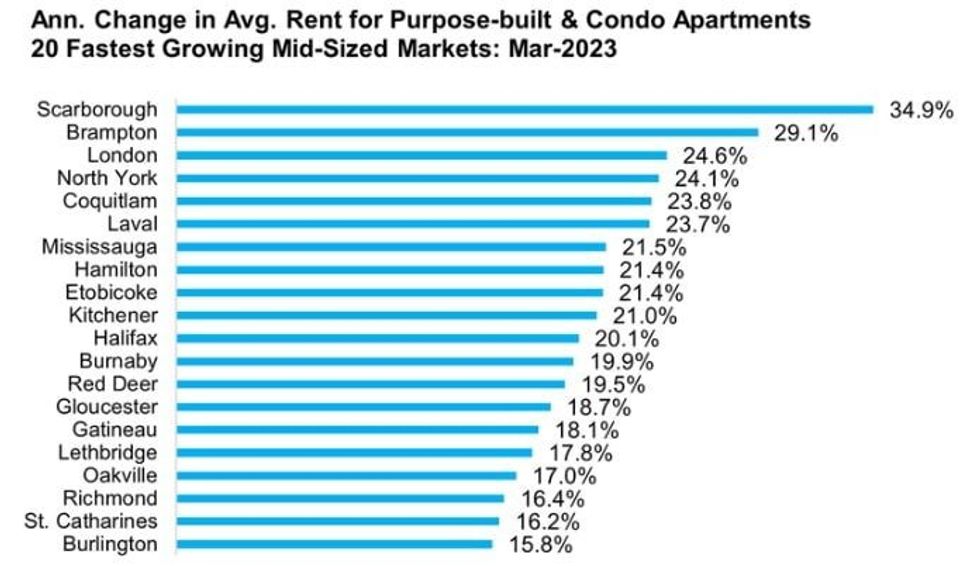 Urbanation Inc, rentals.ca network
Even so, Vancouver and Toronto remained two of the priciest cities for renters, with average rates clocking in at a staggering $3,146 in Vancouver and $2,818 in Toronto.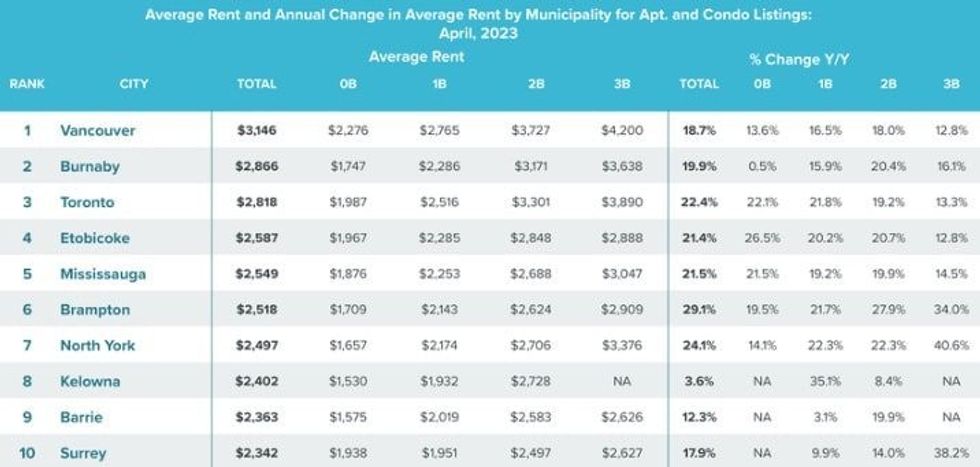 Urbanation Inc, rentals.ca network
Unique to this month's report is data related to shared accommodation and single-room rentals, which have risen in popularity as rental costs continue to soar. Nationally, the average asking rent for a single-room rental came in at $834 in March. Provincially, rates averaged $1,053 in BC, $934 in Ontario, $854 in Quebec, and $787 in Alberta.
More granularly, single-room rents averaged $1,410 in Vancouver and $1,309 in Toronto. In both cases, single-room rates were less than half of the average market rate.
Renting