It looks like the area that could soon house a massive multi-use community in Etobicoke, which includes redeveloping Cloverdale Mall, could also see the addition of a nearly 30-storey residential tower.
Last month, a zoning by-law amendment application was submitted to City planners to build a 27-storey, mixed-use building that would house 450 residential units.
---
The 2.3-acre site is located at The East Mall Crescent, which is just east of the Cloverdale Mall, and could become the home of the massive master-planned community sprawling nearly 30 acres and consisting of 4,050 dwelling units.
The proposed site is currently occupied by approximately 600-square-metres of retail space consisting of a Beer Store and a Petro Canada gas station, both of which are surrounded by surface parking.
RELATED: Sprawling Multi-Use Community Proposed in Etobicoke Includes Redeveloping Cloverdale Mall
According to documents submitted to the City, the proposed site is triangular in shape and is bordered by The East Mall, The East Mall Crescent, and Dundas Street West. In addition to three street vehicle access points, a private bridge on the west side of the property connects the lot to the Cloverdale Mall.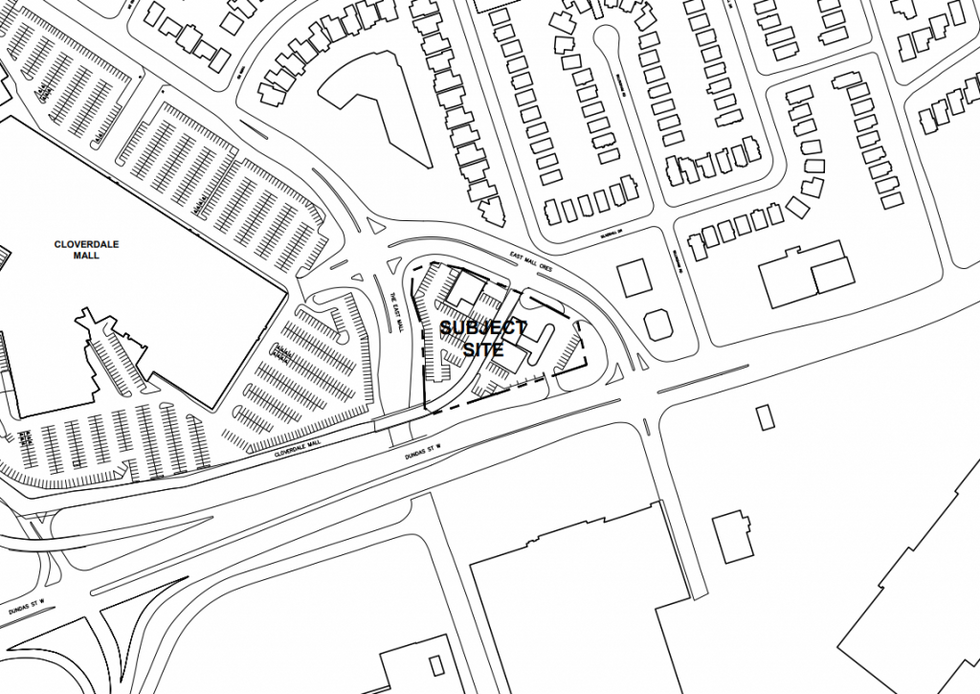 Rendering submitted to the City of Toronto
If approved, the proposed development would transform an under-utilized property into a space that offers a diverse mix of housing, local retail spaces, and an enhanced public realm and streetscapes, explains the planning rationale, prepared by Urban Strategies Inc.
The entire development encompasses a total gross floor area of 384,271 square feet and would consist of the 27-storey tower and separate six-storey mid-rise building that would be connected by a base structure.
The highest building heights are concentrated at the south-west corner of the property and decreases in height to the north along The East Mall and to the east along Dundas Street West.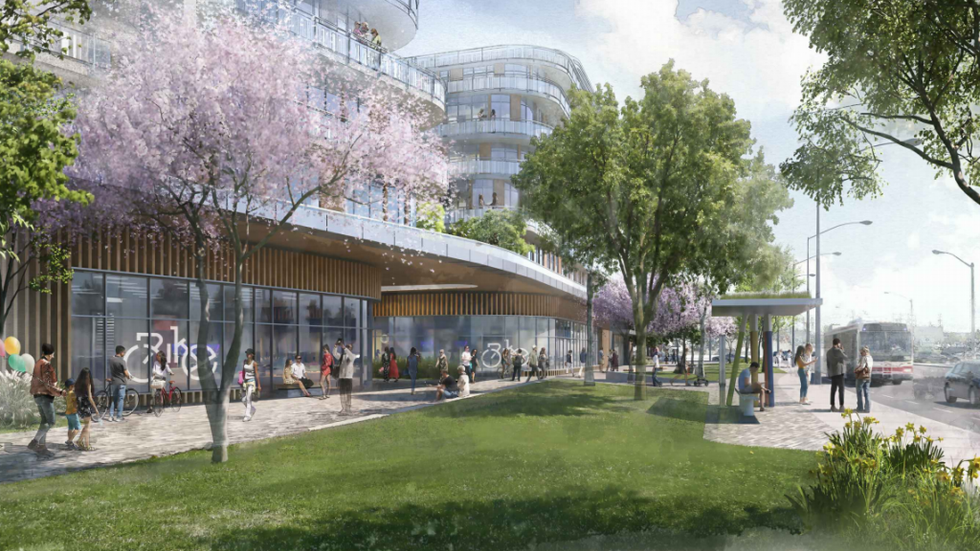 Rendering submitted to the City of Toronto
The buildings of the proposed development would house 450 residential units, which will include a range of sizes, including 261 one-bedroom suites, 144 two-bedroom suites, and 45 three-bedroom suites. An approximate 2,152 square feet would also be reserved for ground-floor retail space, located at the "prominent corners of the Subject Site to be clearly visible and accessible from the sidewalk."
Underground, a two-storey parking garage is proposed that would provide space for 450 vehicles.
Future Developments