---
When renowned architects, distinguished interior designers, and esteemed developers come together to craft a condo project in an optimal location, some might call it destiny.
Alternatively, they might call it Alba.
Now accepting registrations, Edenshaw Developments' newest condominium is poised to rise in the heart of downtown Mississauga and as it does, Alba promises to set a new standard of condo living for the area.
The project, conceived by award-winning architectural firm CORE Architects, will rise 32 storeys above the intersection of Hurontario Street and Fairview Road East. With its sleek exterior, curved balconies, and overall minimalist design, Alba's aesthetic simply serves.
Offering residents direct access to the Cooksville GO Mobility Hub, future Hurontario LRT, and Square One Shopping Centre, the development presents a prime opportunity for those looking to travel downtown and uptown with ease while living amongst a growing city centre, without forgoing access to nature.
Indeed, it'll be as easy to stop at Holt Renfrew for a new outfit as it will be to visit the Princess of Wales theatre or walk the Lake Ontario shoreline. 
What's more, from sunrise to sunset, future residents can experience spectacular views of Lake Ontario, Downtown Toronto, and Mississauga's own City Centre from the comfort of their balconies.
Beyond its location that blends beauty with accessibility, Alba presents its future residents with a suite of amenities that surpass even the highest standards of condo living. Spanning more than 20,000 sq. ft. both indoors and outdoors, leisure and lifestyle amenities include a state-of-the-art fitness centre, yoga studio, entertainment zone, co-working and business centre, and maker studio. 
The development will also be powered by Geothermal systems — which eliminate the use of natural gas to heat the entire building and reduce the amount of energy required to operate the condo's central systems — bringing forth a carbon reduction of about 80%. 
And that doesn't just mean residents have lower carbon footprints. They'll also have lower maintenance fees and greater resale value on their suites. (You might call that a win-win... Win.)
Throughout its 32 storeys, Alba will house 418 residences inclusive of four townhouses, with suite types ranging from 1 to 2.5 beds from 420 to 850 sq. ft. The residence will be complete with a 24/7 concierge, a hotel-style lobby with lounge seating and a fireplace, a separate fireplace lounge, a private dining room with a demonstration kitchen, and a seventh floor terrace with lounge seating.
When adults crave a respite to socialize and relax within these expansive, elegant spaces, kids can enjoy playtime in the dedicated children's playroom.
And elegant these spaces will be, as the interior design throughout the complex has been imagined by international, multi-disciplinary interior design firm, Cecconi Simone. With a multitude of awards already stacking up through 2020 alone, this firm ensures the Alba experience welcomes future residents home to a sense of community, with amenity spaces designed to enhance your every day.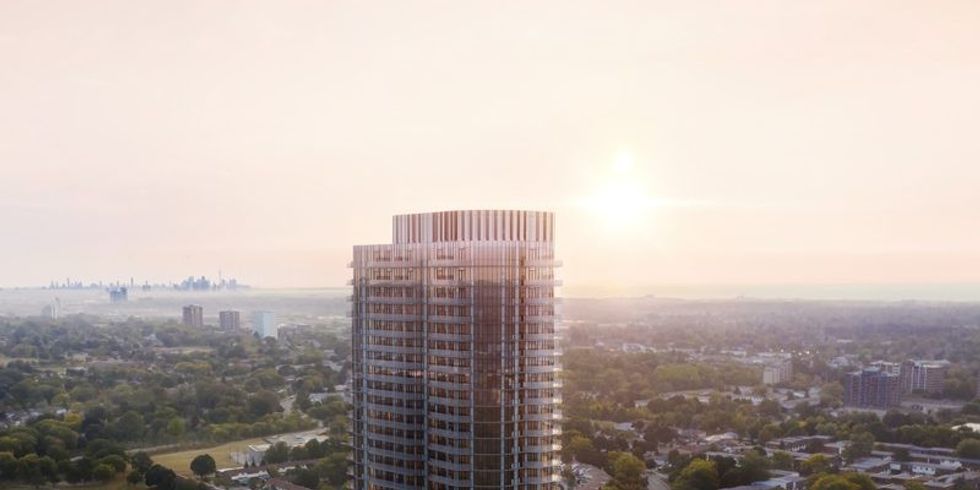 Alba, Edenshaw Developments (Rendering)
Really, that the development is set to marry livability with sophistication is no surprise, considering Edenshaw is at its helm. Known as one of Canada's most trusted, progressive, and versatile boutique residential development firms, Edenshaw aims to continuously surpass purchaser expectations, paying homage to traditions of the past while looking ahead to the future. 
And those future-facing values aren't intangible. Edenshaw embraces innovation in its projects, from being Toronto's first developer to launch a 100% smoke-free property, to smart-home tech integration being prioritized in residences. The latter enables residents to adjust energy settings for heating, cooling, and lighting for any time of day (including vacations), all from an in-suite touchpad or smartphone.
These smart-home technologies align with LEED standards, which represent a globally-recognized sustainability achievement. (And, yes, they will be found within the suites at Alba.)
In fact — from its environmentally friendly, geothermal initiatives to its incredible upscale amenities, all of which are underpinned by a flowing current of connectivity  — Alba scores top points, all across the board. 
If you're keen on getting in on a project that takes the term "elevated" to new heights, you've still got time: Alba is now accepting registrations, and is slated for completion in 2025. Visit albacondos.com to register today.
---
This article was produced in partnership with STOREYS Custom Studio.
Future Developments