---
DUO Condos offers the best of Brampton just outside of its shiny new doors.
Or at least it will be so, when the anticipated National Homes and Brixen Developments Inc. project nears completion later this year, refreshing what it means to live in a Brampton condominium in the process. 
Located at Hurontario Street and Steeles Ave W (245 Steeles Ave. W), DUO Condos is perfectly positioned. The two-tower, 26-storey development is located just steps from the Gateway Terminal and the upcoming Hurontario LRT (scheduled for completion fall 2024), and is a short walk from Sheridan College, schools, shops, restaurants, and parks. 
In short, DUO Condos shines on the location front and is all about seamless living. Its prime and easily accessible location therefore appeals to everyone from young families to down- (read: right-)sizers wanting a life of ease. And Brampton really hasn't seen anything like it thus far -- the project is one that will open up the city to a slew of new residents.
READ: Islington New-Build Offers Best of Both the Natural World and Top-Tier Amenities
In fact, its family-friendly location is one of the project's most intriguing features. Aside from the convenient transit options that remove the need for a car from the equation, DUO Condos will sit in close proximity to highways that seamlessly connect the neighbourhood to all corners of the Greater Toronto Area (GTA). So, for those who do opt for their own wheels, Highways 410, 407, and 401 are all located less than 10 minutes away.  
Because DUO was conceived and created with inputs from investors and community stakeholders, the condominium represents a conscious, collective vision to introduce a connected and convenient way of living to Brampton. But of course, location isn't the only draw of the upcoming new condo.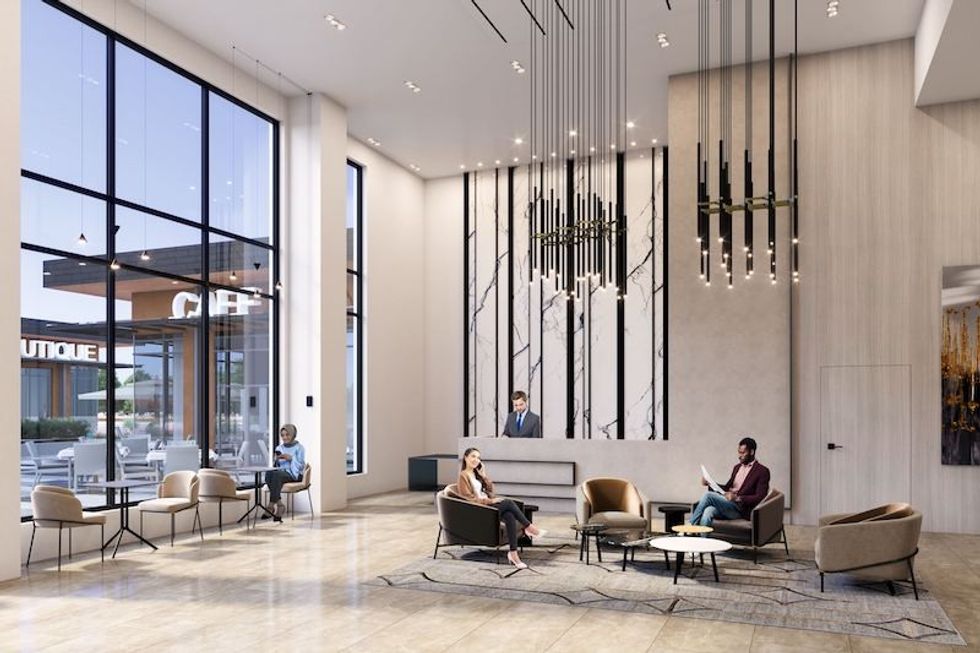 Lobby (DUO Condos)
Designed by celebrated architects IBI Group, with interiors by Esqape Design, the easy-on-the-eyes luxury buildings will feature suites from one-bedroom and one-bedroom-plus-den, through to two-bedroom and two-bedroom-plus-den. With units that range in size from approximately 450 to 750-square-feet, DUO Condos will cater to many young professionals, students, and couples looking for a comfortable-yet-attainable spot to call home.
With dramatically high ceilings and ample natural light thanks to floor-to-ceiling windows, the lobby is more than a throughway. It's a place where residents will want to stay awhile, whether typing away on a laptop or chatting with other residents.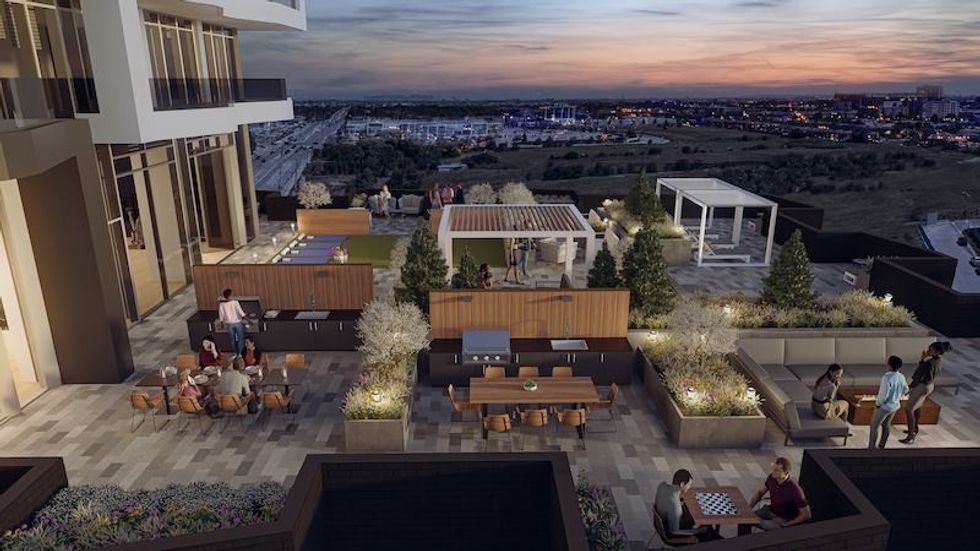 Outdoor Space (DUO Condos)
Meanwhile, a sprawling outdoor amenity space will feature BBQs, outdoor couches and loungers, and even an outdoor yoga space. Come day's end, this spot offers a prime place from which to take in a stunning sunset -- perhaps with a cocktail or glass of wine in hand.
A sleek and editorial-worthy party room adds to the appeal of the amenity offerings on site. Here, guests are invited to celebrate in style, thanks to its sleek floor-to-ceiling windows, marble countertops, and style-forward lighting. Meanwhile, a private dining room with a catering kitchen also add value on the entertaining front.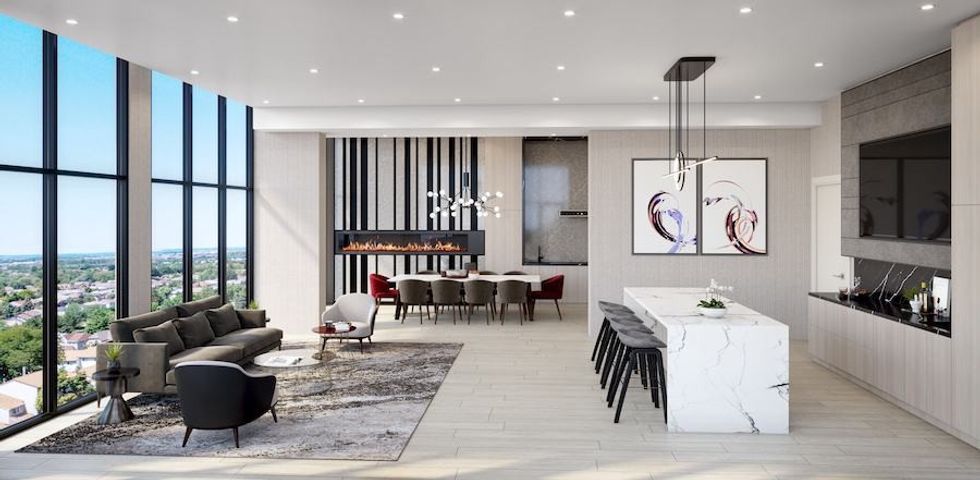 Party Room (DUO Condos)
DUO Condos' amenity offerings also include a well-appointed gym, a children's play area, a co-working space, and a 24-hour concierge service. All this is to say, while the sights, sounds, and tastes of Brampton may be at your front door, you may not want to leave. And we wouldn't blame you.
Click here to learn more about -- and to register for -- DUO Condos.
---
This article was produced in partnership with STOREYS Custom Studio.
Real Estate News