---
What's old is new in downtown Collingwood -- and it's become the talk of the picturesque ski-town. Already a crown jewel on the main street, the recently opened Dorchester Hotel offers a new reason to visit Collingwood, Ontario this year. 
Conveniently located right on Hurontario Street -- a quick walk from upscale restaurants and boutiques, to dive bars and coffee shops -- the timelessly elegant Dorchester Hotel is definitely one for the weekend road trip list. 
Originally home to the bustling Dominion Hotel in the 1890s, the historic building transformed over the years, becoming The Dorchester Hotel in the 1960s, before later converting to affordable apartments. It's safe to say that the building had seen better days when local entrepreneurs Chris and Tammy Millsap purchased it in the spring of 2021.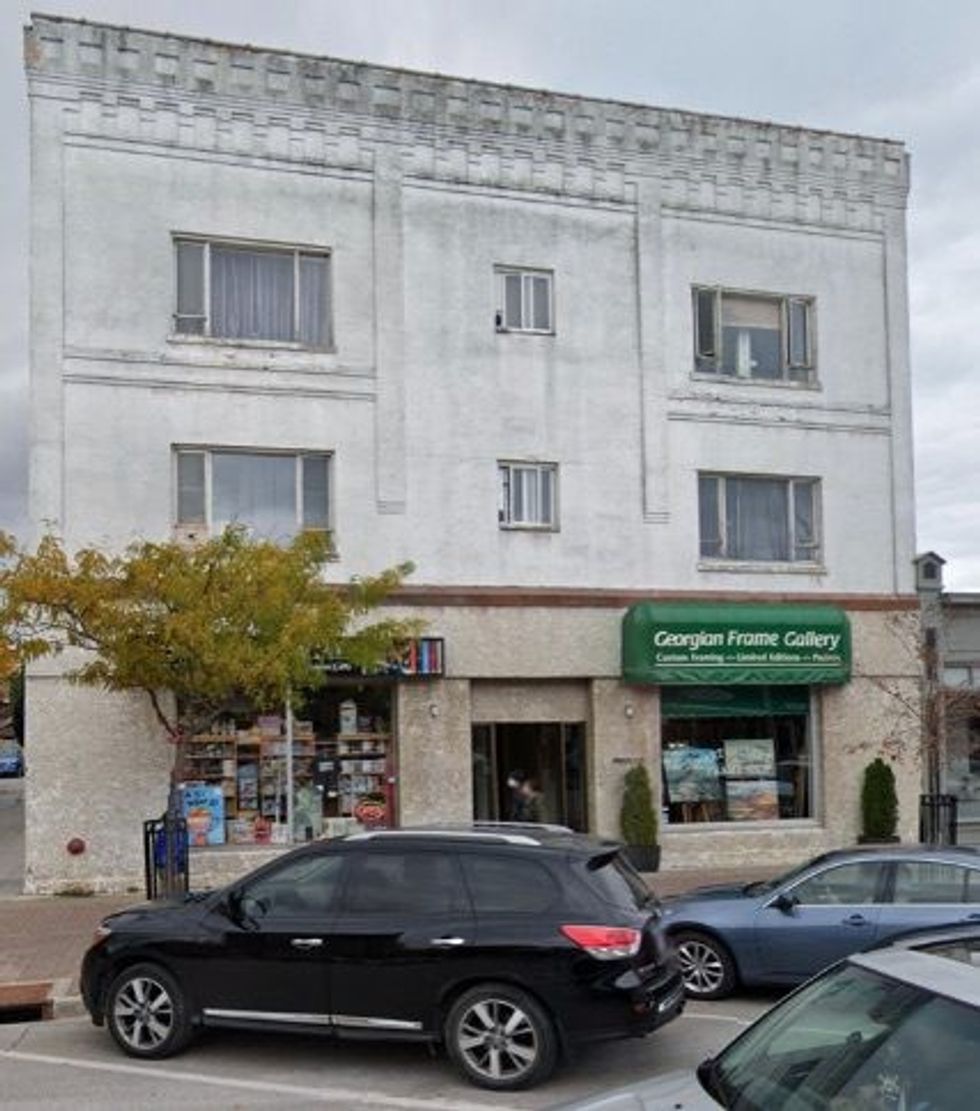 The former apartment buildings
"It's been a long journey to bring our vision for the hotel to life, refurbishing the landmark heritage building to create a modern take on a historic treasure," Chris Millsap tells STOREYS. "The goal was to create a space that captured the vibrant spirit of the 1920s, but with all the modern-day touches." 
The couple has been buying, selling, renovating, and leasing real estate in the region for decades, and even ran a small inn housed in a Victorian home in Creemore for years. But this rare opportunity -- and incredible transformation -- marked their foray into the hotel world. With just three bedrooms and a swimming pool, Millsap says that their former inn required too much time and effort with little return. "A three-bedroom establishment can be pretty similar to a 30-bedroom space when it comes to the work required," says Millsap. "After we sold it, I thought, 'I'd love to do it again, but it's got to be bigger.'" 

Millsap parked that thought until the aging apartment building next door to Tammy's furniture store, At Home Interiors, on Hurontario Street hit the market. "It had my interest for a while, and when it hit the market, we bought it pretty quickly," says Millsap. "At first, I was thinking about making it high-end rentals and maybe having one floor of it a hotel. But when I did the research and realized that downtown Collingwood could support a full hotel, I switched the plan."  
The couple knew they were in for a long road; there was no denying that this property needed to be taken entirely down to the studs and built back up. "It was awful; it was in terrible shape," says Millsap. But he was no stranger to "rough" spaces in his history converting buildings to renovated rental units. "What I enjoy the most is taking something that's ugly and fixing it up so that it's really nice," he says.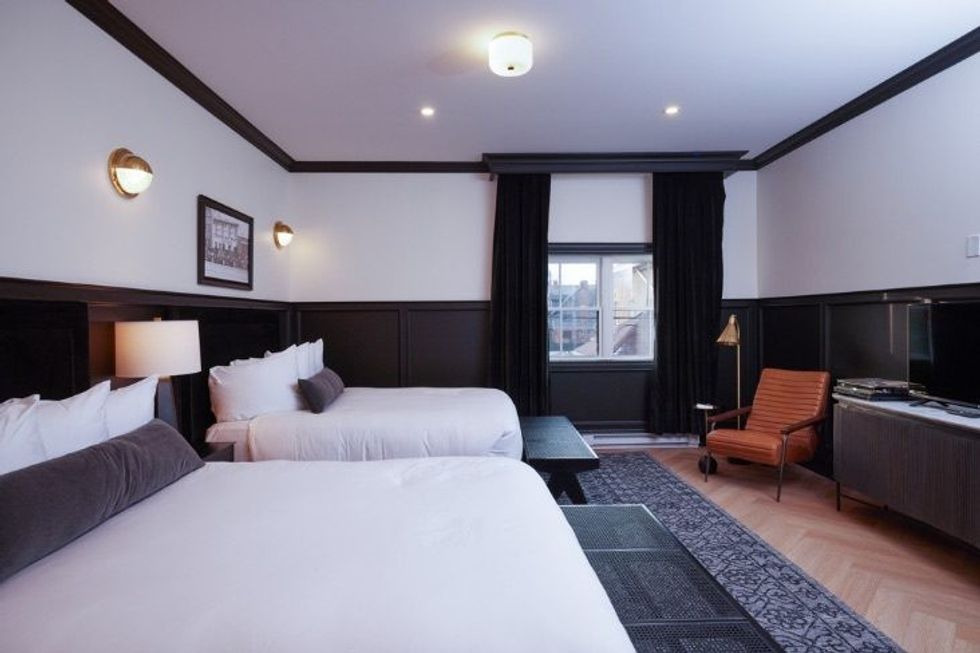 Image: Kayla Rocca
The plan was to restore the original heritage building back to a hotel in its former glory days. "That exterior brick you see outside now was covered with stucco," says Millsap. "And I remember just peeling it back and seeing the original brick that was there from 1895 and thinking we needed to keep it. Something was screaming at us that we needed to bring this heritage building back to life."
In addition to giving the original brick a new lease on life, the Millsap's brought back the building's three front-facing balconies from the 1920s. 
After 18 months of careful restoration of the downtown landmark with a modern twist, the boutique hotel, once again named The Dorchester Hotel, was finally ready for guests.  The luxurious and detail-focused establishment -- which opened its doors in December -- has breathed new life into a historic building, offering a comfortable, modern stay with a dose of 1920s charm.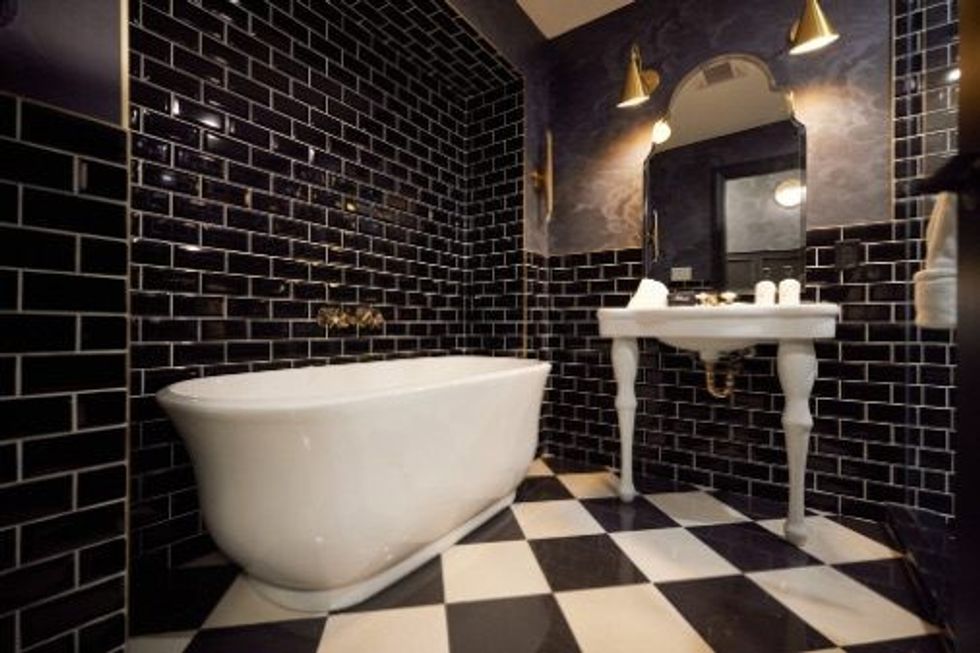 Image: Kayla Rocca
With its elegant wall panelling, high ceilings, herringbone flooring, and checkerboard tiling, the Deluxe King suite feels more like a classically luxurious bedroom in a Rosedale or Forest Hill home -- complete with a fabulous en-suite bathroom -- than a typical hotel room. You definitely won't find cookie-cutter suites here. The 30 individualized, editorial-worthy guest rooms range from classic studios to two-bedrooms with kitchens, each thoughtfully designed to maximize space, style, and sleep. 
"Comfort and style is at the core of all of our designs and you'll find each room is unique in its style with custom furnishings, beautiful wallpaper, and tiling, as well as hand-picked accent decor," says Millsap. "We are very fortunate to have a talented group working with us to restore the building to its original glory, with all the modern luxuries and amenities of an upscale hotel."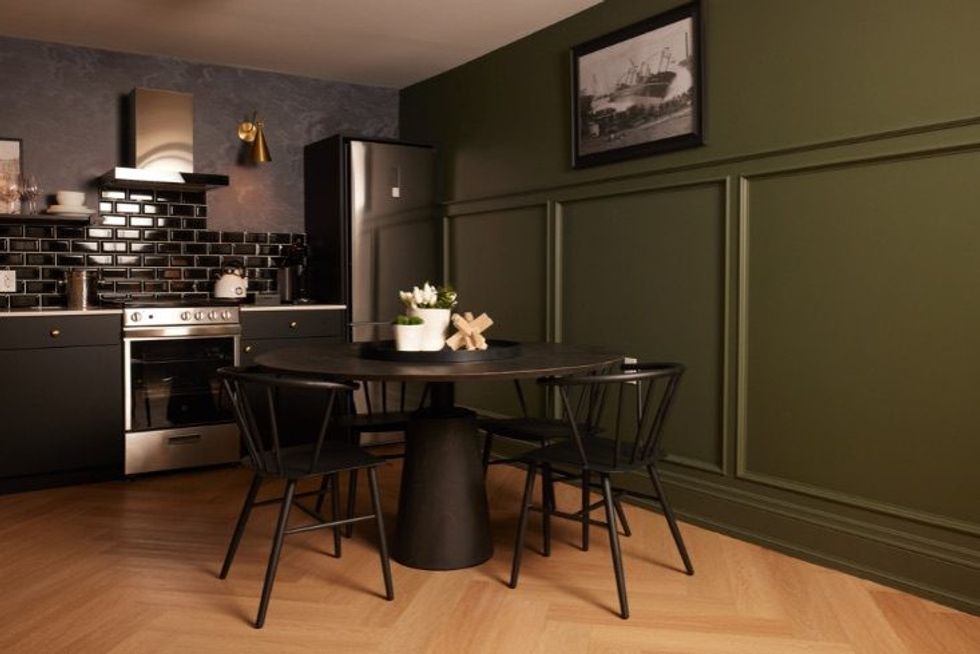 Image: Kayla Rocca
Guests will find high-end touches all throughout with luxurious linens, elevated bath products, locally-produced lavender, and dramatic, free-standing tubs. "We searched and tested the sheets, mattresses and pillows meticulously," said Millsap. "Every week, we had a new set of sheets and pillows show up at our house to try to find that high quality and comfort to feel like it's a classy and cozy home."
In addition to the classic wall paneling and original exposed brick in some rooms, nods to the property's storied past are reflected in everything from record players and retro mini fridges and kettles, to an artistic guidebook of the hotel's history and local attractions, and postcards that depict simpler days. "These are all nods back to classy, historic times when people dressed up and enjoyed life's simple luxuries," says Millsap.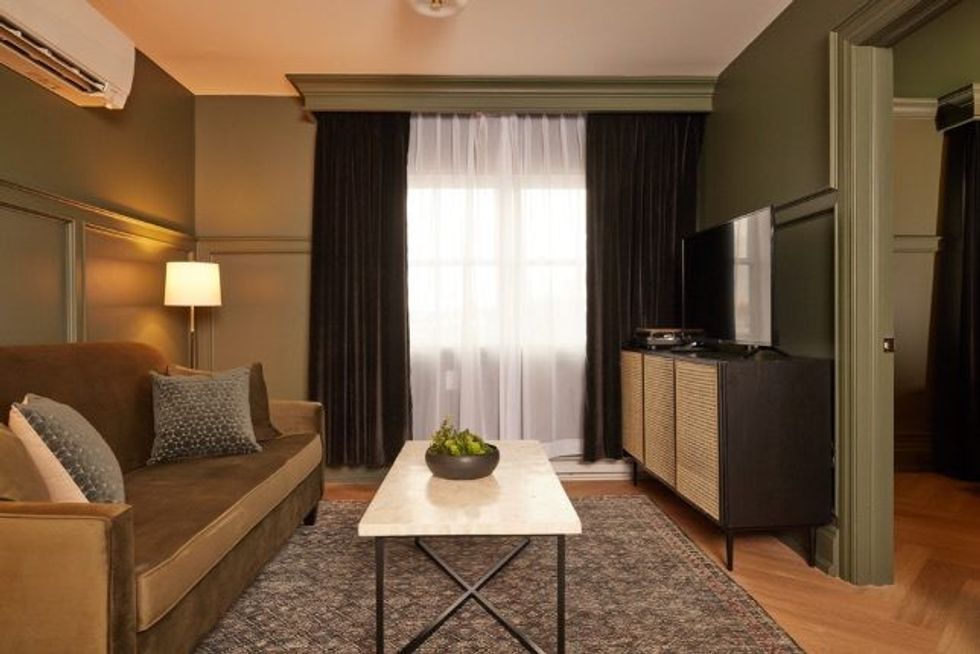 Image: Kayla Rocca
Attention to detail is reflected in everything from black face cloths specifically for makeup removal (genius, right?) to phone-operated locks. "We just designed a hotel as to how we would want it," says Millsap. "I always hated carpeted hotels, so we wanted hardwood. The makeup towels were Tammy's idea."
The hotel will open a restaurant and bar later in the year, in addition to a conference room that will double as an event space. Like the rest of the hotel, the wining and dining spot will reflect that classy, classic, 1920s vibe, says Millsap. "But it will also have some energy to it," he says. "It's not the place where we're going to have people stumbling out of at 2 am, but it's also not going to be too uppity. I want it to have a vibe somewhere in the middle of a full-on bar and restaurant."
To deliver this experience, the hotel has teamed up with a well-known restauranteur who will run the upscale spot (who it is just hasn't been announced yet). While the menu details are currently scarce, we can be assured of one staple: classic cocktails. 
Millsap says the construction of the restaurant, however, has faced delays thanks to Collingwood's temporary ban on development due to water shortages. So, we'll have to wait for an opening date. Long-term, Millsap says that the ultimate goal is a rooftop patio. "But that's a ways out and not a for-sure thing -- but we're going to try."
Image: Kayla Rocca
In the meantime, there are even plans to add two classic Ford cars to its many talking points -- a 1924 model A car and a 1928 model T car -- "just to tie into the whole story of it all," Millsap says.
While the hotel may transport guests back to simpler times, so do the surrounding streets of low-rise local businesses that offer a distinctive small-town vibe, especially for those who are used to Toronto's towering concrete. 
While Collingwood is best-known for its ski hills, it makes a no-fail road trip option year-round, with its peaceful waterfront and hiking trails. "It's not just about ski season anymore in Collingwood," says Millsap. "Summer is becoming even bigger than winter."
Of course, the famous Scandinave Spa Blue Mountain is also a major draw regardless of the season. Until February 2, The Dorchester Hotel has partnered with the sprawling thermal spa for a weekday deal that includes a special one-night accommodation rate with guaranteed mid-week access to the Scandinavian baths. 
Collingwood