Muskoka
Muskoka
How This Cottage Country Real Estate Team Sets the Perfect Stage for Luxury Sales
Learn the rules like a pro, so you can break them like an artist.
It's a sentiment attributed to Picasso, and embodied by the work of Halloran & Associates when it comes to staging a cottage for sale.
With more than 30 years of experience in design build in Toronto, Maryrose Coleman – Sales Representative and Senior Vice President, Sales, Halloran & Associates, and co-founder of Muskoka District Rentals – knows how to tell a story through design choices. It's this thorough foundation of experience, paired with an innate eye for detail, that allows Coleman to smash industry staging standards.
"[Maryrose] has developed a new thing that is, I think, really a breakthrough," explains Ross Halloran, Founder of the Halloran & Associates team; Broker, Senior Vice President, Sales at Sotheby's International Realty Canada; and co-founder of Muskoka District Rentals.
"We call this curatorial staging … [the process draws] upon her 30+ years [of experience]; she'll go into a property, look at all the pieces that are there, and then assess it and reimagine some of those pieces in a new presentation."
READ: For Cottage Owners Wanting to Unlock Equity, Now is the Time
Different from typical staging practices, which often include complete transformations at the hands of interior designers, or an influx of rented furniture organized in a cookie-cutter way (if you've seen one life is better at the lake cushion, you've seen them all), curatorial staging brings new life into a space while respecting its roots.
Halloran describes one instance when a cottage's interior was filled with mismatched furniture, but Coleman locked in on an Eames chair. From there — with the help of a few furnishing swap outs, fresh lampshades, and the like — a mid-century modern dream was realized.
"[The cottage] had been listed for two prior summers with agents that hadn't done any staging, and Maryrose came in, reimagined the space, and then it sold."
Third time — and curatorial staging — looks like it really is the charm. But it's not just a break away from cookie-cutter interiors that this type of staging offers; the process also provides owners with a more sentimental, respectful experience than they may have anticipated for their cottage's sale.
"That [sentimality] is part of what's different about the process that I use, because I am trying to work with what's there, and what [already] exists," explains Coleman. "And [the owner's] original vision is obviously a part of that."
She explains how owners appreciate that their personal items aren't all being pulled out of the space — more often than not, she's able to embrace what is already on premises to set the scene for a luxury sale.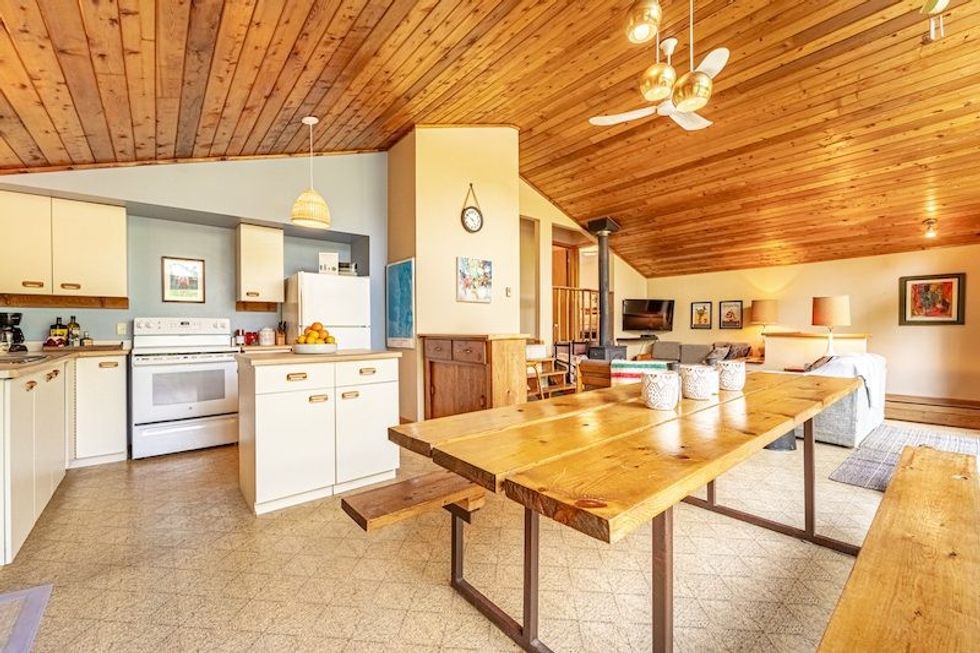 "Most of the time I can work with some of what the person has — or all of it — and rearrange it, reimagine it, reinvigorate it, in order to make it shine in a way that it might not have, just because of use and practicality," Coleman says.
This, Halloran explains, helps sellers feel validated in their own design choices, and softens the experience of selling a place where they have made precious memories.
"To see that someone hasn't just unilaterally thrown everything out and replaced it with cookie-cutter rented furniture — that they found a place for these special items that have been acquired over the years — [my observation is, it] makes the seller feel a lot [better] about this transition," he says.
"If you're passing the torch to a new generation that has come to love [the space] with your furnishings still in it — albeit in a reinterpreted way — it makes that transition, which is a difficult one, oftentimes a little bit easier. That passing of the torch takes some of the sting away [when] selling your beloved cottage."
READ: Rare Rental Opportunity Puts Power in Cottage Purchasers' Hands
Halloran & Associates' curatorial staging offering, dubbed Welcome to Our Stage, pairs perfectly with the team's other programs: Test Drive Your Dream Home, and Unlock Equity – List It And Lease It.
Test Drive enables qualifying buyers to rent out a property they're interested in purchasing, and then credit as much as 50% of their rental fee towards the new cottage, should they choose to seal the deal. Unlock Equity – List It and Least It, meanwhile, pinpoints buyers who are interested in renting out their new property post-purchase. This means a seller needn't say a permanent goodbye to their property if they don't want to, but they still get to enjoy the benefits of having unlocked equity from their cottage's sale.
Halloran & Associates serves offerings that are bound to enhance your experience of cottage country real estate whether you're a buyer or a seller. And it all starts here — with you being welcomed to their stage.
Cover Image: 10 Stewart King Road, Healy Lake, via Halloran & Associates
---
This article was produced in partnership with STOREYS Custom Studio.