---
Environment Canada has officially placed dozens of southern Ontario cities under a tornado watch through Wednesday evening.
Thunderstorms that developed over eastern Michigan are expected to make their way to the province beginning Wednesday afternoon. A few tornadoes are possible, the Environment Canada alert says, some of which may be strong, with the greatest probability of tornadoes happening in the mid to late afternoon.
Environment Canada also warns that in some areas, nickel to toonie-sized hail, as well as damaging wind gusts of 90-110 km/h, are possible.
The Ontario areas placed under a tornado watch are: Algonquin, Barrie, Orillia, Midland, Burk's Falls, Bayfield Inlet, Dufferin County, Innisfil, Grey County, Bruce County, Huron County, London, Middlesex County, Parry Sound, Muskoka, Sarnia, Lambton County, Waterloo-Wellington, Windsor, Essex, and Chatham-Kent.
Environment Canada is asking residents to prepare themselves for severe weather, and take cover immediately if threatening weather approaches.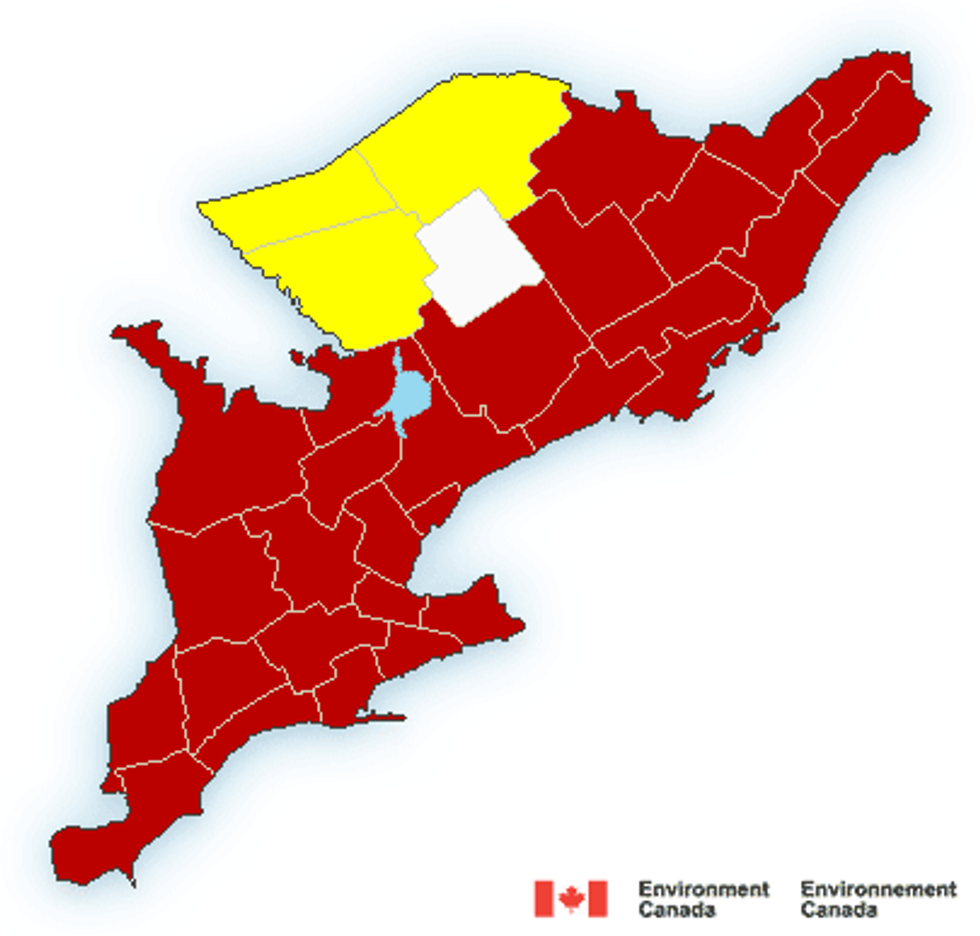 Public alerts for Southern Ontario on Wednesday, July 20, yellow indicates a Tornado watch is in effect (Environment Canada)
"In the event of a tornado, or if a tornado warning is issued for your area, it is recommended you take the following actions: Go indoors to a room on the lowest floor, away from outside walls and windows, such as a basement, bathroom, stairwell or interior closet," the alert reads. "Leave mobile homes, vehicles, tents, trailers and other temporary or free-standing shelter, and move to a strong building if you can. As a last resort, lie in a low spot and protect your head from flying debris."
The tornado watch comes in addition to heat warnings that were issued for nearly every region of Ontario on Wednesday. Hot and humid conditions with temperatures reaching near 31°C with humidex values in the upper 30s are expected. Environment Canada is advising that people "seek a cool place such as a tree-shaded area, swimming pool, shower or bath, or air-conditioned spot like a public building."
Ontarians can monitor weather alerts on the Environment Canada website, and can report severe weather by sending an email to ONstorm@ec.gc.ca or tweet reports using #ONStorm.
Cottage Country