The Canadian construction industry shed 45,000 jobs in July according to Statistics Canada's latest Labour Force Survey, released Friday. This marked a month-over-month decrease of 2.8% and followed a lesser decline of 0.8% observed in June.
"Since January 2023, employment in construction decreased by 71,000, offsetting cumulative increases of 65,000 from September 2022 to January 2023," says StatCan. The government agency also notes that job shed was most "concentrated" in British Columbia, Quebec, and Ontario, where construction jobs slid by 8.9%, 3.5%, and 1.4% (or roughly 21,000, 11,000, and 9,000 jobs), respectively, between June and July 2023.
---
Zooming out to a national vantage point once again, it's worth noting that Canada's construction sector lost more jobs than any other industry included in StatCan's survey. Employment also fell in three other industries, albeit by a lesser amount, including public administration (-1.4%), information, culture and recreation (-1.8%), and transportation and warehousing (-1.3%).
Gains in four other industries — health care and social assistance (+0.9%), educational services (+1.3%), finance, insurance, real estate, rental, and leasing (+1.1%) and agriculture (+4.6%) — served to keep the job market steady last month, with unemployment inching up only marginally to 5.5%.
A Threat To Productivity
Shrinkage within Canada's construction labour force is nothing new, but it's certainly being met with increasing urgency as the population expands at a record pace and housing shortfalls are magnified as a result.
"Ask any developer about supply issues and the availability of labour usually tops the list," writes Benjamin Tal, Deputy Chief Economist at CIBC, in a report from June. "And there is no shortage of statistical evidence of that shortage. With no less than 80,000 vacancies in the industry, the vacancy rate is at a record high and a full percentage point above the national average."
The same report notes that the number of registered apprentices and trade qualifiers is down 15% over the past decade.
A thinned-out labour force is bad news for housing production, and the ramifications are already playing out. Construction project timelines have been on the rise since the mid-'90s, stretching to around 25 months in 2022.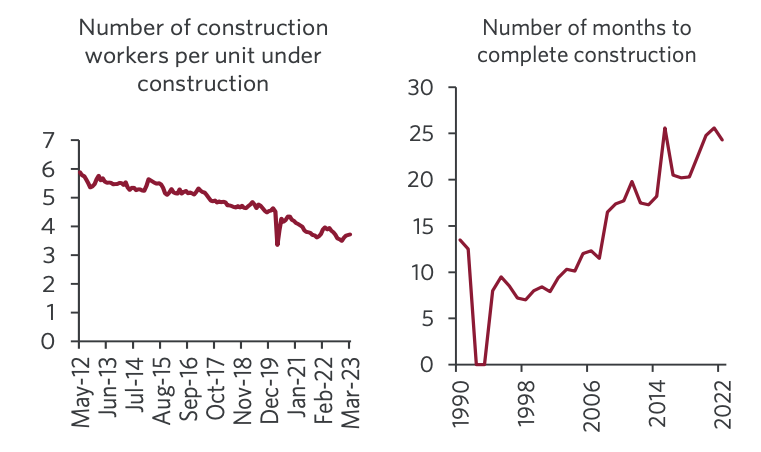 Statistics Canada, CHMC, CIBC
What's more, current labour shortfalls are poised to worsen.
"The share of construction workers over the age of 55 is now at a record high, and given that the average retirement age in construction is notably lower than what's seen in the rest of the economy, the demographic issue is much more pronounced," notes Tal. "Based on the age distribution in the construction industry, we estimate that no fewer than 300K construction workers will retire in the coming decade. At the same time, even if we assume no acceleration in residential investment activity from the pace seen over the past decade, the already sizeable labour shortage will grow by additional 60K positions by 2033."
Though the share of new immigrants in construction is currently nominal, at just 2%, Canada's newly appointed housing minister, Sean Fraser, seems hopeful that the federal government's recent move to give carpenters, plumbers, electricians, welders, contractors, and residential and commercial installers immigration priority will help to meaningfully supplement the workforce.
"We now have a dedicated stream under the Federal Express Entry system that's designed specifically for people who work in the skilled trades. This is designed with the purpose of generating more talent to build houses in Canada," Fraser told STOREYS in a previous interview. "We are going to continue to examine new ways we can bring workers to this country that will help solve some of the social pressures around housing rather than exacerbate them."
While Tal calls the inclusion of skilled trades occupations in the Express Entry program "a welcome development," he also says much more needs to be done if the country hopes to achieve its lofty housing targets, while restoring some semblance of affordability to the overall market. "This includes making changes to the immigration points system in order to increase the contribution of new immigrants to easing the severe shortage in construction labour in Canada."
As well, Tal advocates for stepping up recruitment strategies, enticing more women to join the skilled trades, and taking a cue from Nova Scotia by "using the tax system as a tool."
Real Estate News