Construction is ongoing on the first phase of Concord Pacific's biggest project in Burnaby, Concord Metrotown, and will likely carry on for years afterwards now that the second phase of the project has been approved by Burnaby City Council.
Concord Metrotown is located at the intersection of Kingsway and Nelson Avenue, on what was formerly the surface parking lot for the Metropolis at Metrotown shopping centre.
---
Phase one includes 65-, 45-, and 33-storey towers, beginning at the intersection and moving west — while decreasing in height — across the parking lot that runs along Kingsway. Construction began in 2022 and remains ongoing.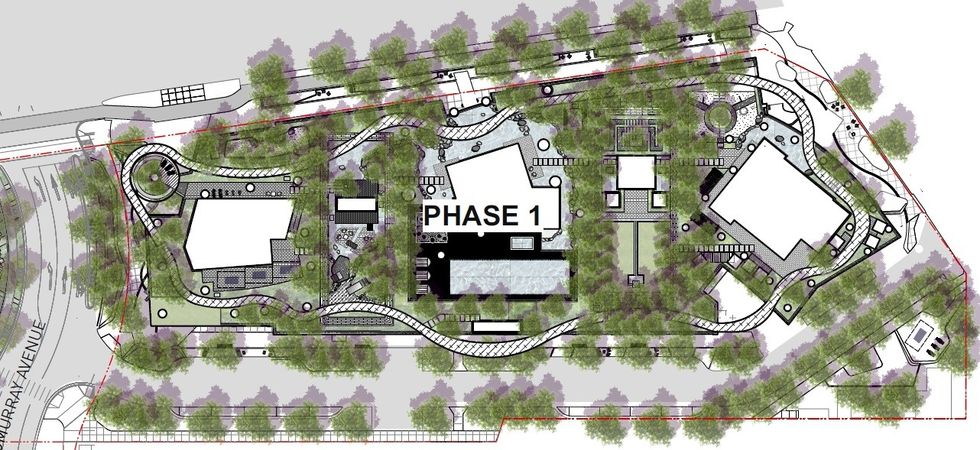 Phase one of Concord Metrotown, at the intersection of Kingsway (top) and Nelson Avenue (right).(PWL Partnership Landscape Architects)
Phase two will then continue along Kingsway with 40-, 49-, and 58-storey buildings, increasing in height, creating a row of skyscrapers where the heights arc from high to low to high along Kingsway. It will also include 47- and 60-storey towers behind the three towers fronting Kingsway, giving Concord Metrotown a total of eight towers.
The Concord Metrotown project was originally intended to unfold across four phases, each of which would have likely been guided by their own individual rezoning applications. Phase one consists of the three towers that are underway, but Concord Pacific has now consolidated the final three phases into one single rezoning application, which was introduced to Council in October 2022 and approved on Monday evening. (Final approval was originally scheduled for September 25, but was delayed to October 30.)
While the remaining five towers are now being treated as one phase, the towers have been split into three sub-phases.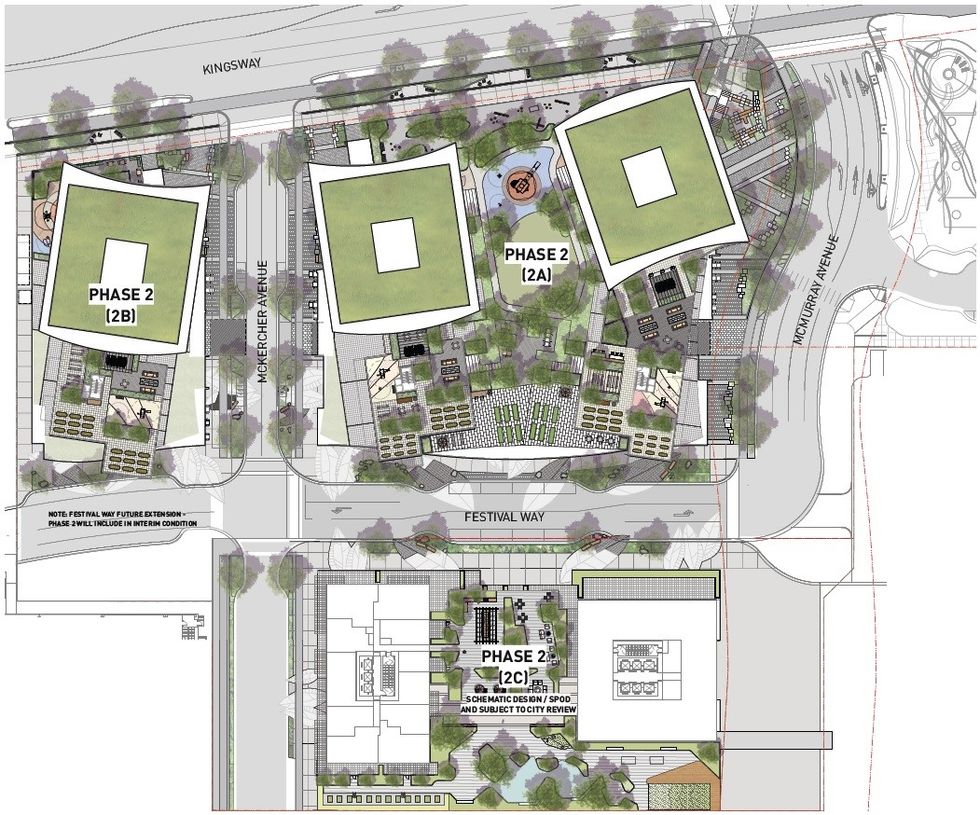 Phase two of Concord Metrotown and its site layout.(PWL Partnership Landscape Architects)
Phase 2A will consist of the 40-storey and 49-storey towers, atop a podium with commercial and restaurant uses fronting Kingsway. The 40-storey Tower Four will include 340 strata condominiums, and 77 non-market rental units while the 49-storey Tower Five will include 426 strata condominiums and 49 non-market rental units.
Phase 2B then finishes off the row of six towers with the 58-storey tower with 379 strata condominiums, 131 market rental units, and 62 non-market rental units, also atop retail and restaurant uses fronting Kingsway. The site is currently another surface parking lot just outside where Concord Pacific's Burnaby sales centre currently sits.
Phase 2C will then include a 47-storey tower and a 60-storey tower atop a shared commercial podium behind the three towers. They are currently proposed as a "office/hospitality" tower and a rental tower, respectively, but the City has said that the mix of uses for the first tower is subject to change. As currently proposed, the second tower will include a total of 722 market rental units.
The five towers give phase two of Concord Metrotown a total of 2,186 residential units. As part of phase two, both McMurray Avenue and McKercher Avenue, which currently intersect with the north side of Kingsway, will also be extended to run through the Concord Metrotown site, intersecting with a new road that will be called Festival Way.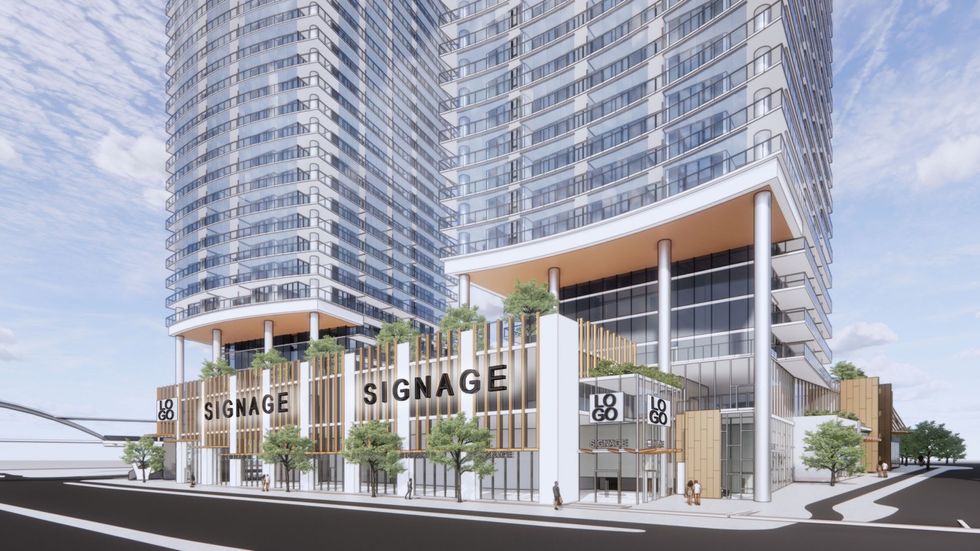 The Concord Metrotown towers from street level.(Arcadis IBI Group, Concord Pacific)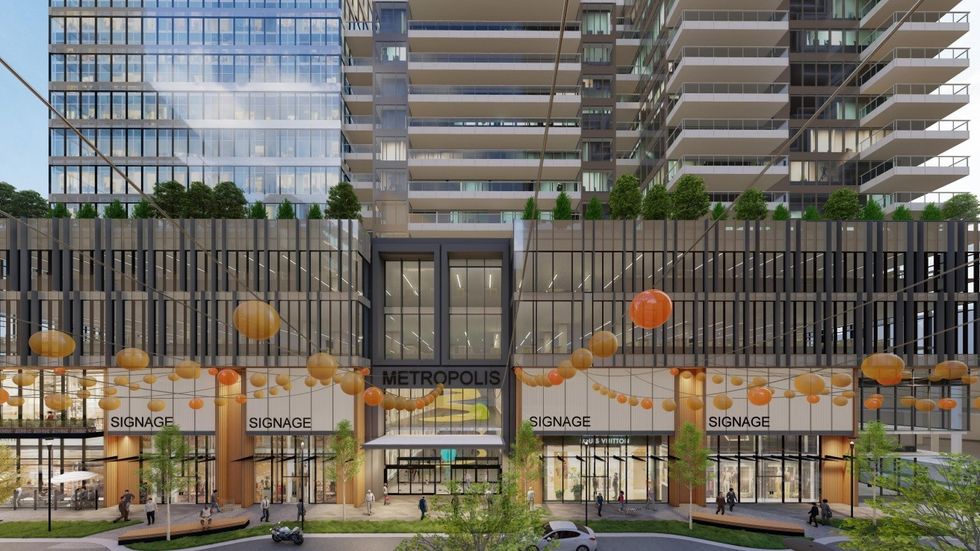 Phase 2C, which may include a new entrance into the Metropolis at Metrotown mall.(Arcadis IBI Group, Concord Pacific)
A grand total of 2,889 vehicle parking stalls and 5,020 bicycle spaces will be provided across phase two.
Residential amenities will include fitness centres, meeting rooms, wellness spas, work lounges, guest suites, communal kitchens, and children's play areas. Rooftop spaces will also include amenities such as dog runs, dining and seating areas, and garden plots.
"The development includes a diversity of housing sizes and tenures in order to accommodate a range of incomes and age cohorts, as well as a generous amenity package," staff said in a report in October. "The proposed form of development is concordant with the vision established under the Sears Master Plan continuing the arc of building heights and setback along Kingsway and the undulating vertical form of the towers established in Phase One. Overall, the subject proposal exemplifies exceptional urban design and architectural expression related to the building's siting, massing, pedestrian orientation and materiality, meeting the standard expected for development in the Metrotown Downtown Area."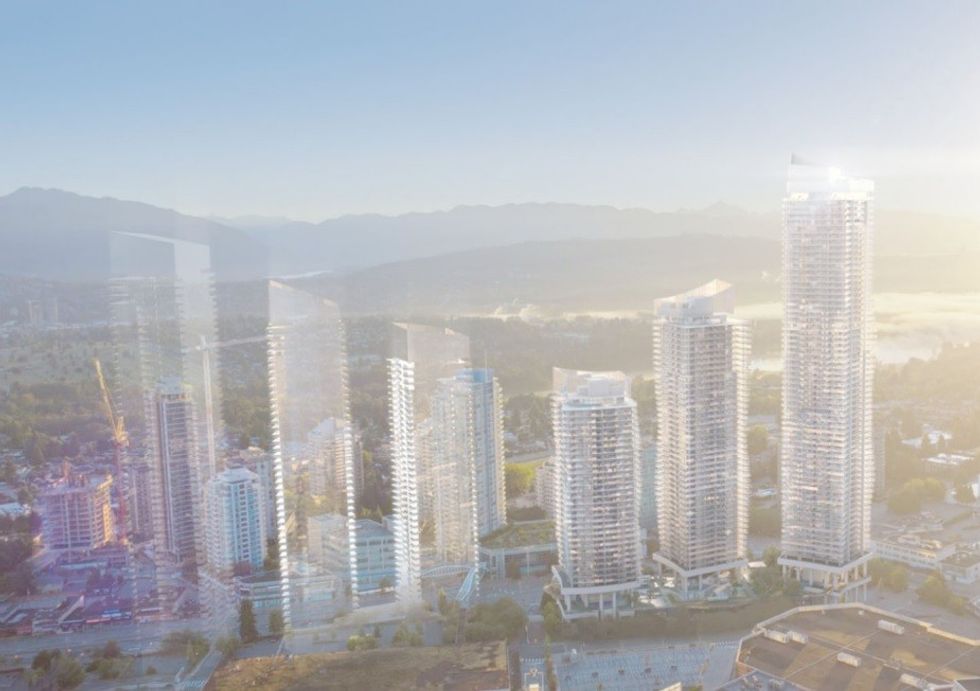 Phase two (left) and phase one (right) of Concord Metrotown.(Arcadis IBI Group, Concord Pacific)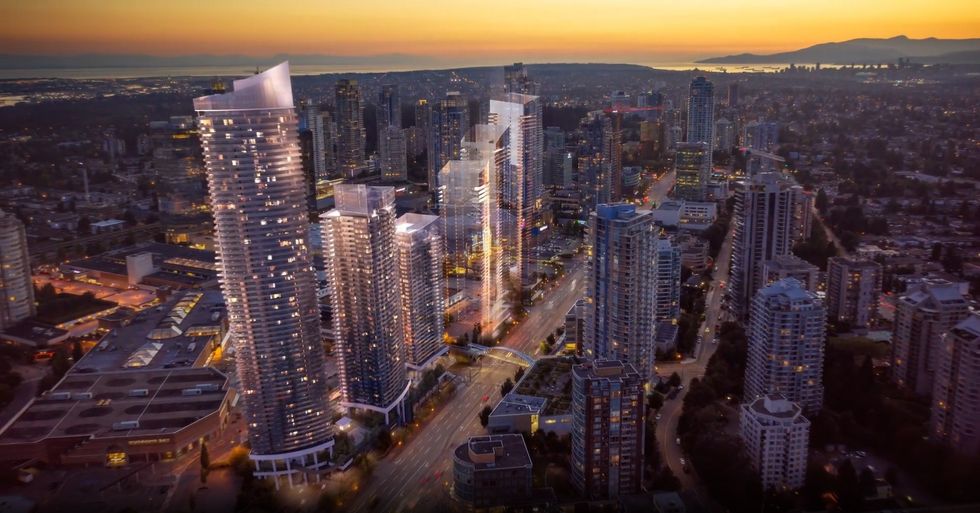 Concord Metrotown.(Arcadis IBI Group, Concord Pacific)
Future Developments