---
Vancouver-based Concert Properties has completed its 32-storey rental building in the Burquitlam neighbourhood of Coquitlam, a project that involved not only BC Housing, but also the Canada Mortgage and Housing Corporation (CMHC).
The building is called 55One and is located on 551 Emerson Street, one block away from the Millennium Line SkyTrain's Burquitlam Station, near the city's boundary with Burnaby.
The 55One building is a part of Concert Properties' Heart of Burquitlam community, which also includes a YMCA community centre, a community police office, and a condominium building. The site was formerly occupied by Burquitlam Park, which will be reconfigured and rebuilt on the site.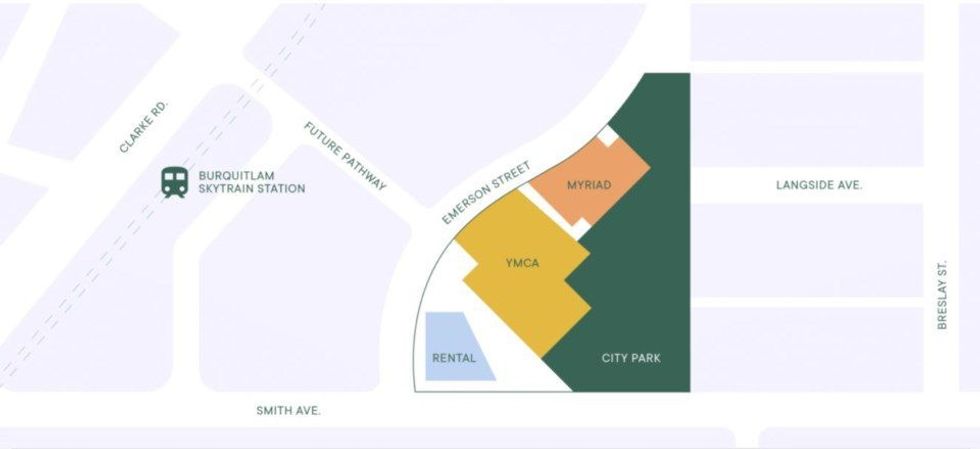 Heart of Burquitlam site layout and context. (Concert Properties)
The rental building, 55One, is a 32-storey tower on the corner of Emerson Street and Smith Avenue, and consists of 308 units. Of those 308 units, which include studio, one-bedroom, two-bedroom, and three-bedroom units, 208 are being provided at market rates while the remaining 100 are being provided at non-market rates.
In July 2021, BC Housing contributed $10.6M through its Building BC Community Housing Fund to 43 Housing Society in order to purchase the 100 units and secure them at rates for low-to-moderate income households for at least 60 years. The City of Coquitlam provided a $3.85M grant at the time as well, and BC Housing will now continue to provide annual operating funding for the 100 homes.
Concert Properties also received a $109M low-cost loan from CMHC, through CMHC's Rental Construction Financial Initiative, a program within its National Housing Strategy.
The building was originally scheduled to be completed in January 2023, but was then pushed to March, and then April, with Concert announcing the building's completion on April 5. Senior Vice President of Property Management Kerri Jackson said at the time that "55One represents the most recent example of Concert Properties' unwavering commitment to increasing the supply of rental housing."
At an event announcing the project's occupancy on Tuesday, Premier David Eby said that "55One is the latest example of how we can work together to build a province where everyone has a good place to call home and no one gets left behind."
According to Concert's website, rental rates are around $2,000 to $2,100 for a 400-450 sq. ft studio unit, $2,500 to $3,200 for a one-bedroom unit, and $3,000 to $3,800 for a two-bedroom unit, all of which are currently available. Three-bedroom units are not available, and no rate is listed.
Rents for the 100 non-market units range from $375 to $1,550 for a studio unit, around $570 for a two-bedroom unit, and from $1,783 to $2,970 for a three-bedroom unit, depending on income levels, according to the Province.
Amenities for the building include a bicycle repair station, rooftop lounge, yoga room, fitness room, board room, party room, resident lounge, dog run area, and community garden, as well as convenient access to the YMCA and park next door.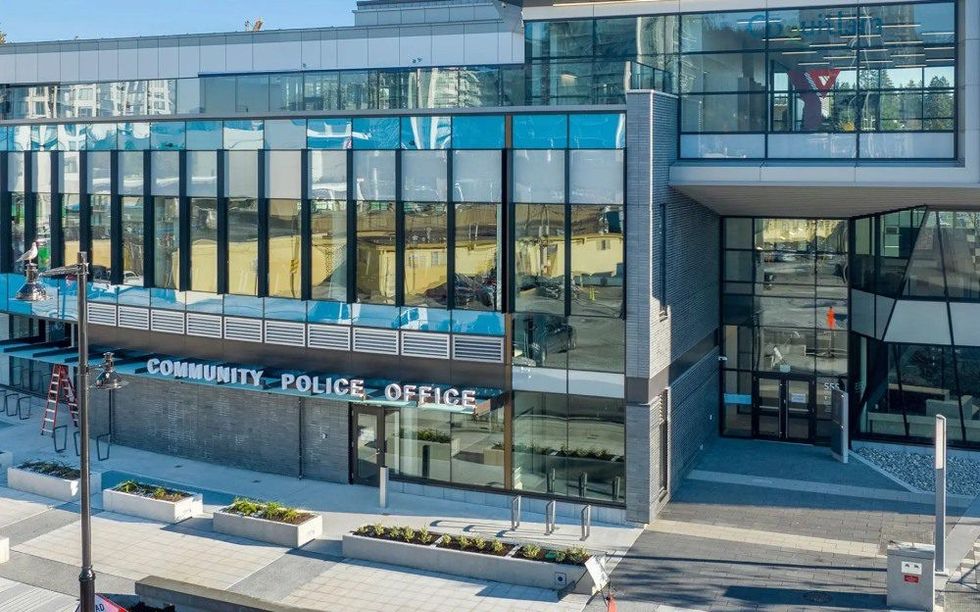 The Bettie Allard YMCA on 555 Emerson Street. (Concert Properties)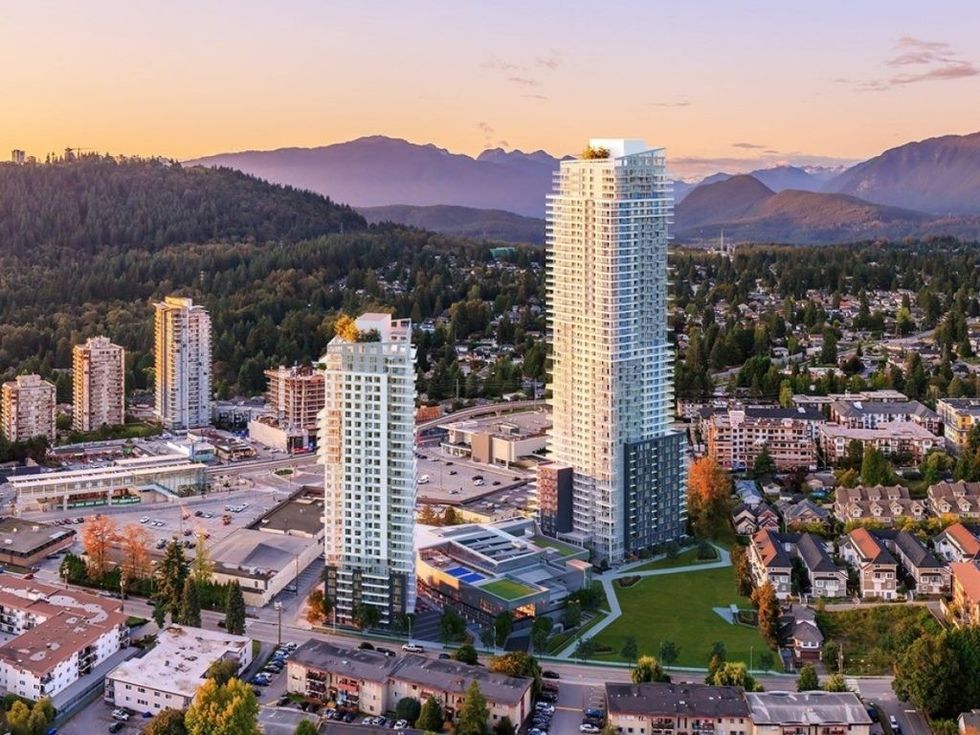 Aerial view of the site, with 55One (left) and Myriad (right). (Concert Properties)
The 55,000-sq.-ft Bettie Allard YMCA opened in January and includes a gym, fitness studios, indoor pool, multi-purpose space, family-development centre, and other amenities.
The community police station, also a part of the YMCA complex, is 3,700 sq. ft and will be operated by City staff and volunteers to support the Coquitlam RCMP.
READ: Burnaby 5-Tower Kingsway-Edmonds Plan With BC Housing Moved to Public Hearing
The City park is still under construction, according to Google Maps images dated March 2023.
The condominium building is called Myriad, and will be 50 storeys with 468 units. Concert tells STOREYS that the building, after launching in August 2021, is now 99% sold out, and that construction is expected to complete in Spring 2026.
Renting