---
After seeing a slow end to the year in 2022, commercial real estate investment in the Greater Toronto Area (GTA) slumped to $4.6B in the first quarter of the year, a staggering 50% drop compared to the same time in 2022.
This, according to a new report from commercial real estate intelligence provider Altus Group, is reflective of both the slowing economy and rapidly increasing interest rates.
"Investors and sellers both remain cautious and continue to struggle with price discovery," the report reads.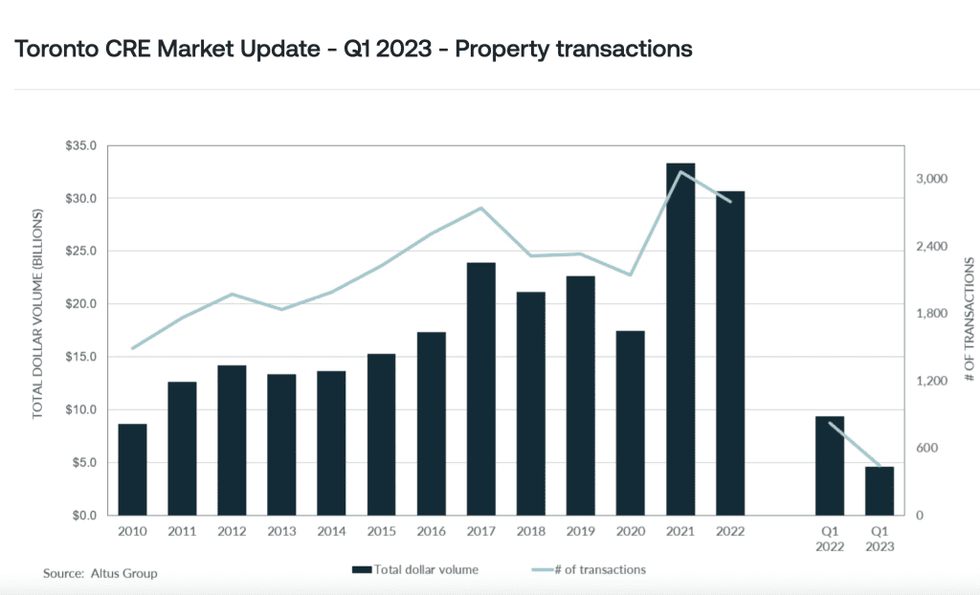 Closing on commercial transactions also proved challenging in the first part of the year -- Altus Group notes that investors were faced with having to renegotiate with lenders before the closing date. "To help get the deal over the finish line, purchasers had to bridge the gap with higher interest rates," the report reads.
Out of all commercial real estate investment types, residential land was handily the most popular in Q1, securing $1.21B in total investment. It was followed by ICI land with just under $1B. Both of these represent "a significant drop," Altus Group says, noting a 50% decrease in residential investment and a 38% decrease in ICI investment.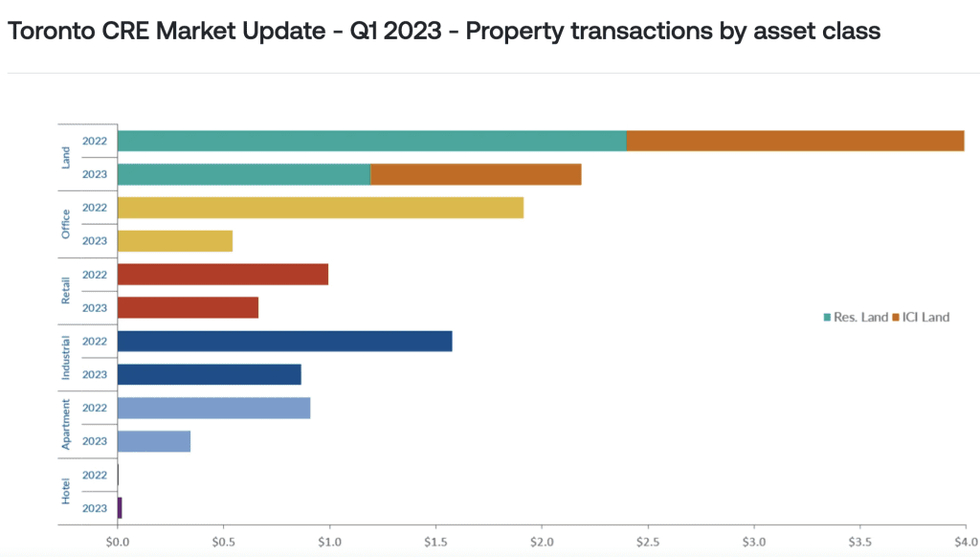 Industrial properties saw a substantial 50% drop compared to Q1 2022, with just $864M in total investment. Vacancy rates for industrial properties, however, remained incredibly low -- at less than 2% -- while rental rates continued to rise based on a limited supply of listings.
Office investment transactions fell by $1.4B compared to 2022, to just $0.5B. Altus notes, however, that although there were some notable office sales -- including the $100M purchase of the former General Motors office in Oshawa -- there was a lack of "blockbuster office trades," like the sale of Royal Bank Plaza that was seen in Q1 2022.
"Uncertainty around the office asset class persisted, but with multiple significant office transactions this year, investors continue to show optimism for this asset class as people slowly start heading back into office," the report reads.
Office