---
Oxford Properties' sale of the Royal Bank Plaza in downtown Toronto to Amancio Ortega -- the Spanish billionaire businessman behind, among other things, clothing store Zara -- for $1.2 billion is a strong jolt of confidence to an office sector beset by uncertainty amid a drawn out pandemic.
But sources have told STOREYS that Ortega only beat one other bidder to secure the purchase of what analysts say is among the best real estate in Canada. Had the COVID-19 pandemic not occurred, the sale price would have been higher.
"The price tag would have been north of $1.2 billion if there was no pandemic," Morguard's Director of Research, Keith Reading, said. "Prior to the pandemic, there was 2% vacancy in downtown Toronto, which put upward pressure on rent, so anybody who would have been looking to buy that asset would have looked at continued peak rent and room to grow, and the price would have been higher. Would it have been significantly higher? Not necessarily. It's not a troubled asset; it's a premium asset and this is a landmark acquisition. If people had the financial resources, and if there was no pandemic, you would have seen more bidders."
READ: Brick and Mortar and E-Commerce "No Longer Mortal Enemies": Colliers
Pandemic notwithstanding, Ortega has hedged what appears to be a smart bet. The building's anchor tenant is Royal Bank, which has about 40% of the building leased for the next decade, and in addition to sitting across the street from Union Station, Canada's busiest transit hub, technology and financial services firms have strong presences at Royal Bank Plaza. Oxford Properties doubtless leveraged such a strong balance sheet to achieve the sale price.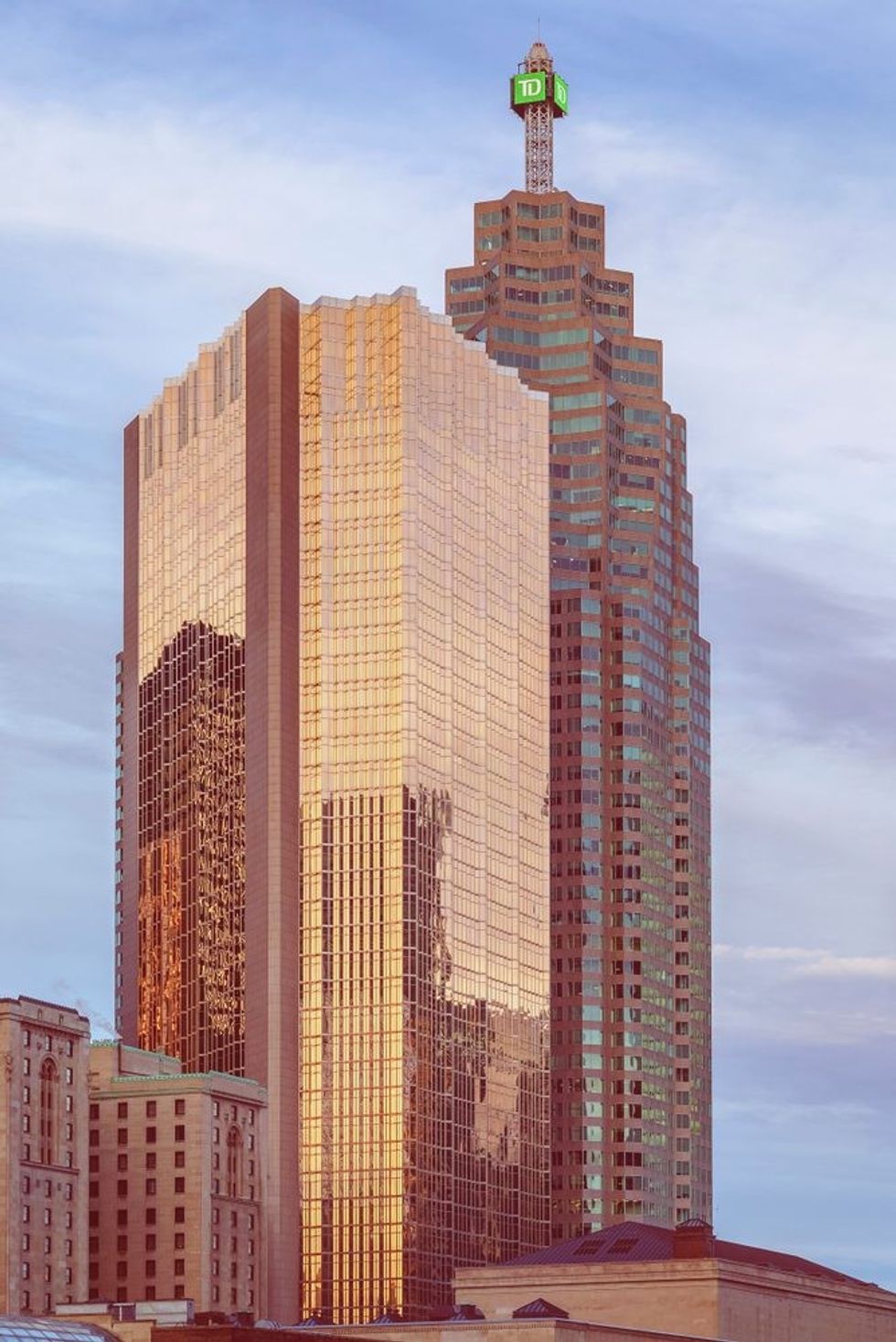 Royal Bank Plaza at sunset
Moreover, because towers of this calibre are built every few decades, opportunities for transactions of this magnitude are rare.
"It's a world-class global market that's still got one of the lowest vacancy rates in North America, and the building is fully leased with long-term leases, and one of Canada's top banks is in there long-term," Reading said. "It's a good buy because these assets don't come along very often; the buyer has secured control of one of Canada's landmark buildings. It's a world-class facility at centre ice in the downtown office market of a global city."
Ray Wong, Vice President of Data Operations and Data Solutions at Altus Group, says COVID-19-induced uncertainty in the office sector might have affected negotiations, despite the building being fully leased, but the pandemic will subside, at which point activity surrounding the property will resume its erstwhile frenetic pace and bolster Royal Bank Plaza's value.
"After 9/11, it was more expensive to lease offices on lower floors than higher floors, but after 18 months it went back to normal," he said. "It will take time for companies to come back, but there will be a little bit more demand for office space as people reconfigure their space needs and as other tenants begin looking for adjustments."
Royal Bank Plaza, which is composed of 41- and 26-storey towers, may need a few capital improvements, but with Union Station across the street, Royal Bank Plaza is centrally located.
"If you're an employer, for your employees to get to an office across the street from the biggest transit hub in Canada is huge," Wong said. "The sale is going to be a bellwether of confidence in the office market because it's a fantastic downtown location and the acquisition price of $1.2 billion is pretty solid. They're taking a long-term horizon on this asset."
It isn't just tech and financial services firms alone that will drive demand. There are a lot of administrative offices that support companies in the aforementioned sectors, and that isn't even accounting for how diverse Toronto's economy is to begin with.
The transaction is also notable because, even though COVID-19 has brought the world to a near standstill, foreign money still suffused Toronto's commercial real estate market, which bespeaks the city's robust reputation globally. Ortega also wouldn't make such a consequential purchase in haste -- in 2014, the Spaniard fronted a group that purchased 150 Bloor St. W. for $254 million, a 274,329 square foot office building with a 4.6% cap rate.
"They're not short of cash and they tend to buy high-quality assets in prime global markets," Reading said. "They know the Toronto market well, so they're willing to take the risk. There are always new buildings in Toronto, but nobody is building another Royal Bank Plaza."
Office