---
The iconic Canadian National Exhibition (CNE) has some news that's just as stomach churning as its famously dizzying rides.
Toronto's longtime fair – which transformed the CNE grounds into a stimulation and food-filled playground for two weeks each summer since 1879 (aside from 2020, naturally) – could be a thing of the past.
On May 14, news that the CNE could not go ahead as scheduled this year (August 20 to September 6, 2021) thanks to the relentless COVID-19 pandemic didn't come as a complete surprise. But it still felt like yet another crushing blow for the city and its incredibly mixed demographic of die-hard CNE fans that never miss a year.
After the second cancellation in as many years, the CNE says it's under so much financial pressure that it may not be able to host the fair anymore. Gulp.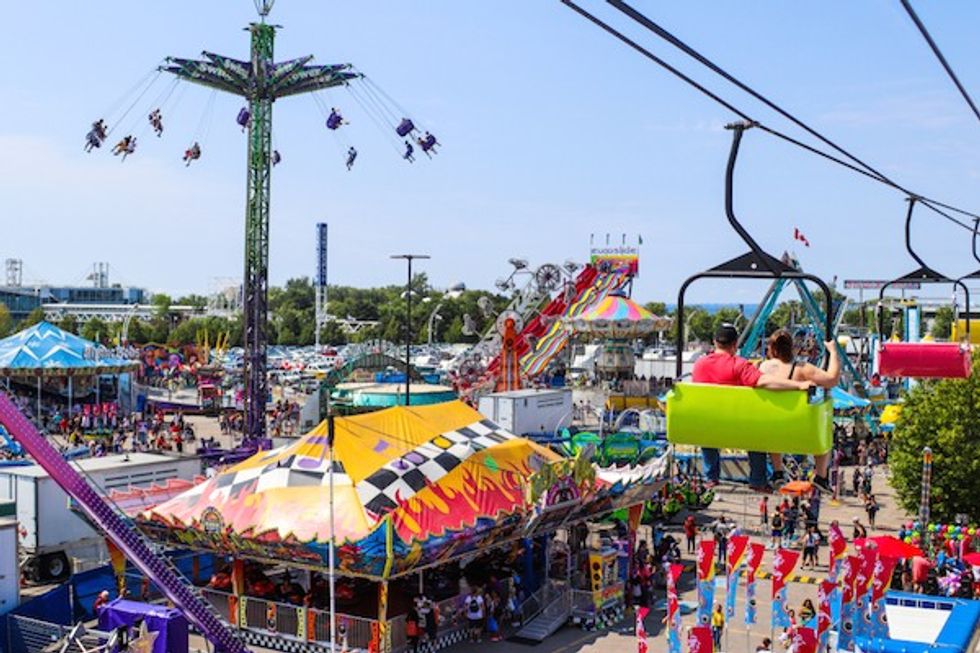 Toronto, Ontario/Canada - August 16 2019: Locals and tourists visit the CNE (Canadian National Exhibition, also called The Ex ) for rides, food, and various exhibits at Canada's largest annual fair.
It didn't take long for a petition to begin circulating online. At time of writing, the petition has 7514 signatures, and counting – surpassing a goal of 7000 signatures. Created by City of Toronto councillor Mike Layton, it calls on the provincial and federal government to immediately contribute $5.5 million each to the CNE.
"The popularity of the 18-day fair makes a significant economic contribution to the economy of the GTA and province, generating $93.1M and $128.3M respectively," reads the petition.
"The CNE is also an important employer, particularly of youth, keeping near 5,000 people per fair season in their employ and supporting 700 independent vendors. As a regional cultural attraction, the CNE also supports more than 1,000 entertainers during the fair," the statement continues.
That's not to say that the move to keep the grounds ride and vendor-free isn't understandable. "While we understand the importance for public health authorities to take necessary measures to stop the spread of COVID-19, we are also conscious of the impact the cancellation of the CNE will have for its attendees, vendors and the many youth employed for the event," said John Kiru, president of the Canadian National Exhibition Board of Directors in a statement on this year's closures.
While the multi-faceted fair is undoubtedly a major economic asset for Toronto, it's also an anticipated memory-maker for Ontario residents. In its absence, we're left to back in the nostalgic memories of times past...and wonder when we'll ever get our beloved city back.
Ontario News