Across the world, cities have started closing lanes of streets to create more room for pedestrians as part of their response to the COVID-19 pandemic. The idea is to help people avoid situations where they are forced into too-close contact while doing activities that are still advisable: going to work (if you're an essential worker), grocery shopping, medical appointments and exercise.
But despite viral videos and some urging from epidemiologists Toronto hasn't jumped on the lane-closing bandwagon.
---
READ: Is It Time to Close Toronto's Streets to Cars?
Medical Officer of Health Dr. Eileen De Villa has argued street closures could backfire, incentivizing more people to leave their homes. Mayor John Tory has resisted too, instead suggesting alternatives like making sidewalks one way. When it comes to giving Toronto's pedestrians more space, the people in charge are dragging their feet.
It's a shame, because Toronto could be proactive and take a data-driven approach to closing some lanes. Here's how I'd do it.
To start, let's get nerdy. The city makes Traffic Signal Vehicle and Pedestrian Volumes available through their Open Data Catalogue. It includes counts of pedestrians and vehicles that travel through 2,281 intersections across the city. The data is a bit out of date in places, and obviously travel patterns will be different during a pandemic than they are in more typical times, but it's a good starting point.
If you take the top 100 busiest intersections by pedestrians volumes, you get a map like this – most of them, as you'd expect, are downtown: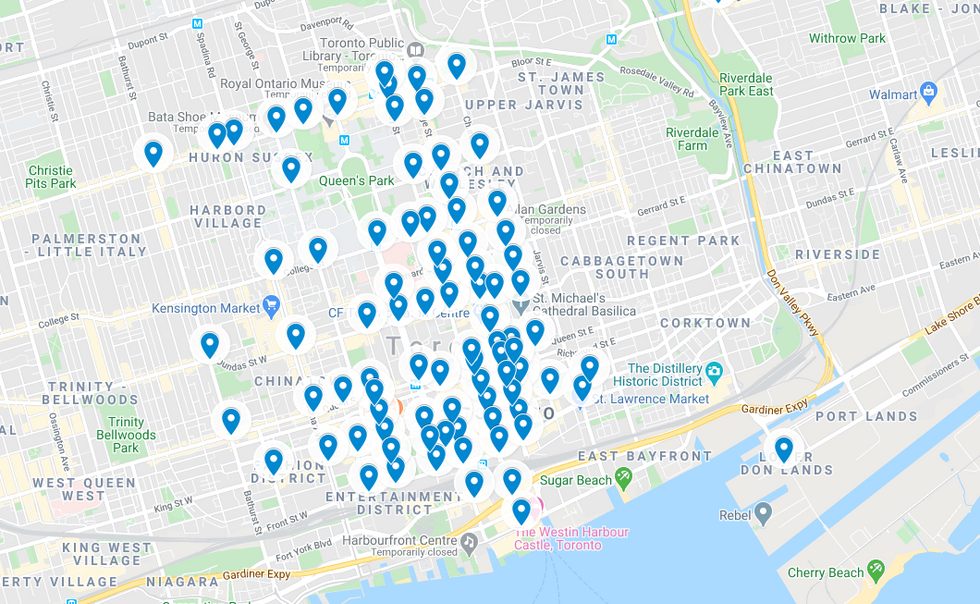 But don't stop there. Let's consider the reason we would be doing this. There's a pandemic; people are taking trips for very specific purposes. So let's include those purposes on the map.
Start by adding the big hospitals. We want to make nurses, doctors and healthcare workers – many of whom don't have cars – have safe ways to walk to work: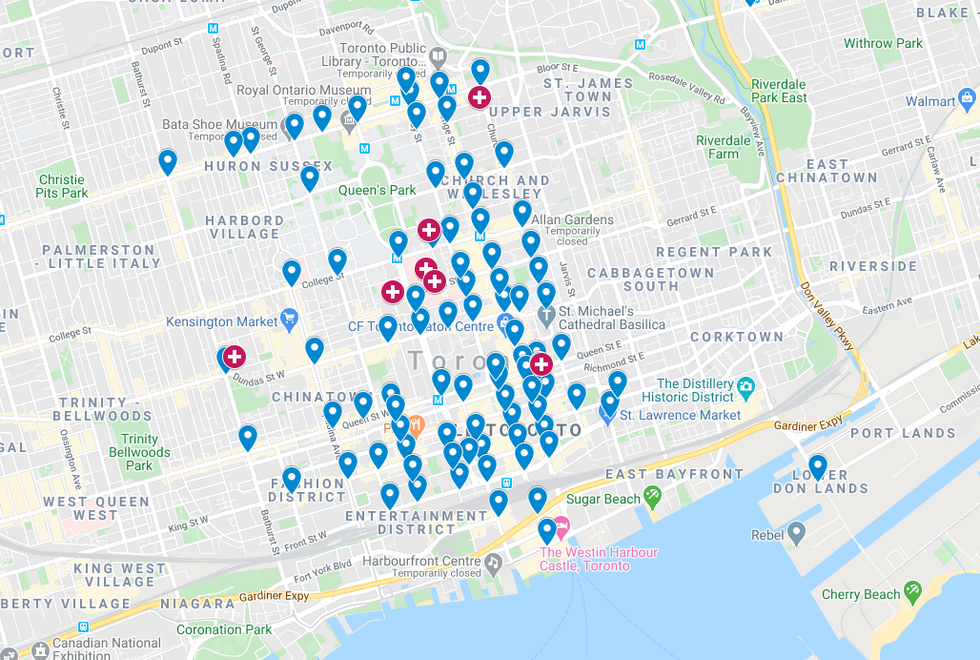 Now, how about some grocery stores? We'll just add the big chains: Loblaws, No Frills, Metro, Sobeys, Longo's & FreshCo: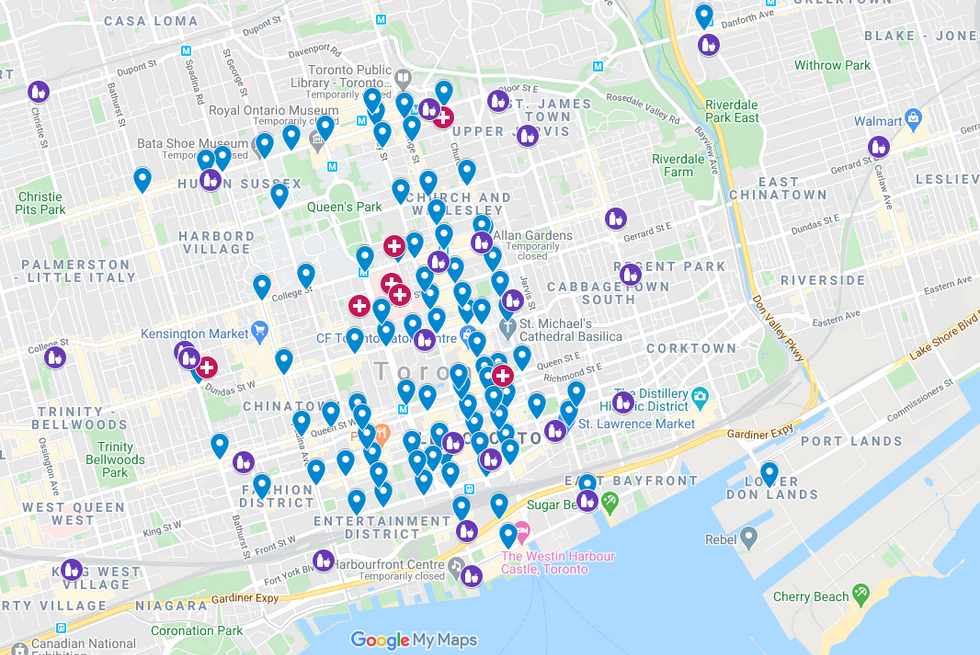 Since we're talking about the essentials, we might as well be honest with ourselves and add some of the major LCBO locations: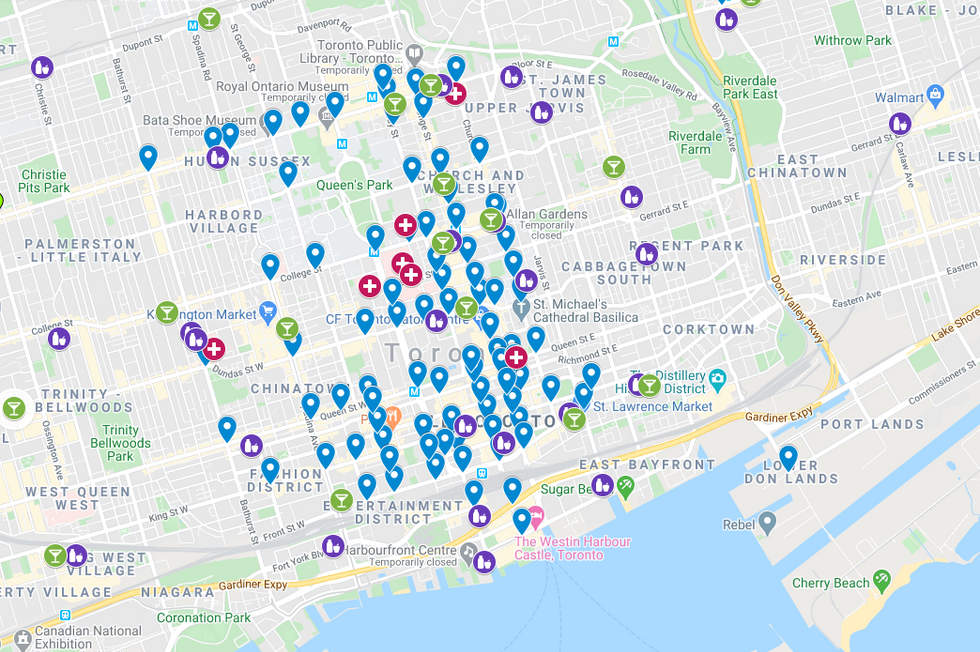 Now let's draw some lines that intersect a bunch of these locations: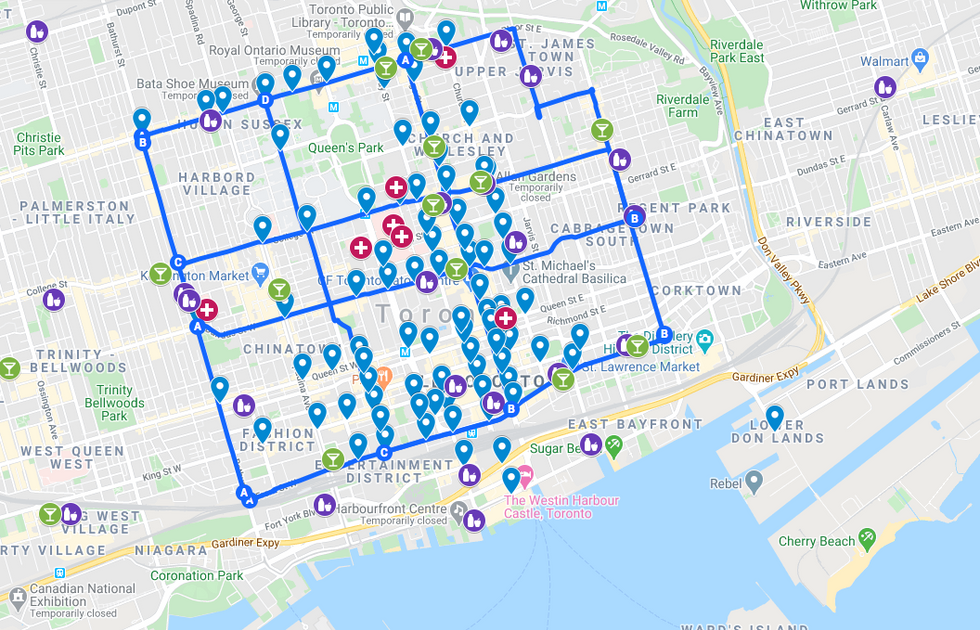 Remove our markers and our Pandemic Pedestrian Priority map looks like this: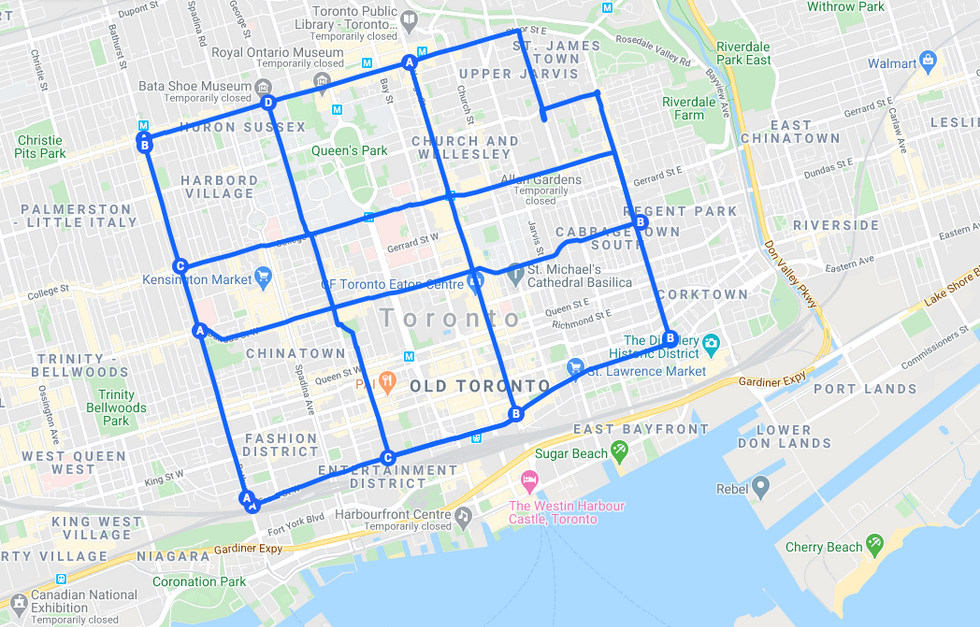 Streets with lane closures in this scenario would be:
Bathurst Street
John Street / St. George Street
Yonge Street
Parliament Street (and a bit of Sherbourne)
Front Street
Dundas Street
Carlton Street / College Street
Bloor Street
(King Street, with the transit priority still in effect, already acts as a de facto pedestrian priority street.)
I wouldn't advocate implementing a plan like this in one fell swoop. More analysis is necessary to figure out whether these streets are seeing enough foot traffic during the pandemic to merit lane closures.
And of course any closures would need to be carefully monitored to ensure they're not attracting a totally unnecessary level of foot traffic — people travelling from far afield to go for a stroll. I don't think this would be much of a problem on most of these routes. Carlton Street is nice, but is it drive-in-from-the-suburbs-to-go-for-a-walk nice?
A formal process could also integrate some data from the city's map of active construction projects. Places where work has spilled out onto the sidewalk or the sidewalks are partially blocked with construction hoarding are particularly bad right now. Those spots deserve some extra attention.
But this makes for a pretty good place to start. Using data and the locations of essential services gives a strong basis for considering which lanes to close to make more space for pedestrians during the pandemic. All that's missing now is a decision and a direction to create that space.
Matt Elliott is a contributing columnist to the Toronto Star and the author of the weekly City Hall Watcher newsletter. This article is adapted from the latest issue of City Hall Watcher, "A double dose of data." You can subscribe here.
Opinion