Toronto
Real Estate News
Should the City Expropriate Derelict Sherbourne-Dundas Site for Affordable Housing?
Real estate in Toronto's storied Sherbourne-Dundas neighbourhood has been the subject of growing controversy.
For years, housing advocates have called for the vacant mansion and surrounding lots at 214-230 Sherbourne Street to be converted into deeply affordable housing for the city's most vulnerable. While the once stately — now run-down — home and surrounding property have sat empty for years, Toronto's ever-growing homeless crisis has been glaringly apparent just outside its property lines. The Sherbourne-Dundas area is notorious for its relentless homeless problem, which has only worsened since the onset of the pandemic.
Recently, the infamous property was thrust back into the spotlight, when it was listed for sale earlier this year. This is the first time it has hit the market in over a decade.
"For over a decade, these privately owned lands at 214-230 Sherbourne sat vacant, while homelessness in Toronto grew. Beginning in 2018 and repeated over the years including 2021, City Council directed staff to approach the landowners with an offer to purchase at market value," said Councillor Kristyn Wong-Tam in a March statement provided to STOREYS. "The owners repeatedly said no, as they waited for bigger money from condo developer."
The listing, clearly designed to entice such condo developers, highlights the property's appeal as an "exciting residential development opportunity" and that it falls under the Apartment Neighbourhood land assembly. It points to the property's location just east of the heart of the city and the opportunity it presents to "establish a high-density residential building to support the changing community and major growth in the area."
Granted, while there is undoubtedly a very serious need to house the city's most economically vulnerable, there's also an impossible-to-ignore need for housing supply of all varieties — yes, including shiny new condo buildings (to play devil's advocate for a hot second). This is especially true once immigration returns to its pre-pandemic levels, and in consideration of the fact that countless people will be priced out of the now largely unattainable market for single-family homes.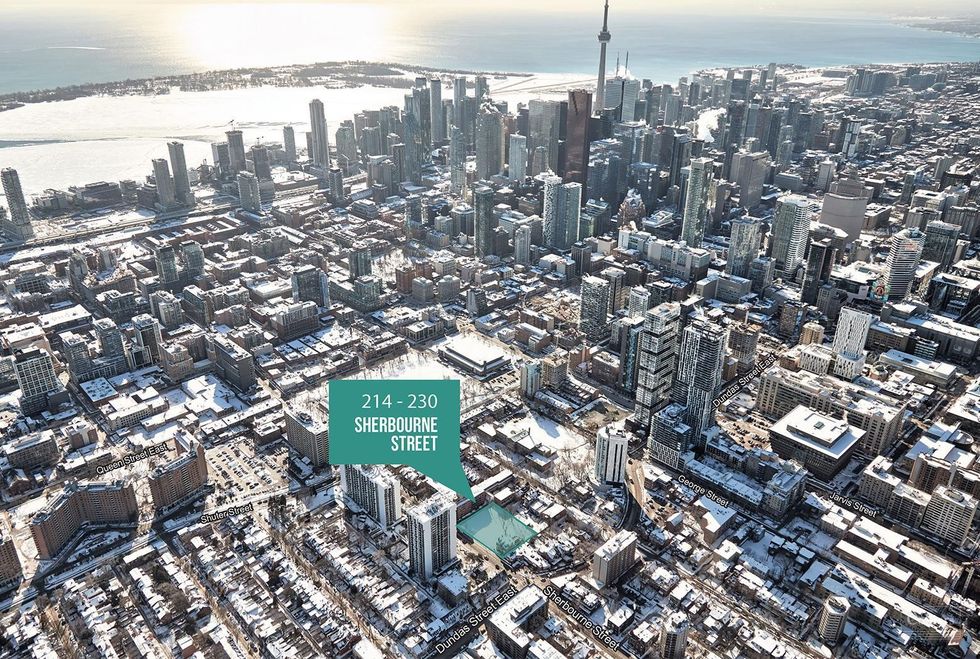 Last month, the City of Toronto submitted a bid on the site, with intentions to convert it into affordable housing, but — not surprisingly — lost the bid. After all, the City really stood no competitive chance to deep-pocketed developers. Even in a city plagued by homelessness, money still talks. It always has.
"In terms of market rate versus affordable housing, obviously market rate housing on the site would provide the vendor with a much higher value as the revenue would be much higher than an affordable project," says Ari Silverberg, President at Harbour Equity. "I think it would have been hard for the City to buy this site at a 'market' rate and make affordable housing work without significant subsidies."
In terms of valuing the currently uninspiring land, Daniel Cassese, Analyst, Multi-Residential Capital Markets at Avison Young, says there are two ways brokers would look at it: comps and residual land value.
"They would try to get an estimate of what could get built on the site; look around the area at other sites with a similar application status and estimate a price per buildable square foot for the new building," says Cassese. "But even within that, there are many variables, because you never know if, for example, a property's price was agreed upon 12 months ago and it took that long to take to close the deal; there could be a lot of market change in that case. You don't know the conditions from an environmental point of view, or any additional costs that could go into the construction of new buildings. There are many assumptions at play."
With residual land value, Cassese says this involves building out an income and expense pro forma of the project then backing the land value out of that.
"So, we basically start at the top and then estimate the revenue that would come either from selling condos units once complete, or renting out the building to a point that it's stabilized, then selling it at a stabilized market cap rate, if it's a purpose-built rental," says Cassese. "Then you deduct construction costs, take out an estimate of a profit for the developer — usually somewhere in the range of 14% to 20%. The amount that's left over is the estimate for the land cost."
Regardless of the way it's valued, the fact remains that there's little incentive for the land owner to sell the land to the City and leave money on the table.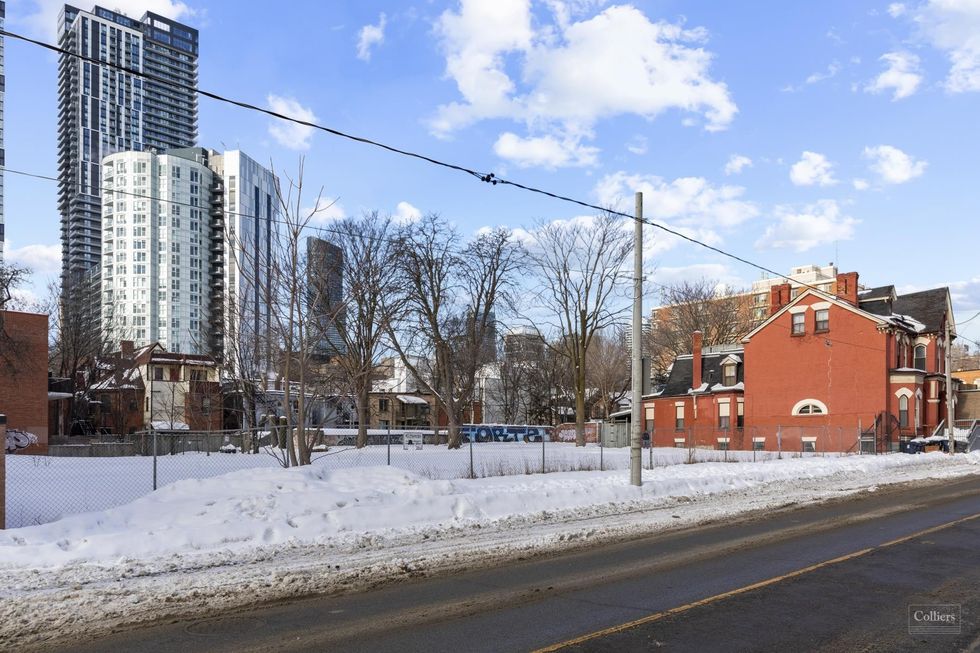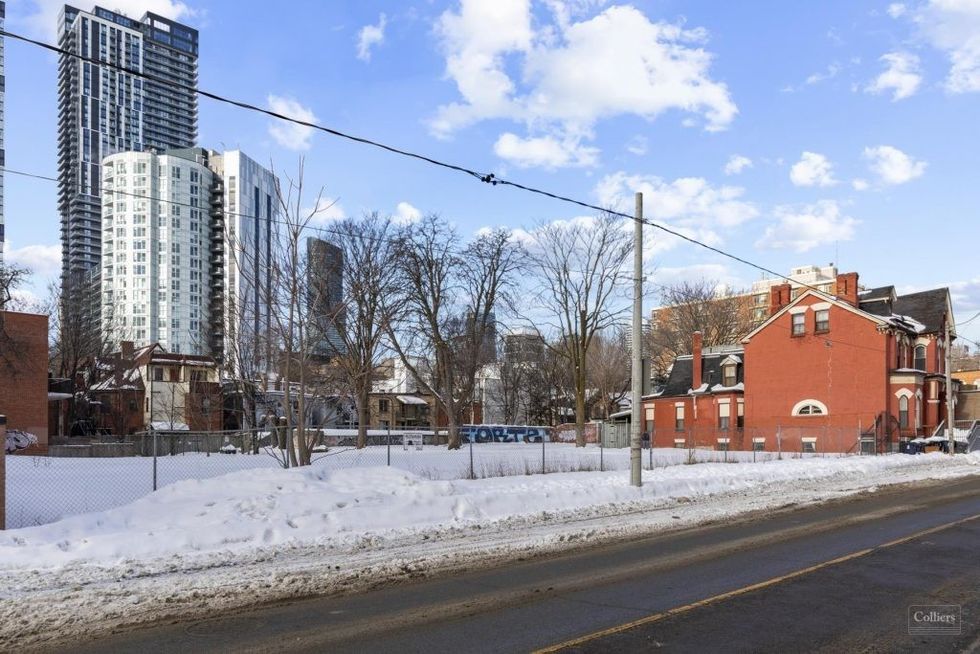 "We know the opportunities for land purchase of this large size are rare in the downtown. Especially when we're competing with condo developers who have greater financial options and the ability to leverage and speculate on the transaction in ways that are not permitted to local governments," said Wong-Tam in the same statement last month. "Against the backdrop of a growing affordable housing crisis, land speculators and condo developers have been trading land in this immediate neighbourhood for years. I think it's time for them to sit this one out."
Of course, that didn't happen.
Despite the recent sale — details of which are currently hush-hush — there are now growing calls for the City to take urgent action to expropriate the site (seize it from its owner, for those in the dark) to turn it into rent geared to income housing. And quickly.
"The property at 214-230 Sherbourne St. has sat vacant for over 10 years while the ravages of the housing and homelessness crisis decimate a community outside its doors," reads a page set up by the Shelter and Housing Justice Network (SHJN). "A 30-room mansion should not be left vacant while people freeze to death outside. This land has now been sold to developers who will no doubt try to develop it into condos that will further displace disproportionately Black and Indigenous people from their neighbourhood."
According to SHJN, the next steps come in the form of a press conference and rally on Wednesday, April 6. The goal, according to SHJN, is to "pack council chambers to demonstrate support for the expropriation of 214-230 Sherbourne for social rent geared to income housing."
In terms of the reality of an expropriation, however, it doesn't exactly seem likely. As housing advocate A.J. Withers highlights in a series of passionate Tweets, a handful of City councillors are questioning the reality of expropriating the site, and instead highlighting other affordable housing initiatives in the city.
Councillor @DenzilMW suggests 230 Sherbourne doesn't need to be expropriated because "we're making significant investment," "we're leading the way" in terms of housing spending.

Respectfully, Councillor, the record numbers of people unhoused for 6mo+, dying don't care.

— A.J. Withers (@TheAJWithers) March 30, 2022
In theory, the City may expropriate private lands for municipal purposes. "The City is governed by the Expropriations Act, R.S.O. 1990, c. E.26, which outlines the City's authorities and the steps it must follow to expropriate land. Any expropriation by the City must be approved by Council," said the City's Corporate Real Estate Management (CREM) division when contacted by STOREYS for comment. "Regarding 214-230 Sherbourne Street: Additional information will be available once the transaction closes. Please contact the brokerage firm or owner for the status of the transaction."

When STOREYS reached out to Colliers, the property's listing agent, however, we were informed that — because the sale was still ongoing (as of March 28) — they would be unable to provide comment at the time.