BRRR! It's starting to get rather cold outside but that doesn't mean there aren't fun, cheap things to do. Hope you're ready to enjoy a weekend full of events. Plus, if you're ready to start shopping for Christmas, there are plenty of markets to check out too.
Read on to find out more about exciting events happening it the city.
---
Where: Sneaky Dee's — 431 College St.
When: Saturday from 10 a.m. to Sunday at 2 a.m.
Price: $10
Celebrate the electronic legends at this one night only dance party! Head on over to Sneaky Dee's and get ready to groove to the beat.
Where: Toronto Media Arts Centre — 32 Lisgar St.
When: Saturday from 12 p.m. to 6 p.m.
Price: Free
This weekend, the Non-Binary Colour Collective is organizing their second arts and zine fair that welcomes two-spirit, queer and trans artists that are Black, Indigenous, and/or people of colour! Stop by and show your support. Allies welcome and donations encouraged.
Where: Brothers Dressler — 225 Sterling Rd., Unit 16
When: Saturday from 8 p.m. to Sunday at 12 a.m.
Price: $10
Support internationally renowned artist Munya, acclaimed MC DijahSB and Juno-nominated artist Tara Kannangara for this all-ages event that takes over a woodworking studio to celebrate Canadian talent.
Where: Xpace Cultural Centre — 303 Lansdowne Ave., Unit 2
When: Saturday from 1 p.m. to 3 p.m.
Price: Free
This workshop will teach you everything you need to know about tenant rights and affordable housing in Toronto, facilitated by lawyer Ryan Martin.
Where: The Gladstone Hotel — 1214 Queen St. W
When: Sunday from 10 a.m. to 5 p.m.
Price: Free
Admission to this market is FREE. Plus, the first 50 guests get a FREE swag bag! Shop locally made holiday must haves and essentials from this carefully curated selection of Toronto artisans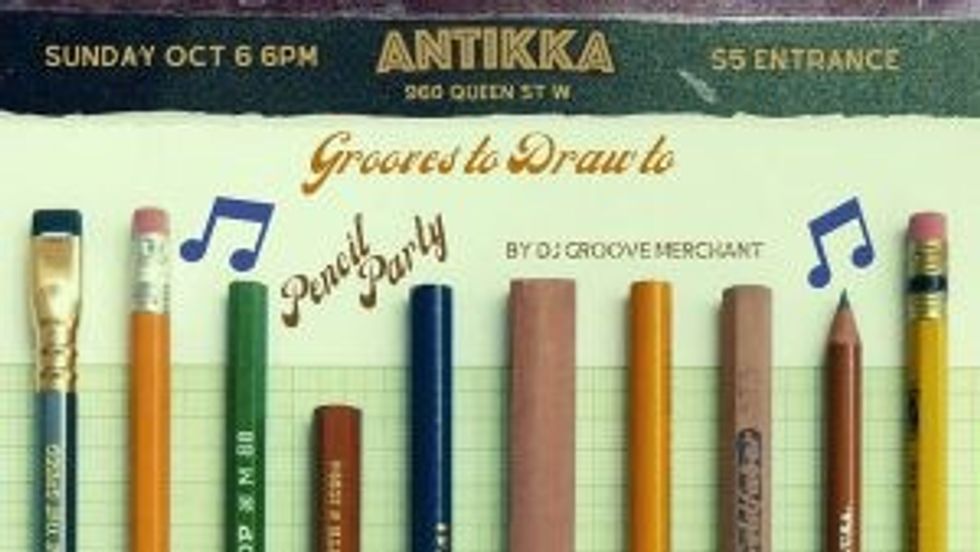 Where: Antikka - Cafe & Records — 960 Queen St W
When: Sunday from 6 p.m. to 9 p.m.
Price: $5
Spend this Sunday creating whether you're drawing, painting, sculpting or writing. Enjoy funky beats from DJ Groove Merchant who will be spinning vinyl as you enjoy the artistic process.
Where: Junction City Music Hall — 2907 Dundas St. W
When: Friday from 8 p.m. to Saturday at 1 a.m.
Price: $9
Would you like to enjoy an evening celebrating nerd music? Well folks, this is the event for you. Featuring live performances from Danimal Cannon, Villainest, More Or Les and Epic Game Music, get ready for this geektastic night of fun.
Where: Harbourfront Centre — 235 Queens Quay W
When: Saturday and Sunday from 11 a.m. to 7 p.m.
Price: Free
Join artist Jade Leyva for an unveiling of a wonderful ofrenda installation. The piece brings magical realism and pollinator activism to the forefront in celebration of the species that the Earthwatch Institute recently declared "the most important living beings on this planet."
Where: The Great Hall — 1087 Queen St. W
When: Sunday from 10 a.m. to 5 p.m.
Price: Free
Enjoy a Sunday shopping local, handcrafted, sustainable and eco-friendly goods from 60 vendors. Find your loved ones spectacular holiday gifts.
Where: Pop Events Group — 146 St. Regis Cres S
When: Friday, Saturday and Sunday from 10 a.m. to 6 p.m.
Price: Free
Check out 1000 square feet of quality, brand name toys that are upwards of 90 per cent off! Expect a selection of toys and gifts from brands like Mattel, TY, Hasbro, vtech Fisher Price, Crayola, Nerf, Spin Masters, Mega Bloks, Play-Doh and more.
Toronto