---
After trillions of dollars in gains during the pandemic, Canadians have now experienced the largest drop in collective wealth ever on record.
A new report from RBC Economics found that roughly $900B-worth of Canadian wealth was lost during the second quarter of 2022 as interest rates rose as housing markets fell. This marks a sharp reversal in the $3.9T Canadians amassed in new net wealth during the pandemic when stock markets and housing markets alike experienced surges.
With a projected total loss of $1.6T from peak to trough, the pain is far from over. On Wednesday, The Bank of Canada announced another 0.5% hike to their overnight lending rate, with some experts already anticipating another raise in December. RBC expects Canadians' net worth to be down $1.1T from peak pandemic levels by the end of this year.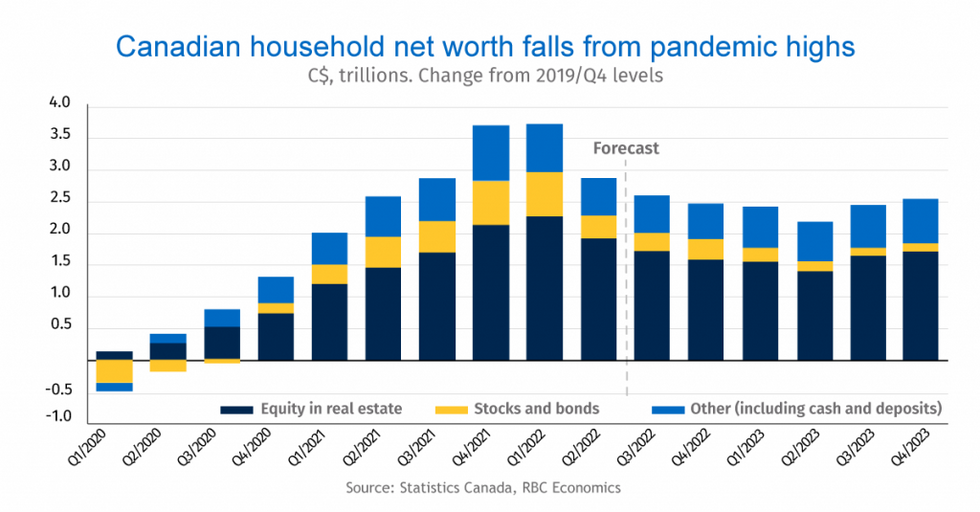 "This decline in household wealth will come at a time when Canadians are already feeling the squeeze of higher inflation and rising interest rates," the report reads. "This is particularly the case for Canadians at the lower end of the income scale, who spend a larger share of their earnings on 'non-discretionary' or essential purchases like gas, food, and shelter."
On the flip side, high-income households have been able to continue spending on non-essentials, including travel and hospitality services, which has helped to keep overall spending strong but has also added to inflation pressures.
This type of spending, however, is expected to take a hit in the coming months. Spending on non-essential goods and services is likely to fall off as Canadians increasingly prioritize essentials like gas, groceries, and debt. In fact, RBC estimates households will soon have to allocate 15% of their take-home pay to debt alone, half of which would be for mortgage costs.
Early signs of spending habit changes can already be seen. RBC's cardholder data revealed a spending plateau in the summer months after taking off during the spring. The purchase of discretionary goods like furniture -- a market segment that exploded during the pandemic as buyers furnished their new homes -- have already seen a drop.
Overall, RBC is projecting a $15-B drop in household spending in 2023 -- one of the factors that will contribute to a Canadian recession early next year. As home equity declines, so does household consumption. And although the expected drop in wealth won't erase all of the pandemic gains, the report notes that "it will nevertheless create a negative 'wealth effect' that will drag on consumer spending, even as labour markets soften."
Real Estate News