---
As purchasing power lessens and demand continues to drop, roughly 70% of Canadian housing markets are now considered balanced.
In its November housing market analysis, the Canadian Real Estate Association (CREA) found that markets continued to cool last month, with both sales and new listings falling across the country. In fact, with the one exception of 2019, November 2022 saw the fewest new listings for that month in 17 years.
Based on a comparison of sales-to-new listings ratios for 101 local markets, CREA found that 69 of them are now considered balanced, where supply and demand are about the same. Twenty-one are in buyers' markets territory and just 11 are considered to be sellers' markets.
These findings are a stark contrast from earlier this year when markets all across Canada were staunchly in sellers' market territory, with stiff competition and rapidly rising prices prevailing.
CREA data provided to STOREYS detailed which local markets fell into each of the three categories. Balanced markets, which were the overwhelming market type, spanned from Cape Breton all the way to Yellowknife and included some of the country's most notable housing markets like Calgary, Montreal, and Hamilton-Burlington.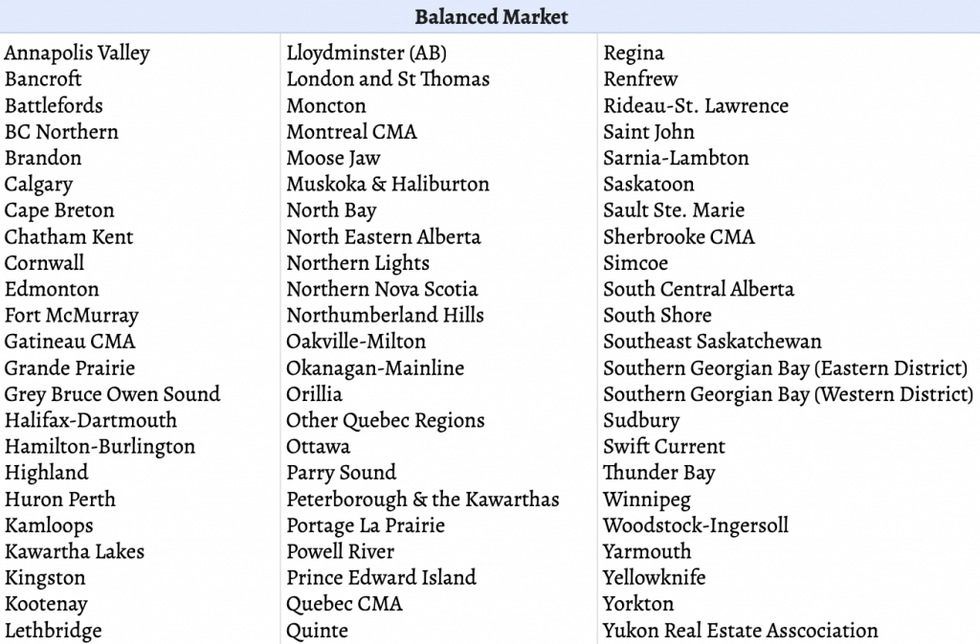 Interestingly, CREA noted that Calgary, Regina, and Saskatoon, which are all balanced, "stand out as markets where home prices are barely off their peaks at all."
As for what markets have swung in favour of buyers, that list includes some of the country's priciest areas like the Greater Toronto Area (GTA), Greater Vancouver, Vancouver Island, Victoria, and Mississauga. A buyer's market, by definition, occurs when purchasers are in a more advantageous situation than sellers as a result of the number of homes on the market surpassing the number of buyers.

Niagara Falls-Fort Erie is the furthers into buyers' market territory, CREA found, followed by Brantford, the GTA, Chilliwack and St. Catharines. Kitchener-Waterloo has narrowly edged into a buyer's market, with Cambridge and Vancouver Island also teetering near the cusp.
READ: Ontario is Moving Toward a Buyer's Market, Here's What That Means
Just 11 markets remain in favour of sellers, CREA's data reveals, all of which appear to be in some of the country's more remote and less sought-after areas, including Timmins and Medicine Hat. Prince Albert, Northern New Brunswick, and Central Alberta are the furthest into buyers' market territory.
Over the next few months, both CREA Chair Jill Oudil and CREA's Senior Economist Shaun Cathcart say that buyers and sellers shouldn't expect a drastic change in the market. But come spring time, things could start to shift.
"It will be interesting to see what buyers do when listings start to come out in big numbers in the spring, and even more interesting to see what happens a little later when the Bank of Canada, now widely thought to be at or very near the top of its tightening cycle, starts to eventually cut rates," Cathcart said. "All the other fundamental factors needed for the market to take off again are still out there."
Although the market may pick up, it won't be anywhere near the hectic levels seen in 2021 and early 2022. As Oudil puts it, "it may also be the first spring market in a number of years where buyers have a shot at not being out-competed for properties that catch their eye."
Real Estate News