Canada's housing market is on track to have another record-setting year in 2021 before returning to more normal levels in 2022. Though, activity in 2022 is still expected to remain above all other years on record, according to a recently updated housing market forecast from the Canadian Real Estate Association (CREA).
---
On Monday, CREA released an updated housing forecast for 2021, which revealed the association expects nearly 702,000 properties to change hands through Canadian MLS systems this year, up from the 551,262 recorded in 2020, while sales for 2022 are expected to reach 614,000.
The national real estate association also said it forecasts that the average Canadian home price will rise by 16.5% on an annual basis to just over $665,000 in 2021 and $679,341 in 2022.
This is notably higher than the 12.9% increase that was recorded in 2020.
While listings are currently down significantly, CREA did mention that even before COVID-19, the number of available listings on a national level was already at a 14-year low, while the national number of months of inventory on the eve of the lockdowns had fallen to below four months (seller's market territory).
"COVID-19 has only served to supercharge trends that were already present," said CREA.
What's more, given that inventories are down across Canada, more so than ever before, while at the same time, demand is setting almost unbelievable monthly records, this dynamic is resulting in rising housing prices everywhere.
This, in turn, may be pulling even more demand forward from the future as buyers feel increased urgency to lock in current prices at record low mortgage rates, says CREA.
As such, while prices are expected to rise 16.5% to $665,329 in 2021 on a national level, Ontario is forecast to see the largest price gains, with CREA predicting prices will rise 21.2% to an average of $855,218 in 2021.
On the other hand, Price Edward Island is set to see the lowest price increase, with prices forecast to rise just 5.6% to $289,716 in 2021.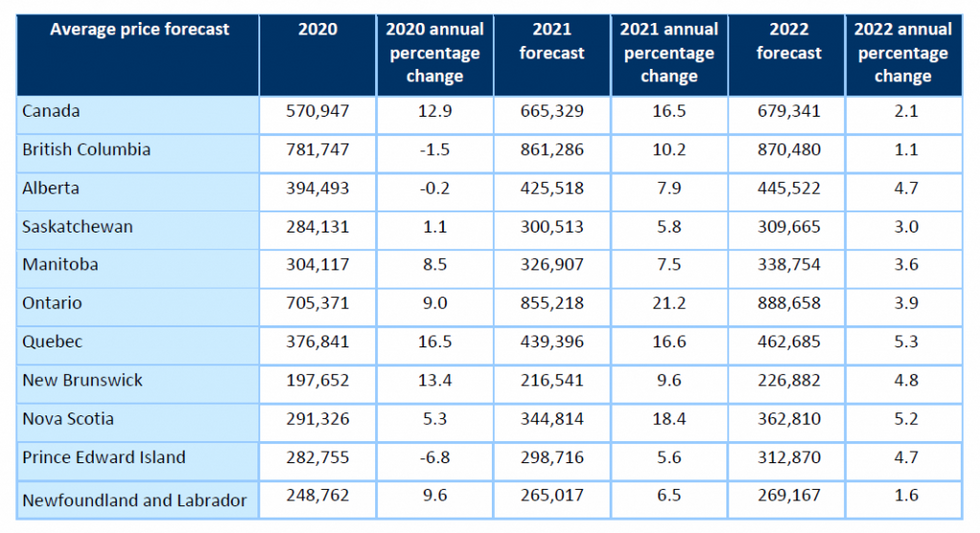 As for home sales, CREA said it expects nearly 701,967 transactions in 2021, which would be fuelled by sales in Ontario, as the province is on track to see 283,040 properties exchange hands -- a 24.3% annual increase.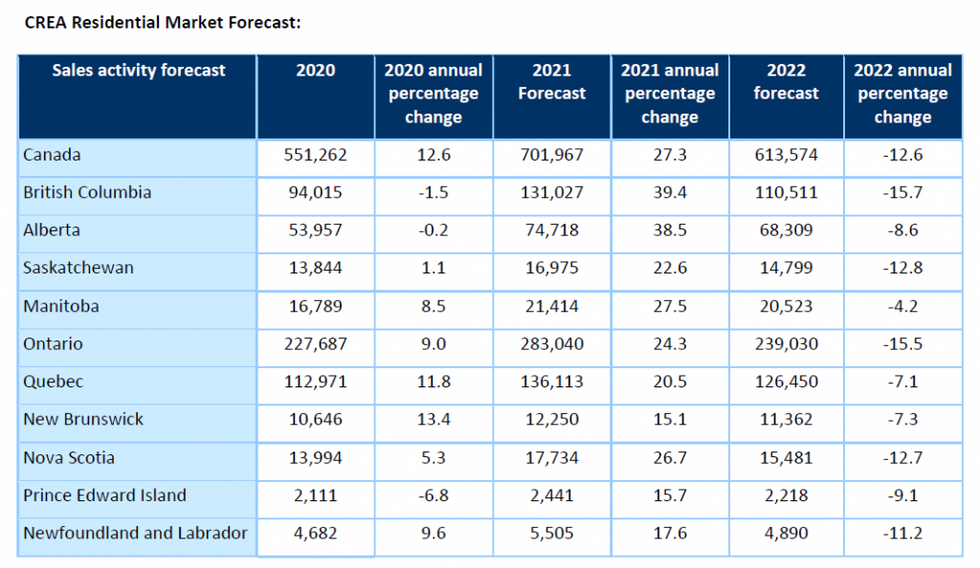 "At this point everyone knows how far the current monthly sales numbers are from historical norms, and that they have been setting record after record for eight months now, so this should not be a surprise," CREA chair Costa Poulopoulos said in a statement.
The new outlook came as CREA reported sales in February totalled 58,021, a 6.6% rise from January and a 39.2% increase from the 40,550 units sold in February 2020.
The actual national average home price in February was a record $678,091, up 25% from $542,484 a year earlier.
Homes