As the pandemic rages on and more employers become comfortable with the work-from-home dynamic, Altus Group has forecast the Canadian office market will continue to downsize through 2021 and possibly more in 2022.
Altus Group recently released their Key Assumptions Survey update, a survey of 115 Canadian CRE executives from pensions funds & life companies, publicly traded corporations (REITs), private companies, and brokerages to gain invaluable insights on the short and long-term impacts of COVID-19 on office market and retail sector.
---
Following months of working from home, companies have begun questioning how they will use their office space and how much they will need in the future. While it's still early to say exactly how many tenants will downsize, and by how much, most of the surveyed participants acknowledged that some tenants will downsize at renewal or relocate to smaller spaces.
According to the report, the surveyed groups have concerns that work-from-home will become more permanent and they expect office space will downsize between 10-20% this year, and possibly more in 2022.
More than half of respondents (57%) said they believe office tenants will downsize their space requirements in the future as a result of the increase in work-from-home brought on by the pandemic, while 21% said they "didn't know" and 22% said "no."
READ: Toronto's Downtown Office Vacancy Rate Climbs to Over 7% in Q4
The survey results show that with the increased vacancy and anticipated hike in sublease space, landlords will try to maintain face rates (a rent figure that disregards incentives such as rent-free periods, rent reductions, and fit-out contributions) by adding more tenant incentives which will have an impact on net effective rents (NERs) -- a measure of the expected income from a tenant -- particularly in the downtown core.
What's more, overall leasing activity in Q4 was very low, in general, particularly in the central business districts, and is not expected to pick up until workers return to the office. Subsequently, leasing activity in the suburbs is faring far better than in the downtown core.
The report also revealed that lower-quality office assets, particularly older buildings regardless of the location (but worse for downtown), will suffer the most with vacancy rates this year.
The survey participants also believe there will be an increasing availability (direct but especially sub-lease) leading to more leasing incentives to maintain face rates, flight to quality (less but better space), flexible lease terms, and sub-lease opportunities will continue to flood the market.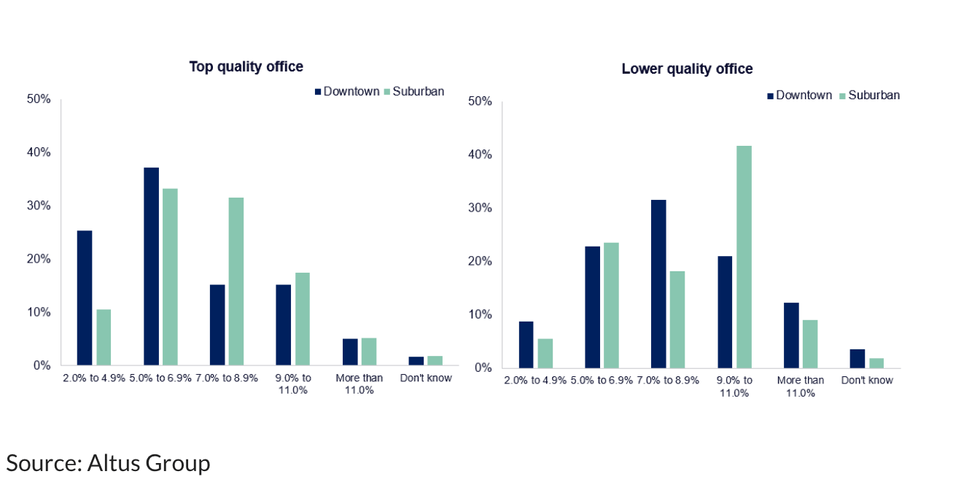 As for the retail sector, rental rates are forecast to remain "pessimistic" but not significantly more than in the summer, with grocery stores anchoring this.
Higher vacancy and bad debt ratios are anticipated for lower quality enclosed malls due to weaker tenant financial strength, especially bad debt and tenant renewal (and replacing tenants) will be challenging for weaker centres.
The survey results say mall sales in 2021 are expected to be better than in 2020, but not back to 2019 levels.
Though, there is some optimistic news for good quality, open-format suburban assets, as they are still in demand. However, fashion-oriented and enclosed malls will continue to struggle, particularly those who rely on traffic from office workers and conventions/tourism.
The survey noted that the retail assets that were already weak pre-COVID will likely get worse, or be redeveloped.
Real Estate News